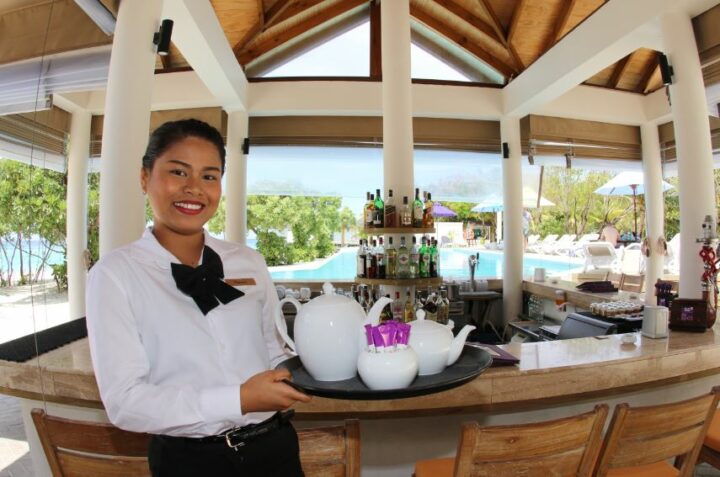 Women in Hospitality: Life Stylist Patrice M. Dela Cruz from Cinnamon Dhonveli
Patrice M. Dela Cruz, the power woman behind Cinnamon Dhonveli's staff has traversed far and wide through plenty of challenges to become who she is today; a valued Life Stylist at Cinnamon Dhonveli Maldives. She was delighted to relay her extensive journey to us at Hotelier Maldives, highlighting on her countless experiences working as a part of the Hotel industry.
Hotelier Maldives: Tell us a little bit about yourself and how you came to work in the hospitality industry.
Patrice M. Dela Cruz: Originally from the Philippines, I have a Bachelor of Science in Hospitality Management from the Polytechnic College, Meycauayan (PCCM) former Mariano Quinto Polytechnic College. I was a working student during my college period. Being the eldest child, I can consider myself as a breadwinner since may parents are separated and our father does not give financial support. There are times that my mother would tell me to stop going to school due to financial issues.
However, I did not allow that factor to hinder me to work hard in finishing my degree. While doing that I was also supporting my sibling's tuition. I was privileged to apply in a hotel in the Philippines where I was working in banquets and Sales later on, which I can consider as my first job in the hospitality industry. With the aim of supporting my family. I do not stop until I had the opportunity to apply as a Life Stylist at Cinnamon Dhonveli Maldives which serves to be my first work abroad.
HM: You've had a number of years experiencing the hospitality industry elsewhere before your time here in the Maldives. How has your career progressed over the years?
PMDC: My first job was at McDonald's as a service crew for the duration of my college days. After I completed college, I had an opportunity working at Greenhill's Elan Hotel in Manila as a Banquet Sales Coordinator. Although, I am commuting for two hours to be able to come to work this job made me feel like I love what I do and that working in the hospitality industry is my passion. After a year; I move to another hotel called BSA Twin Tower Hotel as Banquet Coordinator where I worked for six months prior to having an opportunity to apply as a Lifestylist at Cinnamon Dhonveli Maldives.HM: It must have not been easy to leave your family. How did you get the opportunity to come to the Maldives?
PMDC: Working away from home is never easy. Nevertheless, we should always think of our priority. For me It's my family and having a chance in supporting them through working in the Maldives is an opportunity I would never want to miss. I was privileged enough to apply as a Life Stylist at Cinnamon Dhonveli Maldives through my aunts' friend who recommended me.
HM: As a Life Stylist, you would work long hours. Can you talk us through a typical day in your life?
PMDC: Since we have three Life Stylists at the resort, we do rotation on regular basis on working shifts. One would come at 6 a.m., second person would come at 9 a.m. and 11 a.m. covering day to day arrivals. We do the day to day preparation of arrival and departures. Welcoming, greetings & bidding farewell to the guests.
We assist them with the holiday in case they wish to plan for excursion, special events such as anniversaries, weddings, birthdays and other special occasions. Ensuring they would enjoy Cinnamon Hospitality we conduct courtesy call and visit to areas such as restaurants and bars aiming to know every concerns and assistance guest would require during their stay. This concern is personally looked into by us Life stylist to ensure we deliver on guest expectations.
HM: You had a remarkable time at the recently concluded Hotel Asia Exhibition and International Culinary Challenge. How was your experience?
PMDC: I undergone a training under our F&B Manager, whom has been both hands on and inspiring for my learning. The entire experience was surreal. Being a person working at the reception this exhibition made me realise that a hotelier can be flexible and is able to cater in a complex area. Anyway, the tea is called the Sunrise Nectar. This experience is a memory to cherish for me in my hospitality career in the Maldives.
HM: You mentioned working in other resorts back in the Philippines. Did you notice any differences between resorts here and there with regard to how the female staff are treated?
PMDC: Working environment and demand at work place is the same. However, here in the Maldives, the female work force is minimal. In the Philippines both men and women are in the same work force and more encouraged working is hospitality industry. There has been no issue on the treatment, I find it more motivating as whichever career you choose, you have to learn how to get along with various personalities on daily basis which simultaneously grooms us as a person.
HM: Finally, how do you like working with the Cinnamon brand in their resort?
PMDC: Working here has been one of the best experience because working with this brand has been wonderful as it moulded me as a hotelier. We are empowered and guided as a young aspiring career woman. The job gives so much opportunity to showcase my talent, through interactions with guest's different nationalities and cultures as well as working with colleagues from different countries.
I love learning about where they come from and their lives back in their own countries. This way I get to understand and assist them better according to their requirement. Every situation we face is an opportunity we can take to learn in our daily lives. I never felt being away from home as Cinnamon Dhonveli Maldives is just like our second home.