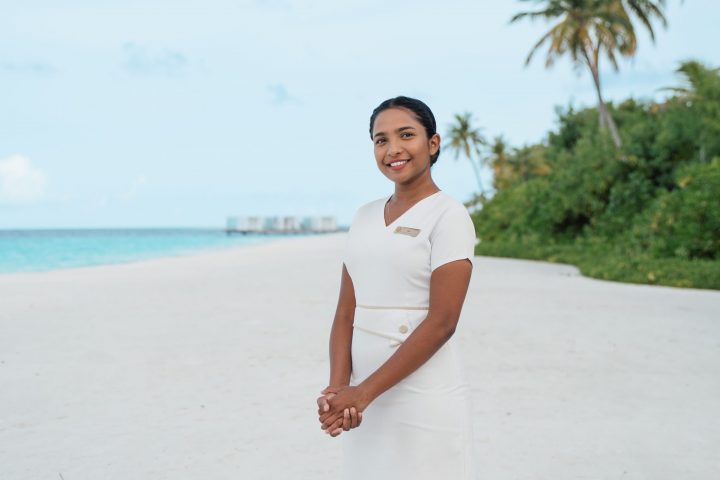 Young hotelier: Mariyam Ishva's journey from intern to permanence at Jumeirah Maldives Olhahali Island
In the dynamic landscape of Jumeirah Maldives Olhahali Island, a contemporary all-villa retreat under Jumeirah Hotels and Resorts, innovation and indigenous charm meld to fuel professional growth narratives. Allow us to introduce Mariyam Ishva, a former intern who now stands as a permanent member of the Airport Representative team. Reflecting the resort's commitment nurturing talent and excellence, just as we explored in our interview with the resort's General Manager, Mohamed Ashraf, we now sit down with Ishva to uncover her journey from intern to integral staff. This conversation unveils her motivations, challenges, and the bright path that guided her in delivering exceptional experiences for the resort's cherished guests.
Hotelier Maldives: What inspired you to pursue an internship in the hospitality industry?
Mariyam Ishva: I've always been driven by a strong sense of self-motivation, which played a big role in my decision to dive into the hospitality industry for my internship. Before this, I worked as a flight attendant, gaining valuable insights into the service-oriented field. This experience helped me better understand my strengths and preferences. Over time, as I explored different career paths, I realized that the hospitality industry truly resonated with my passions and strengths.
HM: What made you choose Jumeirah Maldives Olhahali Island for your internship?
MI: The reputation of the Jumeirah Hotels and Resorts chain was a major factor in my decision. The fact that Jumeirah Maldives Olhahali Island is the only Jumeirah property in the Maldives made it even more appealing. This unique distinction adds to its allure in the industry. I was drawn to the opportunity to learn and grow alongside a property that embraces a contemporary and effortlessly chic resort experience. This perfectly aligned with my aspirations and goals in the hospitality sector.
HM: What were some of the challenges you faced during your internship? How did you overcome those challenges?
MI: One of the initial challenges I faced was stepping out of my comfort zone. I realised that the hospitality industry demands confidence and the ability to meet guest expectations while maintaining professionalism. Another challenge was effectively conveying the resort's unique Arabian and Maldivian hospitality to guests in a genuine and engaging manner. As an Airport Representative, getting familiar with the entire Maldives, including the international airport, was essential for my role. To overcome these challenges, I actively sought guidance from my manager and colleagues, learning from their expertise. Comprehensive on-the-job training programs and hands-on experiences further equipped me to excel in my responsibilities.
HM: How has your internship journey at Jumeirah Maldives Olhahali Island helped you develop a new perspective about your career in hospitality?
MI: This internship has been a transformative experience, expanding not only my understanding of the industry but also of myself. It uncovered new dimensions of my capabilities and showed me the potential for growth beyond my expectations. Jumeirah Maldives Olhahali Island's commitment to continuous hands-on training and development has ignited my ambition to excel in my career.
HM: What skills and knowledge have you acquired through your internship with Jumeirah Maldives Olhahali Island?
MI: My internship at Jumeirah Maldives Olhahali Island has equipped me with a diverse range of skills that have significantly contributed to my professional growth. I've improved my ability to communicate effectively, adapt to changing situations, and maintain flexibility in the work environment. My teamwork skills have strengthened, and I've learned the importance of applying these skills consistently in my daily tasks.
HM: What advice would you give to other students or young professionals considering an internship in the hospitality industry?
MI: To those thinking about an internship in hospitality, my advice is to ensure your genuine passion for this field. Authentic enthusiasm for the work is crucial for staying motivated and progressing. Be open to stepping out of your comfort zone and facing any fears, whether it involves travel or adjusting to new environments. Lastly, humility and building strong connections with others are key. The hospitality industry in the Maldives offers abundant opportunities for future endeavors, so be ready to embrace them.