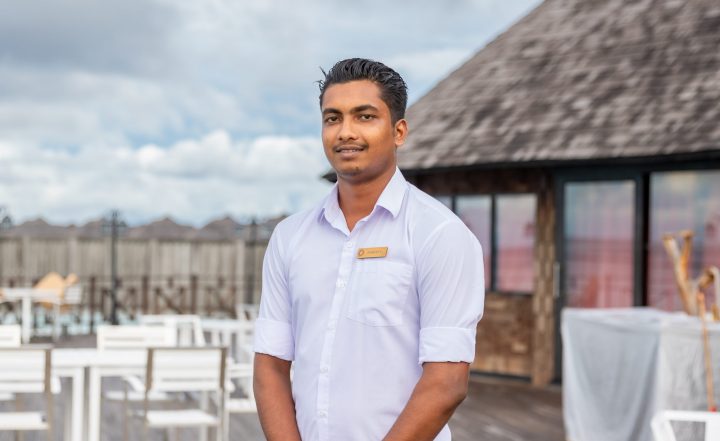 Young Hotelier: Sun Siyam Iru Fushi's star F&B supervisor Ibrahim Hamdhaan
Ibrahim Hamdhaan is a young and talented Food and Beverage Supervisor at Sun Siyam Iru Fushi, one of the most luxurious resorts in the Maldives. He has been working at the resort since 2018 and has climbed the ladder of success with his hard work, passion, and dedication. He is now among the team responsible for overseeing the operations of the resort's restaurants and bars and ensuring that the guests have unforgettable dining experiences.
Fresh out of school at his native Kufarai island, just a short boat ride away, Hamdhaan started his career at Sun Siyam Iru Fushi as a food and beverage attendant, where he assisted guests with menu selection and provided exceptional customer service in a fast-paced restaurant environment. He impressed his managers with his friendly attitude, excellent communication skills, and attention to detail. He also learned from his seniors and colleagues and developed his knowledge of food and beverage management.
"I always wanted to work in the hospitality industry, because I love meeting new people and making them happy. I also enjoy learning new things and improving myself. Working as an attendant was a great opportunity for me to do that," he says.
In June 2020, Hamdhaan was promoted to Food and Beverage Captain, where he worked with the team and maintained the standard operating procedures of the assigned restaurant. He also took on more responsibilities, such as supervising the staff, handling customer complaints, and ensuring quality control. He showed his leadership skills, teamwork spirit, and problem-solving abilities.
"As a captain, I had to be more proactive and confident. I had to lead by example and motivate my team. I also had to deal with different situations and challenges every day. It was not easy, but it was rewarding," he said.
In March 2023, Hamdhaan secured another promotion, becoming a Food and Beverage Supervisor, where he implemented effective training programmes resulting in improved efficiency and customer satisfaction. He also coordinated with other departments, such as kitchen, housekeeping, and marketing, to create a seamless service for the guests. He also introduced new ideas and innovations to enhance the food and beverage offerings of the resort.
"As a supervisor, I have to be more creative and strategic. I have to plan ahead and anticipate the needs of the guests. I also have to keep up with the latest trends and standards in the industry. I always try to bring something new and exciting to the table," Hamdhaan said.
Hamdhaan's success story is an inspiration for many young people who aspire to work in the hospitality industry. He is a role model for his team, and a valuable asset for the resort. He is passionate about his job, and always strives to exceed expectations.
"I am very grateful for the opportunities and support that I have received from Sun Siyam Iru Fushi. It is a wonderful place to work and grow. I love my job, because it gives me joy and satisfaction. My goal is to make every guest feel special and happy," Hamdhaan said.
But for Hamdhaan, it's not the end of the road. He has completed training programs and courses online and has set his sights on becoming the Food and Beverage Manager of the resort in the next few years. As he says, "Nothing is impossible with hard work and dedication."