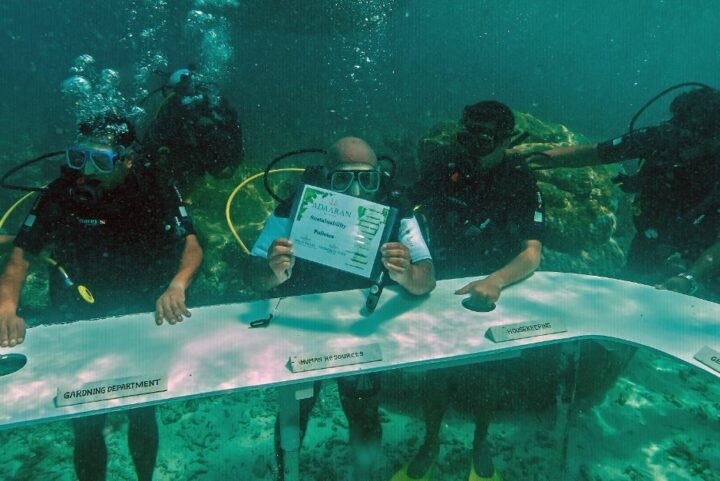 Adaaran Resorts; upholding their responsibility to protect the island nation
The Maldives islands, one of the leading travel destinations in the world, is also one of the most vulnerable to the adverse effects of climate change. This archipelago of around 1,190 islands, is also at the forefront of climate action, especially tourism sector stakeholders, where each and every tourist establishment follows sound policies on the conservation of the country's fragile ecosystem.
One of the most notable environment conservation policies are in place in Adaaran Resorts Maldives – which operate six properties; Adaaran Club Rannalhi, Adaaran Select Hudhuran Fushi, Adaaran Select Meedhupparu, Adaaran Prestige Water Villas, Adaaran Prestige Vaadhoo and Adaaran Prestige Ocean Villas. Adaaran is big on diminishing its carbon footprint, especially with its strong policy slogan – "please leave nothing but your footprint".
Maldives' – one of the most environmentally sensitive countries – tourism sector; development of tourist facilities, operation and management establishments, and transportation, recreation and entertainment are all part of activities which can cause degradation of the fragile environment.In order to minimise the impact on the ecosystem, Adaaran Resorts follows, and strictly implements the 'Adaaran Sustainability Policies'; ensuring every effort is made to minimise the damage and environmental deterioration and curtail its negative effects on the environment.Adaaran Resorts is operated by Aitken Spence Hotels, with a chain of hotels in the Maldives, Sri Lanka, India and Oman.With more than three decades in the hospitality industry, the company is dedicated and committed towards excellence in sustainable tourism, which is an extension of its philosophy. It caters to a diverse market segment and is famed for its stellar service, exquisite food and world recognised sustainable initiatives.
The policies enacted and implemented in all Adaaran Resorts are focused on issues such as reducing, recycling and reusing solid waste; reducing the use of harmful chemicals; conserving energy and water, and improving indoor air quality, all of which have an immediate impact on the environment and the communities where their hotels operate.Adaaran Resorts endorsed its Sustainable Policy in a bold move, during the Green Dive 2016 – an underwater meeting, drawing attention to the importance of the ocean and underwater world of this island paradise. The endorsement was built on striving to improve its conservational practices based on ten policies, while simultaneously offering their guests luxury comforts.
The ten policies are;
Upholding the Adaaran Sustainable Policy,
Energy Conservation Policy on cutting down Greenhouse Gas emissions,
'Water for Life Policy' on saving water,
Protecting and promoting biodiversity,
Protecting the rich culture and heritage of the nation,
Green Labelling Policy to ensure sustainability of food items,
The 7R Policy; reject, reduce, reuse, reclaim, repair, replace, and recycle,
Health and Safety Policy,
Quality Assurance Policy, and,
Child Protection Policy focused on advocating to end physical and sexual abuse of children, while also improving the general wellbeing of children.
The environmental policies of Adaaran Resorts, have over the years, seen many impressive undertakings, including the 'Save the Beaches for the Future' programme, Tree Plantation Programme, Environmental Awareness programmes for students and local communities, Island Cleaning programme, and the Reef Cleaning programme.Adaaran Resorts, and other properties operated by Aitken Spence have over the years invested substantial financial resources and hard work in achieving long-term sustainability, as many of their hotels have been recognised as world-class examples of sustainability and have been accorded a number of international accolades for its group-wide sustainability strategy.It is a proud member of Travelife – an international certification scheme that helps hotels and resorts manage and improve their social, economic and environmental impacts. Travelife has over 1,400 members in 55 countries worldwide, including over 20 in the Maldives.