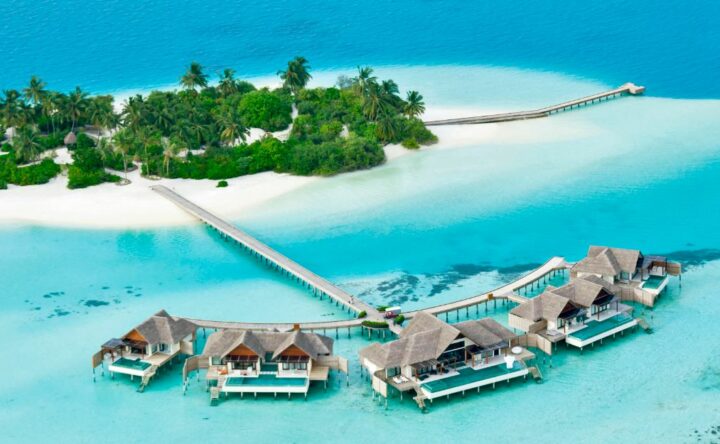 10 things to love about Niyama Private Islands Maldives
At the 2017 Condé Nast Traveler Readers' Choice Awards, Niyama Private Islands Maldives took fourth place in the Best Resorts in the World category and second place in the Top Resorts in the Indian Ocean category. Winning an award that embodies authenticity and personalised experiences, the resort continues to own their chilled luxury vibe. Let's take a look at the top 10 things to love about Niyama.
The islands
Mother Nature was having one fine day when she painted these two islands in South Dhaalu Atoll.With large beaches (unaffected by erosion and sand movements!), lush vegetation showing signs of very old trees, and wide sun-speckled pathways softly canopied by greenery, the island is as relaxing as it is luxurious. The resort consists of two concept islands—Play and Chill—connected by a bridge and while biking between them, you see that both concepts merge seamlessly to adapt to your mood.
Intimate villas
You might hear this about a lot of resorts in the Maldives. But I mean it. The 134 villas on both islands are set apart and designed in a way that you get so much privacy. I stayed in one of the Beach Studios with Pool on Play, and I did not see a neighbour for the three days I was there. How did I know I had neighbours?  Flip flops by their door.
The beauty of these villas is that you have no need to step away from it. The thatched villa is spacious without being overbearing.Stepping out to the deck, you can choose to lounge on the Dhoni-shaped swing bed, catch some rays on the sun loungers, cool off in your private pool, or walk a few feet and step into the lagoon. Honestly, why would you need to go elsewhere?
3. Your very own popcorn maker
I love finding fun twists in villas and this was one of them. Each villa is equipped with a popcorn maker, which is part of a bigger in-villa deli experience here at Niyama. A refrigerator (no tiny minibars here!) is fully stocked with treats and your butler refills a daily dose of homemade vanilla and chocolate ice cream.
Are you in the mood for an Affogato? The espresso machine is right there, along with wine glasses, cocktail shakers, and chocolate bars. Yes, I religiously ate the ice cream every day.
Breakfast with a view
This island is a dining fantasy, and each spot feels like you are being transported somewhere different. My breakfasts were always served with a side of picturesque views at Epicure on Chill. Flaky pastries, green juice and berry tonics, gluten-free banana bread, omelettes with fine cheeses; every morning is an affair.Sitting outside under the shade of an umbrella, marvelling at how the blues of the pool and lagoon go perfectly with the yellow seating, one of the friendly servers can easily compel you to try a second cappuccino. Because, why not?
5. Smart key bands
Sometimes, it is the little things that make the list. Niyama uses waterproof bands as keys and this was a lifesaver! As someone who usually needs to call the butler more than once after losing a key card or locking myself out, I was glad to have one of these that I can casually wear on my wrist.
The hassle of collecting the key whenever you leave the room, or wondering where you last kept it, is completely gone and I can simply put these on, go for a swim, and come back to unlock my villa.
The art of Teppanyaki
Located in the middle of Play, the Nest made me feel like I was walking the pathways of a South East Asian rainforest, complete with birds chirping. Seating is either tucked away into the forest floor or up high in tree house decks. I experienced this surreal outlet for lunch to try out their Teppanyaki menu and it was a presentation to remember.The chef was lively, happy to interact, suggested sakes to pair, and was always ready to share a new trick, whether it is shaping fried rice or egg and fire tricks. Seated together with other guests at the grill station, it is a communal experience all the way. If you are here for a good lunch, expect an amazing side of entertainment as well.
A slice of tribal culture
A meat lover's paradise for sure! Tribal, a signature concept restaurant on Chill, serves creations from African, Central and South American tribal cuisines. The ambience though, was what hit me first.Designed to create the feeling of being inside a tribal village, seating is set within the jungle in private decks, Masai warriors greet you and take you through the menu, and rhythmic music of drums accompany dinner. Within a few minutes, you are enthralled in the menu, the medicinal tonics, and the coffees that are being brought to you. It truly feels like you have stepped away from the island.
Being whisked away to dinner
Being on some islands for a week or so can bring a feeling of repetitiveness. Not here at Niyama though. Located away from the island on its very own pavilion are Edge and Subsix, two dining outlets that you can only travel on a pontoon.Sipping a cocktail at the lounge and watching the sunset is a must do before you pop into the restaurant for dinner. Highlighting fresh local seafood and innovative Maldivian twists combined with modern techniques, it is a sure treat for your palate.
Champagne breakfasts six feet below the ocean
Part of the same structure that Edge is located on is Subsix, accessible when you descend six metres below sea level via a three-tier staircase. With Italian designed chandeliers and interiors channelling the natural beauty of Maldives, Subsix is a novel experience for those who crave a unique dining experience.
Whether it be a bubbly breakfast, crafted lunch, or gourmet dinner, it is hard to replicate the feeling of dining while a massive grouper swims by you.
Intuitive service by the Thakuru team
Whether you need a buggy ride, a recommendation on what to order or where to eat, to be shown around the island, give you a tour of the different villa categories, take an Instagram-worthy photo, your Thakuru will be around.They are effortlessly charming, good-humoured, and take attention to detail to another level.Talk about bespoke service. At the end of the day, your Thakuru butler makes every moment of your stay effortless.