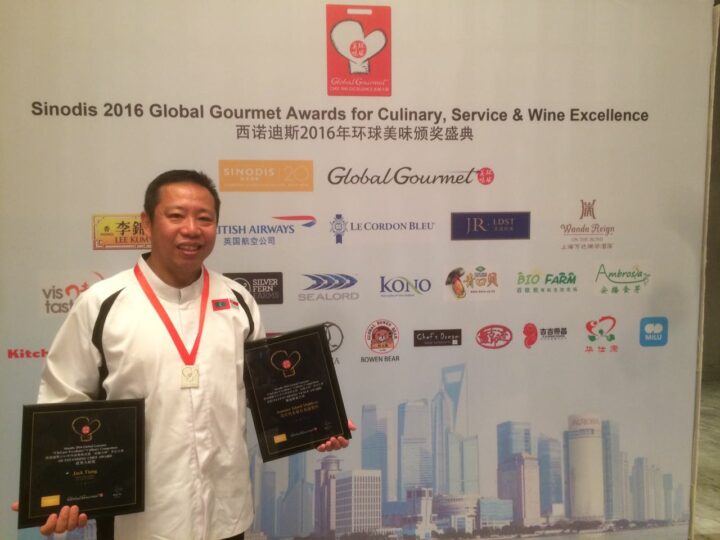 Summer Island's chef wins global award
(Jack) Tiang Toh Huat, the Advisory Executive Chef at Summer Island Maldives, has been recognised among the world's top 50 outstanding chefs by the Global Gourmet culinary magazine.
Summer Island Maldives also won the award for 'Outstanding Dining Venue'.
The awards were presented at the 2016 Global Gourmet Chef par Excellence World Culinaire Competition's award ceremony held last week in Shanghai, China.
"We are delighted that Chef Jack and Summer Island Maldives won these awards, which demonstrate the dedication, professionalism and excellence of Chef Jack and his team. Summer Island Maldives is now recognised as one of the Maldives' top culinary destinations," said Mariya Shareef, Resort Manager of Summer Island.
At the culinary competition, organised by the Global Gourmet culinary magazine, chefs from around the world were invited to cook a four-course meal.
The competition was judged by an expert panel that included the Michelin- starred celebrity chefs Da Dong and Umberto Bombana.
According to Summer island, Chef Huat submitted a menu based on fresh ingredients found on the resort such as coconuts, passion fruits, and fresh catch from the sea.
"I wanted to submit a menu that would highlight the elements of the Maldives – the sand, the sea and the natural vegetation," said Chef Huat.
"To represent sand, for example, we made a dessert that used fresh, grated coconut and brown sugar, to look like the beach. We also used fresh tuna in the menu because the Maldives is famous for its tuna."
One of the Maldives' first resorts, and wholly Maldivian owned, Summer Island Maldives recently underwent a complete redevelopment. The resort now boasts fresh and zesty rooms, a spa, international restaurants, a rustic beach bar, a dive center and water sports centre.