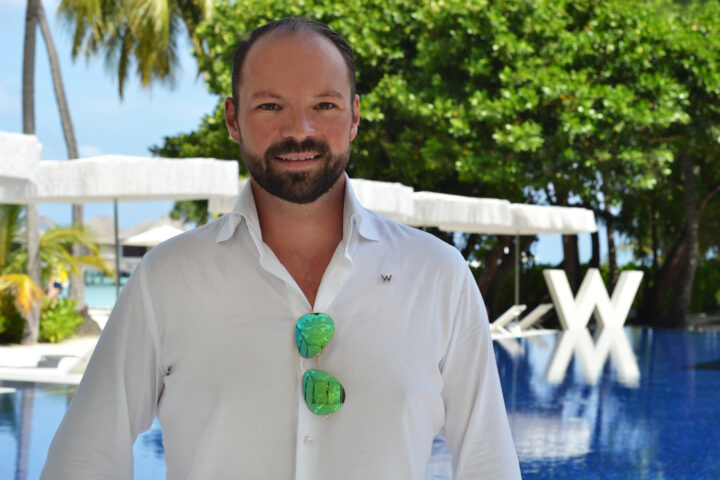 The GM's View: Anton Birnbaum, W Maldives
Anton Birnbaum is the General Manager of W Maldives. An Austrian native, he has worked for major brands such as T-Mobile, DO & CO or SPAR in Austria prior to joining the Starwood team.
Birnbaum was promoted to the top position after serving eight years as Executive Assistant Manager at Le Méridien Vienna, where he started his hospitality career as a Director of Human Resources.
During his time with Le Méridien Vienna, Birnbaum supervised the development of the Food & Beverage department and functioned as a key hotel contact for major events such as the Life Ball, Fashion Check-in, Vienna Fashion Week, Afterhours, Vienna Art Fair or Vogue Fashion's Night Out. He also focused on the networking events in the B2B sector as well as building the relationship with hotel's key suppliers and partners. In 2014, Birnbaum was in charge of the Luxury Collection Hotel Imperial's launch event for more than 1,000 guests including international stars.
Hotelier Maldives sits down with Birnbaum to talk about his career and plans for W Maldives.
HM- You've worked extensively in event catering, luxury food retail and Human Resources. What interested you to pursue a career in hospitality? How do you translate your previous experience into hotel management?
Anton: It's all about creating special moments for guests as hospitality is part of our daily life, which is great for service levels as these become outstanding! Due to the variety of cultures and nationalities of our guests and talents, hospitality is the perfect field for growing your own personality. If you are hardworking and passionate about what you do, hospitality is the best place for your career!
HM- You came from managing a luxury city hotel to a beach resort on a standalone island. What similarities, challenges or advantages did this present to you?
Anton:
The city hotel experience is totally different as guest stay there to spend the night and have their meal mostly. However, the resort experience is where guests are looking for a unique bouquet of lifestyle moments like spa, gourmet dining, watersports, diving, etc.
HM- How would you describe the "W experience" and what steps have you taken in creating a unique experience for guest in translating this to the Maldivian island experience?
Anton: W Hotels® Worldwide are not merely hotels providing meals and accommodation – these are locations where W clientele can experience a lifestyle they pursue or demand from us. Thus, we offer the escape to places where iconic design and contemporary luxury set the stage, and extraordinary experiences can be lived. W Maldives is an escape to surprising, sensory environment of the Maldives where amplified entertainment, vibrant interior design, modern guestrooms and innovative cocktails and cuisine create more than just a hotel experience, but a LUXURY LIFESTYLE DESTINATION!
HM- How would you describe your approach to management?
Anton:  I am about positive attitude, hands-on approach, growing and mentoring people. I always like to be in the know of everything we are responsible for. For me the best way of keeping on development is to push myself and others to rethink how we can improve or do things better and different to stand out from the crowd.
HM- What are some innovative solutions you have created to ensure a happy and satisfied staff that are responsible in providing the W experience?
Anton: W Hotels is a lifestyle brand and our talents should fully live it to be able to deliver lifestyle experiences to our guests. Hence, we offer many trainings and workshops to our talents on a regular basis.
HM- What in your opinion are the pros and cons of an international hotel brand operating in Maldives compared to local brands?
Anton: Starwood Hotels & Resorts have recently merged with Marriott International, which made us the world's biggest hospitality company. Thus, Marriott's distribution has more than doubled in Asia and the Middle East & Africa combined, which means an even bigger exposure to our clients around the globe – bigger booking and marketing platforms, which is what it's all about! The new company will operate or franchise more than 5,700 properties and 1.1 million rooms, representing 30 leading brands from the moderate-tier to luxury in over 110 countries.
We must not forget about the power of the local brands since the hospitality industry in the Island nation was developed by Maldivian people. They are the ones who deliver the authentic Maldivian experience to guests, which is what many of them are seeking for.
HM- The term luxury is ever evolving in the industry. How would you describe it in relation to the W experience?
Anton: Luxury means different things for various travelers. Some people are looking for expensive boats, villas, designer clothes or jewelry, while others want to experience the authentic 'barefoot' luxury. Others want the digital detox by getting away from it all, which is all the Maldives islands are about!
Also, W Hotels are famous for their Whatever/Whenever® service culture, which will deliver whatever guest want whenever they want it (provided it is legal, of course!).
HM- You've made the jump to hospitality after having worked extensively in other fields. What advice do you have for someone who wants to take the leap into hospitality late in their careers?
Anton: One doesn't need a high education diploma or many years of experience to become a hotelier! One needs passion to be one, which is what really matters!
HM- What advice do you have for someone who aspires for a career like yours?
Anton: One has to have passion, perseverance, innovative approach and will to learn from your own and other people's mistakes.