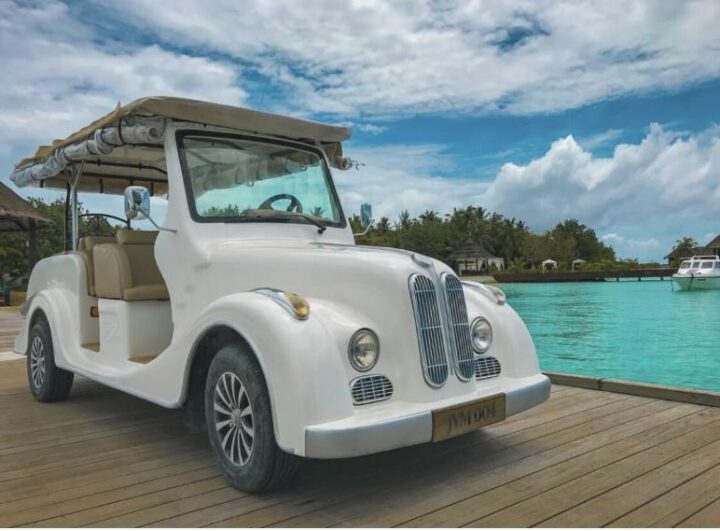 LVTong electric classic car, the luxury buggy
While the Maldivian hospitality industry is celebrated for its extravagance and splendour, it is also well-known for its untarnished natural beauty. Thus it comes as no surprise that more and more environmentally friendly products and ventures are being pursued by this trade. Consequently, electric cars and buggies contribute to the vast ecological well-being of resorts, reducing the harmful emissions that contribute to climate change, improving public health and reducing environmental damage. The buggies also allow charging on renewable energy which minimises these emissions further.
Guangdong LVTong New Energy Electric Vehicle Technology Co. was founded in 2004 in Guangdong, China. They have researched and urbanised their own electric vehicle series that revolutionise the technical standards of electric vehicles. Their brand name is popular within the industry for implementing advanced German technology, and their latest range of luxurious classic buggies do not disappoint.
The LVTong Electric Classic Car is a buggy that rivals no other eco-friendly cart with its unique and poignant classic sensibility. The availability of varied models makes this the most sought-after luxurious buggy in the industry for enhanced tours and safaris. The distinctive exterior styling and an attractive interior with luxurious seating and the bucolic framework give it a timelessly rustic feel that adds to the richness of the models. The structure boasts high tensile tubular steel with anti-corrosive, full immersion phosphate treatment, electro-deposition epoxy base coating and electrostatically applied laser-painted top coat for maximum durability, which is essential for the tropical climate.
Available versions range from two-seaters (model no. LT-S4.FA) to over eleven (model no. LT-S11.FC), seating couples to more family and group-oriented guided tours that take tourists gliding over terrains and other paths smoothly. The buggies all have a mileage of 100km to 110km on a single charge. It may not be as fast as a truly classic car, as it is made for the scenic routes and endless wonders that the islands have to offer. Low noise, minimal wear, low maintenance and long life make this the perfect eco-friendly vehicle for your transport needs.
Founded in 2004, Guangdong LvTong New Energy Electric Vehicle Technology Co. Ltd is a company that produces electric buses, electric police cars and funky electric classic cars fashioned after the classic automobiles of the '20s. For more information visit lvtong.com.cn