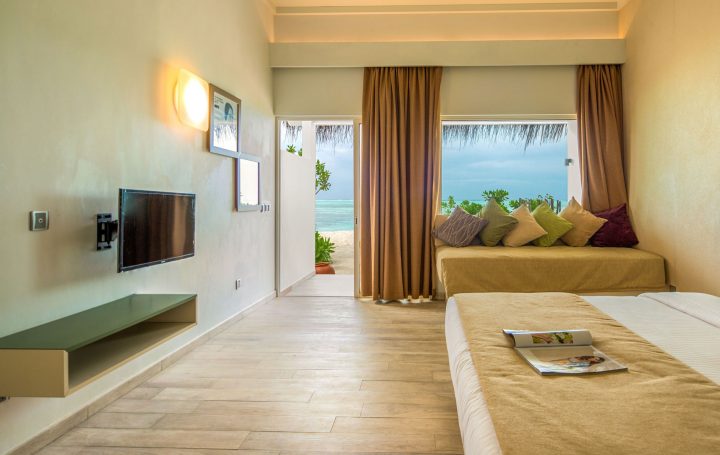 Lago Italian Design at Cocoon Maldives
LAGO, EMPATHETIC DESIGN
To create an empathic designer space, with all comforts, in which the traveller felt welcomed and would live an unforgettable experience is what led the design of Cocoon Maldives luxury resort.
Internationally acclaimed designer Daniele Lago, of the namesake company LAGO, was therefore appointed by Cocoon Maldives to deliver its first design resort in the Maldives thus to combine the culture for excellence, quality of life, authentic materials and attention to details. For Daniele considers design a mean of social transformation through which to create space that resonates with the individuals and its design emphasises on inner wellness.
LAGO stands for innovation in the Italian design both in terms of product design and interior design. This is the vision of design that inspires LAGO and can be summed up in the words 'Interior Life', an expression that indicates both our inner life, meaning the emotional sphere of each and every one of us, and the life of interiors, that is the life we lead in offices, homes, hotels, hospitals and schools; spaces that need to be planned with design that makes us feel good. The LAGO INTERIOR LIFE NETWORK philosophy is expressed in an 11-point manifesto that outlines its key elements.  Point 6 of the LAGO Manifesto is an empty space to be 'furnished': each individual will fill it in with their own experiences and values..
By joining the LAGO WELCOME programme, Cocoon Maldives exclusive luxury resort belongs to this philosophy: dedicated to the lodging industry hence to hotels that strongly believe in creating intimacy and empathy yet modern and globally connected. The LAGO Network boasts a substantial community for its Digital Communication driving force is widely distributed through social networks, of which its Facebook Fan page reaches out to an extensive audience of travel and design enthusiasts..
Nestled in the unspoilt Ookolhufinolhu Island of its Indian Ocean atoll, this amazing resort stands as the Maldives's first design resort to be created. Daniele Lago has mastered all-round Excellency: 150 suites and villas along a presidential suite with Made In Italy floating furniture for nature lays within each room, 6 meters high hanging seesaws (teeter totter) welcomes guests at the reception and a restaurant with two Air Tables – these being the LAGO COMMUNITY TABLE – bringing together people of all cultural backgrounds thus becoming a unified social point of convergence for all interactions at Cocoon Maldives.
Hanging on transparent glass legs, these tables are made of noble Wildwood oak wood material. The MadeTerraneo ceramic with hand-painted Sicilian majolica tile also featured in the 36e8 kitchen. Wood and Ceramic, both representing the best of the Made in Italy here find new ways of expression and highly sought after fusion and influences.
Carefully tailored by LAGO, the Suites and Villas of Cocoon Maldives have been designed to match the incredible settings within which they have been crafted: spaces to convey joy and comfort, colours and materials ever changing to match the landscape yet in tune with all senses.
Visuals and nature from every rooms' perspective. The LAGO furniture floats on glass stands to highlight the lightness sensation that the Ocean water villa exudes, on the boundaries between the beach and the forest.
The Wildwood oak wood warms up the atmosphere for its traditional flavours is the go-between history and modern times.: the hanging Air Wildwood bed becomes the Depth Washbasin then elsewhere becoming tables and  benches in public areas and in the restaurants..
An experience out of the ordinary is what LAGO has transformed here at Cocoon Maldives, notwithstanding the unique design and the LAGO TALKING FURNITURE project that powers interaction with the furniture. Connecting to each guests' Smartphone device through a wired chip in the furniture, to activate a direct interaction with the resort, to learn about themed evenings or indeed to share images and reviews of the experience.
For this it all makes Cocoon Maldives a home away from home designer resort.
Visit LAGO to discover its entire furniture collection
Visit LAGO PROJECTS to browse all its locations