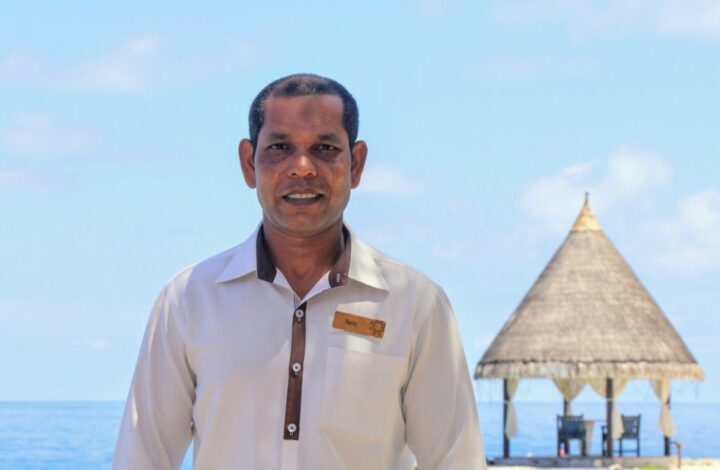 F&B: Ahmed Thariq, Restaurant Manager, Vivanta By Taj Coral Reef Maldives
Ahmed Thariq's mind was racing as he sat across from his boss. Why am I here? Why have I been summoned? Why did the general manager wish to see me? Am I in trouble? What could have I done wrong? Questions were roaming in his head, as he nervously thought about what had happened.
The general manager was sitting at his desk. He picked up the phone, dialled a number and asked for two espressos and a pack of cigarettes. I must be in deep trouble, thought Thariq. Beads of sweat were streaming down his face. He had never been summoned like this before. Could it have been the result of his mischievous behaviour, he asked himself?
There was a knock on the door and someone walked in with two espressos and a pack of cigarettes. The general manager took a sip from one of the coffees and offered the other to Thariq. He was still questioning himself. The general manager then asked him to step outside to the porch and offered him a cigarette.
Thariq followed and moved outside with his coffee. He took a sip, and not to be rude, lit up a cigarette. It was then when the general manager asked him if he knew why he'd been asked to come. Thariq's reply was that he hadn't the faintest idea and that he was very nervous.
The general manager then asked Thariq to calm down. He had been asked to come over, not for a reprimand, but for a commendation. Thariq sighed in relief. He wasn't in trouble, he had been asked to see the general manager regarding his excellent workmanship.Thariq was not only being commended for a job well done, but he was also being promoted. At the time, he was working as a waiter at the Coffee Shop in Dhigu Finolhu (now Anantara Dhigu Maldives Resort). He was asked to take on as manager of the coffee shop, his first managerial post.Thariq was still sceptical. He questioned his boss about how much confidence he had in him. The GM replied that he had been working in the industry for over 34 years and that he knew when he saw good potential. It was Dhigu Finolhu where Thariq first became a manager, a job he's excellent at and proud of.
Three months later Thariq was again asked to see the general manager. This time, his boss wanted to commend and thank him for the new improvements he spearheaded at the coffee shop. Guest feedback was positive and the Swiss management that ran the resort at the time loved his initiatives.
Thariq was gleaming as he told me the story of how he landed his first managerial post, as we sat sipping our ice-cold drinks at the Latitude Restaurant in Vivanta by Taj Coral Reef Maldives. Thariq had come a long way since then, and was now the Restaurant Manager at the five-star property, looking after Open the Grill Restaurant – an outlet specialising in South American cuisines and featuring a pizzeria.
Thariq first entered into the hospitality industry at the very young age of 17, in 1986. He joined Bandos Maldives as a Front Office Clerk. Due to his helpful nature, it was impossible for Thariq not to lend a hand to the other staff, especially the waiters. After about one and half years, Thariq had learnt all he needed to know about F&B, an area in which he had a great interest towards.
But why did he finally decide to join the F&B sector? "I am a huge fan of football. Ever since my childhood, I've made a habit of playing football every single day. Working in the Front Office meant that I had to work in the evening, and miss the staff football game," Thariq tells me.
"That's the sole reason behind my move into F&B. It was in 1987. After about two years, I made a move as a beverage waiter, and also worked as a food waiter, which were two separate posts at the time. I stayed in the post for over four years."
Since then Thariq has served at a number of resorts, including Hudhuveli (now Gili Lankanfushi), which he moved to in 1990. It was where he made another accomplishment, opening up a boarded-up coffee shop, starting from scratch and making it a successful and revenue generating outlet. Best of all, the evenings were free to enjoy his favourite sport.
Later, Thariq made a move to Ari Beach Resort in South Ari Atoll (now Lux* South Ari). The surprising thing about these moves was that every time he always started at the bottom rung and worked his way up the ladder. Thariq has this nature to prove himself and to others what he's worth, so all of his new beginnings are at the lowest level.
Thariq worked at Ari Beach for a long ten years, before he took a break to attend to his personal life. At the time, he had worked his way up and become a Restaurant Senior Waiter. Thariq's next move was to Dhigu Finolhu, where he got to serve in his first managerial positions.
It was time for a change, and two years later, Thariq found himself taking a stroll down the tree-studded walkways of an island in North Malé Atoll with the F&B Manager. He had heard that Vivanta by Taj Coral Reef was one of the top properties in the region, and was wishing to work for them.It was January 2003 when he took up his new job, as a Restaurant Supervisor at Ruh Kuri Restaurant (now Latitude, the main restaurant) in Vivanta by Taj Coral Reef. At first, it was a challenging job for Thariq. "Most of the guests were Italian, and the restaurant needed much change at the time. But I was ready to make it happen," he tells me."At first, the young stewards at the restaurant were not very keen to work under a local supervisor. Again, I had to prove to them that I wasn't just their boss, but also their colleague, and also their friend. That's who I am, and who I will always be."
Now the Restaurant Manager at Open the Grill, Thariq is not just your average manager, but someone with something special up his sleeve. "It is the nature of our work. We work in the service industry. And, it is our utmost responsibility to ensure that each and every guest is accorded the best of services. That's our job, and that's the reason why we have to go the extra mile."
How do you deal with staff who are inattentive, I had to ask? "There are no inattentive, or careless staff if you know how to deal with them," he tells me. "My secret? If I notice a problem with a staff, I take them for a stroll. A little chat to find out what's bothering them, and finding a way to solve that problem is my job, and that's how I deal with any problem.
And he taught me a valuable lesson: "Your staff needs to be happy, in order for them to make our guests happy. A happy staff is the key to a happy guest, and at the end of the day, that is what we all want."And what does it take to be a good manager? Thariq is once again the perfect example. "I am the kind of manager who would roll up his sleeves and take on any job; if we run out of plates at the restaurant during a busy night, you can find me in the kitchen helping the staff washing and wiping the dishes. Anything to ensure that the guests get the best of experiences. That's the Taj philosophy and it's our job to deliver."
Thariq sees a bright future with the Taj brand but has some concerns about moving forward to the next level. "I am hoping for the best, and I don't have any plans to leave the brand," he tells me."I've travelled to a number of properties operated by the Taj Group, and what I noticed was that the brand excels at ensuring its staff are taken care of. It believes in its staff, encourages them, and provides them opportunities to grow. I am happy with the brand, and this is what it feels like to work for a good brand."