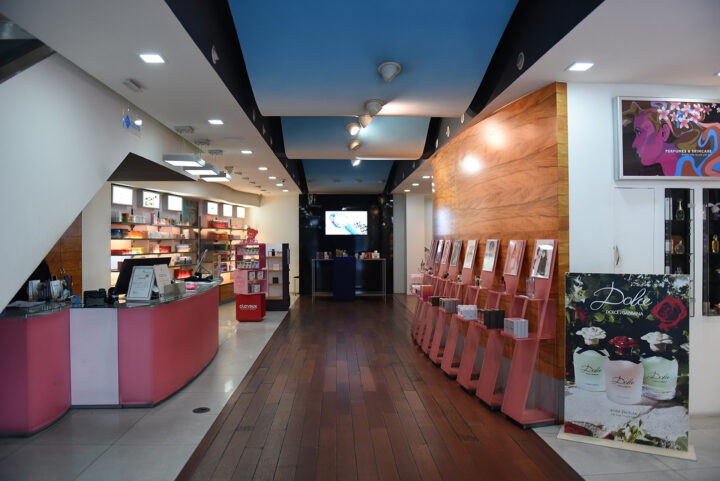 Lintel: The standard for a quality and beautiful life
Established in 1989, Lintel Investments and Management Services Pvt. Ltd. is a wholly Maldivian owned company registered and operating in the Maldives as one of the country's leading distributors of luxury fashion, beauty and lifestyle electronics brands. Its first store opened in November 1990 under the brand name of 'Le Cute'.
Le Cute as the flagship store has now been transformed into a beauty boutique offering a wider range and quality in its product line. Lintel has expanded rapidly in the past 20 years, presently operating 06 outlets nationwide under the brand name of 'Le Cute' in the avenues of travel retail, downtown retail and resort boutiques. Lintel continues to provide its customers with unprecedented quality and service excellence under the longstanding slogan of "Quality Most Compare". Lintel is a retail leader who has continued to persistently reinvent the retail experience in Maldives.
PURPOSE
Lintel's core purpose is to be the standard for quality and a beautiful life.
VALUES
Teamwork will always be our way of moving forward. But we will always remember that each one of us have the Right to Debate. It is a fundamental Right, never to be compromised. But always respected. We will do this with utmost Integrity and limitless Passion. This is what we believe in. Our Core Values. We call this; LINTEL's TRIP.
LECUTE
Le Cute is Lintel's flagship beauty boutique, opened in 1990 with a major refurbishing done to the structure and interior of the store in 2005 by the famous Austrian shop fitters UMDASCH to create a unique, sophisticated and comfortable shopping environment.
Le Cute at present carries a wide range of world renowned brands of luxury fashion wear, fragrances, skincare, colour cosmetics, fashion jewellery and fashion accessories in its three storey boutique encompassing service, product quality, surrounding and presentation which is to be expanded with additional floors in the near future.
Le Cute has always remained true to its symbol of "Quality Most Compare" in all aspects of business
LECUTE MAAFANNU
Le Cute Maafannu, opened in May 2007, is a small yet cosy shopping boutique opened specially for those consumers who prefer a quick yet private shopping experience. Unlike the flagship store, Le Cute Maafannu which happens to be the second outlet to the Le Cute fashion 85 beauty chain of stores carries a selected product portfolio of all key product categories to cater for the needs of those regular customers.
REPUTE
Repute Hulhumale' is the second outlet of Repute, the first already operating in Male'; catering towards the retail community of HulhuMale'. The store carries a mix portfolio of beauty brands and home appliances in Lintel's portfolio.
Customers will find that Repute Hulhumale' thrives towards bringing a great shopping experience for customers of Hulhumale', provide excellent service and great products that will satisfy them.
LIFESTYLE ELECTRONICS
Le Cute Lifestyle Electronics specializes in distributing of household, business automation, industrial and personal care electronics. Le Cute
Lifestyle Electronics is the official and exclusive distributor for Panasonic brand of products,
BOSCH Home Appliances, KEF and Bowers and Wilkins brand of products in the Maldives. Le Cute Lifestyle Electronics aims to provide world renowned brands of electronic products at an affordable price to its consumers; along with consummate after sales service.
LINTEL SERVICE CENTRE
Lintel Service Centre (LSC) came into existence at the beginning of 2010 with the aim of providing a full-fledged after sales service to its retail consumers.
Since then Lintel Service Centre has engaged in installation, troubleshooting and after sales service of the products sold by Le Cute Lifestyle Electronics.
THE MANAGEMENT
Management practice is in that of a flat hierarchy in a flexible and relatively low official setting.
The management practice calls on all Lintel members to exude their potential through full responsibility and accountability; exercise initiative and vision; a complete and full respect for the code of conduct.
The belief and conduct of the management is that a Lintel member gets in return what they give!
CORPORATE SOCIAL RESPONSIBILITY
Lintel is perceived by the wider public as a company that is based on a successful business model with honesty and integrity at heart. The public has a deep trust of Lintel molded by years of honest trading. Lintel plays an active role in contributing in numerous ways for the development of our culture and society. Lintel is also the first corporate member of Maldives Red Crescent.
Lintel Investments And Management Services Pvt. Ltd.
Ma. Maadheli, Majeedhee Magu, Male', Maldives.
Tel: (960) 301 0200
Fax: (960) 332 4865
Web: www.lintel.com.mv
Email: info@lintel.com.mv