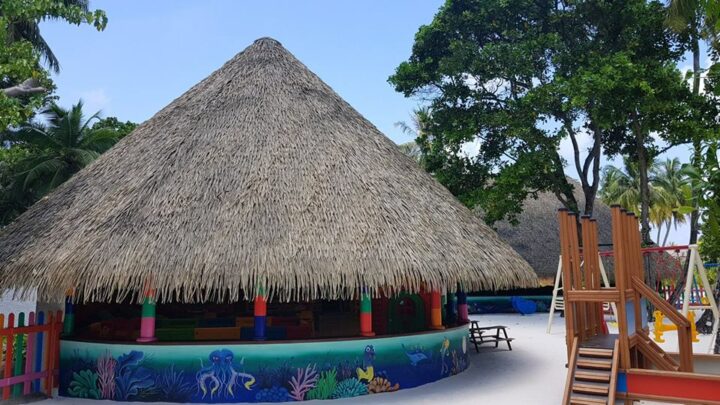 Palmex: an everlasting solution
Thatch roofing is a cultural trait, and today it is an important architectural feature still seen as a part of the villas and other buildings in most of the resorts in the Maldives. However, it has long been established that there are some issues present in having these authentic thatch roofing installed as they should be replaced once every other year.
Aqua Chrome, a leading provider of innovative, design-driven solutions for resorts and construction companies, brings a permanent and eco-friendly solution to this problem. Made in Canada and installed on roofs in over 50 countries on five continents, Palmex produces realistic-looking, eco-responsible, low maintenance and long-term thatch solutions that complement the beauty of traditional palm leaf roofing. Simply put, Palmex helps resort managers and property owners swap thatch for the last time.
The modern buildings with the rustic feel of island life that are predominant in resorts demand higher presentations in construction techniques and material, and so do well-versed consumers. Palmex uses new technology to make thatch roofing an intelligent alternative to the traditional ways that require high maintenance. Palmex thatch, designed according to ISO 9001-2008 norms, and partially built from recycled materials. It is 100 percent recyclable and guarantees 20 years with no toxic product leak. They are fire-retardant as they use industrial-strength materials that reduce retention of heat and flammability. They are also completely water resistant and has a high wind resistance of up to 260km/h.
The artificial roofing is virtually identical to natural leaves, thus giving a traditional appearance without the hassle of fitting one that is purely authentic. It gives a grander comfort that is greater than natural roofing with cooler temperatures under the roof, as it retains the natural coolness throughout the day and night. Palmex promises full protection against moss, mould, and mildew as well as various insects and other tree-dwelling creatures that might otherwise build a home on the roof.
Palmex Thatch Roofing is a product distributed by Aqua Chrome, the exclusive distributors of the world-renowned brands Grohe bathroom & kitchen fittings, distributor for Rocell tiles and sanitary ware, the exclusive distributor for Palmex roofing products, Vitra sanitary ware and Eterna Mirrors. For more information about Aqua Chrome, visit www.aquachromemaldives.com.