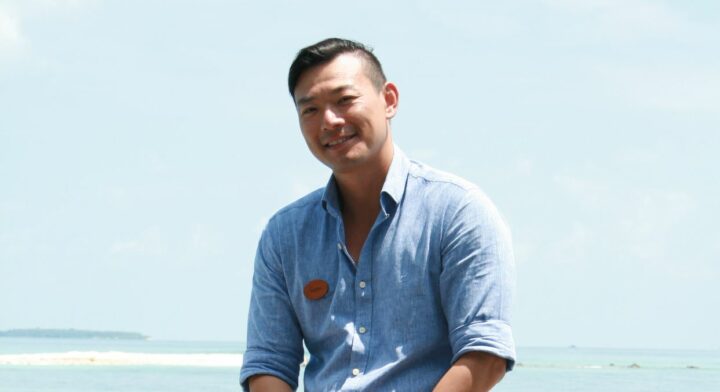 Justin Heng, General Manager, Noku Maldives
Justin Heng, General Manager for Noku Maldives came to the Maldives to oversee the development and opening of the property. It is now fully established and is a resort which places great importance on social responsibility and contributes in numerous ways to the community within which it operates. Justin and his dynamic team are strong believers in giving back to society beyond professional business commitment. Hotelier Maldives caught up with him at Noku Maldives in August this year.
Hotelier Maldives: Can you tell us a little bit about Roxy Pacific Holdings and its corporate portfolio?
Justin Heng: Roxy-Pacific Holdings Limited is an established property and hospitality group with an Asia-Pacific focus, listed on the SGX Mainboard since 2008. It is principally engaged in the development and sale of residential and commercial properties.
The Group's recurring income streams are strengthened through its flagship hotel in the heart of historic Katong, Grand Mercure Singapore Roxy, and through its self-managed upscale hospitality brand, Noku Hotels that manages and operates boutique hotels in Japan – Noku Kyoto and Noku Osaka, and have most recently launched its first resort in the Maldives – Noku Maldives.
Noku Hotels looks forward to the launch of its first resort in Phuket, Thailand, expected to be in 2019/2020. Additionally, the Maldives represents a great opportunity for Roxy Pacific because of its stunning location and for travellers looking for unique experiences.
HM: Noku Maldives is Roxy-Pacific Holdings first acquisition in the Maldives and the second property to be marketed under Roxy's premium Noku brand. How has it been turned into an exceptional resort?
JH: I joined Noku Maldives in April 2017. I am extremely excited to be working on this stunning property, which is Noku Hotel's first in the Maldives. The resort has undergone an extensive renovation of guest villas, public spaces and food & beverage (F&B) outlets before opening in the first quarter of 2017. The resort which is 45 minutes away from Malé is in a strategic location, with only 50 rooms, with modern offerings and personal recommendations on the hidden gems of Noonu Atoll. I believe this is an exceptional resort that will appeal to upmarket travellers looking for unique experiences in one of the most appealing destinations in the world, the Maldives. This also ties in with Noku Hotel's broader strategy of acquiring properties in interesting destinations around Asia.
HM: What are the focus areas for corporate social responsibility initiatives and sustainability at Noku Maldives?  
JH: Our prominent corporate social responsibility initiatives are selected by focusing on areas where we can play a role in making the overall environment a better place for the community, improving living standards and quality of life. In setting out new CSR projects, Noku Maldives looks at the needs and wants of communities within the resort's immediate geographical proximity – in Noonu Atoll.Noku Maldives supports the island councils to run educational environmental projects for the schools. Through this incentive, the resort invited council members from nearby Kendhikolhudhoo and Manadhoo to plant trees in its community garden on September 13, 2018, with the aim to spread environmental awareness and make green enjoyable. The hotel will also participate in planting trees in schools, communities, and deforested areas with the aim to uplift under-greened communities, and combat climate change. Our employees are happy to devote a portion of their time to these causes.
Additionally, our CSR initiatives cover a variety of important initiatives that include children's wellbeing and elderly care. We organised a visit to Noonu Atoll School in Manadhoo Island on August 31, 2018. The visit was intended to show our interest to reach out to children with the aim of improving their living standards and quality of education. During the visit, we donated 18 desks to Noonu Atoll School and met with the school teachers and we had an enjoyable fun-filled reception lunch. We were honoured to be able to assist the community in their educational endeavours.
HM: What is your take on management? And in your perspective, what does it take to be an effective general manager?
JH: I am very careful to work alongside my team, and I see myself as a colleague to my team members. At times, I have to play different roles such as those of mentor, motivator etc., but at the end of the day, it is all about building relationships and looking at things in a more in-depth fashion. We try to encourage an environment of positivity in our teamwork and team culture.
HM: What are some of the innovative ideas and solutions you have come up with to enhance the Noku Maldives experience?
JH: I believe that Noku Maldives offers local character, personalised service and gives guests an authentic local experience. As a hotel, we are respectful of local cultures and traditions. Also, the people here in the Maldives are lovely to work with and have a natural flair for genuine care, which gives the guests an overall better experience.
While present-day lifestyles are fast-paced, we want to try and bring back the local experience. We want to connect with the guests and create experiences. I also believe in being in touch with the local environment, and working closely with the staff to build stronger and more genuine relationships.
HM: What are some of the challenges you faced during Noku Maldives' opening? And would you say its smooth sailing now?
JH: We wanted to make sure we did not damage the island or the marine environment, so we followed nature. We dealt with erosion issues from a green perspective. Also, we did not want to build anything too contemporary; so, you will find in the final design influences from the Maldives and the Asia Pacific region.
Nature is one of the biggest luxuries in the Maldives and sustainability is one of our priorities. Other than that, it has been an easy transition. The team here is committed to delivering high standards of service and hospitality. At the end of the day, it's trained people who will make the difference.