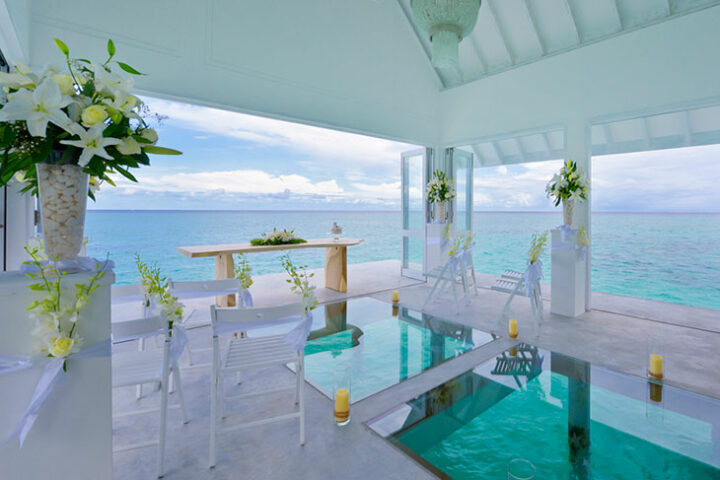 Four Seasons Resort Maldives at Landaa Giraavaru unveils new 'Wedding Pavillion'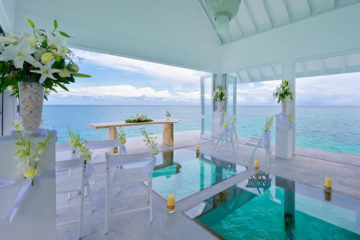 The Four Seasons Resort Maldives at Landaa Giraavaru has unveiled an overwater floating 'Wedding Pavilion' for beach weddings at a spectacular vantage point.
With its glass-bottomed aisles, the Wedding Pavilion offers bridal couples a breathtaking backdrop of kaleidoscopic marine life and underwater beauty.
"Landaa's wild natural beauty has hosted so many incredible weddings and celebrations," said Regional Vice President and General Manager Armando Kraenzlin.
"Our UNESCO Biosphere Reserve location really sets up apart, and our vision with the new Wedding Pavilion was to incorporate this in a way that surpassed anything we had offered before. Now wedding couples can surround themselves by – and draw inspiration from – the power, possibility and abundant beauty of the ocean."
Accessible only by the boat, the pavilion is "a freestanding, pillared structure: light and airy with lofty vaulted ceilings (maximum height 6 metres or 19.7 feet)," according to Four Seasons.
The titanium-polished concrete floor has glass bottoms and lies above a turtle enclosure. The structure also has wrap-around, bi-folding floor-to-ceiling glass doors to three sides, which opens onto a timber decking.
The pavilion is located off the northeast tip of the island. Its 45 square metre (484 square feet, or 10.2 by 7 metre/35 by 23 feet) space can host up to 16 guests.
The resort's wedding coordinator will be at hand to help couples plan every detail of their special day.
Couples can choose to decorate the pavilion with flowers, candles and billowing fabrics and select their nature-inspired colour palette, whether dreamy daytime blues or sunset scarlet hues.