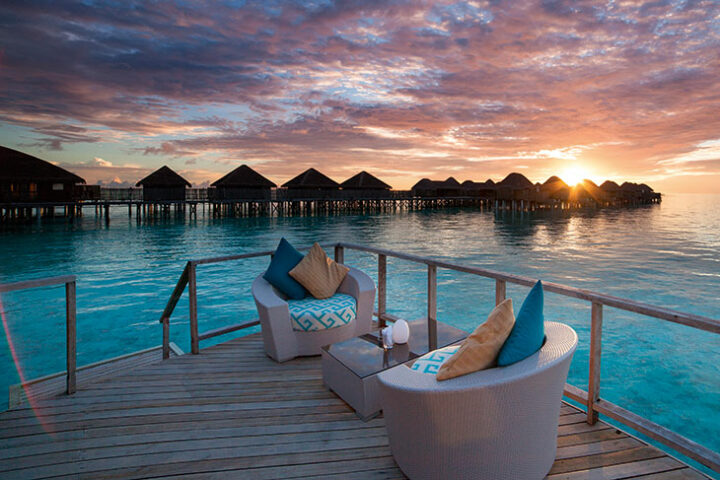 Resort review: Constance Halaveli – sensitive, luxurious
Constance Halaveli, a 25 minute seaplane ride away from Ibrahim Nasir International Airport, is an upmarket destination. You find the usual elegance of such places here and this, paired with the island's luxuriant vegetation, the fine white sand encircling it and its sumptuous lagoon, is a heady, beguiling mix. But that is not all Halaveli has to offer, there are other facets to the island that make it special.
Among these is its commitment to the privacy of its guests. The resort's lavish accommodation, especially its beach villas are positioned such that neighbours cannot be seen. "Privacy is a big selling point," says Sales and Marketing Executive Laila Bonnefoy. "It's a quintessential feature of every property but we really emphasise it here through the layout of the accommodation, the landscaping. Our guests, especially those from the Middle East expect a lot ."
And in the presidential suite, on the beach, privacy is almost tangible. Laila describes it as a hotel within a hotel, its cavernous 700 square metre encompasses three bedrooms, a small fitness room, a dining area while a swimming pool and a private beach lie outside. There is absolutely no need to leave its confines, everything is at your fingertips, including an 80 item in villa dining menu.
A note about the beach villas, they are the more luxurious of the accommodation options, something at odds with most of the resorts in the country. These spacious villas all feature private access to the beach, and most of them accommodate children. They are family friendly spaces, perhaps another selling point of the resort; it is not your typical honeymoon destination.
Families are welcome here, and Halaveli offers plenty of activities for children of all ages. The Kids Club, with its interiors boasting signed handprints (and in some cases, footprints) of the various children it has accommodated over the years, is well staffed and welcoming. Further inside the walls are covered by a vibrant mural, painted by a local artist, depicting undersea creatures with a cartoonish flair. Children paint, tend to herb gardens, go on scavenger hunts, collect shells; there is little room for boredom, and parents can rest assured that their offspring is well looked after.
Adults too have activities that they can engage in. Those with a more adventurous bent may take to the sea in a variety of crafts, from catamarans to kayaks. Non-motorised equipment is offered on a complimentary basis for guests. Others may soak in a jacuzzi in the hotel's USpa, overlooking splendid ocean vistas, or detox in a sauna or the steam-room, all complimentary.The USpa, Constance's own brand, is an over-water facility providing a level of customisation for guests. You can choose male or female therapists for instance. During therapies, the glass bottom floor allows you to take in the beauty of the lagoon while a therapist works their magic on your body. After therapies, guests can enjoy the tranquil surrounds in the overwater relaxation area, sipping a healthy drink. If facials are your thing, note that USpa has teamed up with Swiss cosmetics giant Valmont to deliver outstanding results through Valmont trained staff.
But perhaps the diamond in the crown of Halaveli is its culinary philosophy. General Manager Dominik Kuenstle describes it as a 'foodie's resort'. And this seems not too far off the mark when you consider that it has two wine cellars with over a thousand labels and 15,000 bottles, one of the most expansive collections in the Maldives. Or when you consider its restaurants and bars. The Jahaz restaurant, open for lunch, offers a choice selection of salads and mains, including Asian fare. A health focussed approach is seen here via its 'healthy menu' with such items as baked Maldivian sea bass and tofu salads.
Meeru, the resort's beachside grill, is dedicated to meats and fresh seafood and features a diverse menu with choices ranging from Wagyu beef to Maldivian Mahi Mahi.
But the real foodie's delight is undoubtedly Jing, the fine dining restaurant, where guests are treated to the idiosyncratic combinations of east and west of the executive chef Jordi Vila. It has something for everyone (including vegans), an approach that Jordi Vila favours. "I wouldn't call my approach as experimental," he says. "It's very personal, it's me. I just like to create, or re-create things, combining different products in ways that I please."
So Constance Halaveli, with its striking natural endowments, its beautiful architecture, its family-friendly environment and the sumptuous passionate kitchen approach combined with a luxurious beverage selection, is one that stands out from among its neighbours. It is highly rated online, and it is no surprise then that the resort receives a high percentage of repeater guests throughout the year. Halaveli occupies a high positioning in Maldivian hospitality, and one hopes that it never relinquishes the spot.