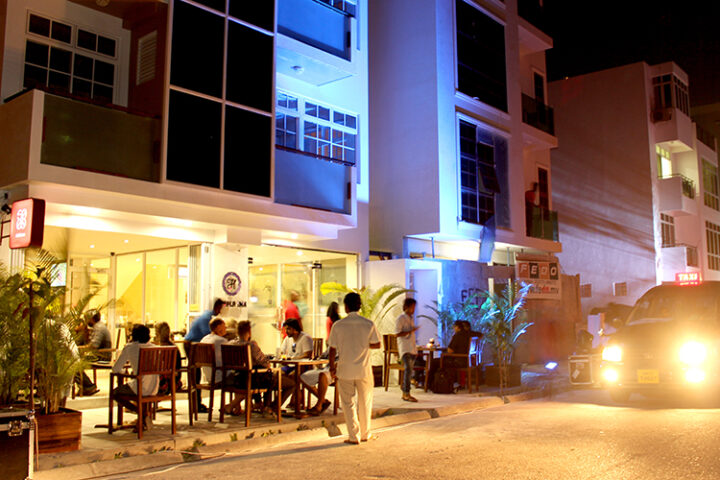 Magic Beans: The story of three coffee beans that grew to great heights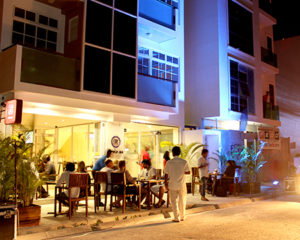 On April 16th, Maldivian café & restaurant brand Shell Beans opened the doors to its latest outlet in Hulhumale', cementing the company's position as a market leader. Hotelier Maldives meets with CEO Shivnee Deen and CFO Anoushka Boralessa to find out what it takes to become a household name.
Amongst the residents of the Maldivian capital, Shell Beans needs little by way of introduction. Welcoming, convivial, consistent: Shell Beans has established a trademark style that never disappoints. Whether it's a family gathering for brunch, an executive looking for a light lunch or a tourist on a city excursion, Shell Beans welcomes everyone with the same signature service. Whoever you are and whatever your vibe is, Shell Beans will cater to you. Heartfelt service, quality products and a great ambiance, that's Shell Beans. This trinity, represented by the three beans on their logo, is the foundation of the company. It's a philosophy of inclusion and in a society where everyone seems to search for a clique, that's pretty special.
As I sit down with the company's CEO Shivnee Deen and its CFO Anoushka Boralessa, (or 'Anu' as she is more commonly known) I learn that these elements have been there from the brand's inception. "At the heart of what we do, is the desire to create an experience for our customers," explains Anu. "If a customer's had a bad day, we want to them to be able to come to Shell Beans and leave feeling that little bit better." Shivnee nods in agreement. "That's our core, that's our backbone. We don't want to exclude anyone."
Around the turn of the millennia, when Shivnee returned to the Maldives from a lifetime abroad, café culture had not reached the Maldives in the way it had other western countries. Shivnee realised there was a gap in the market. Before embarking on the Shell Beans venture, she visited dozens of cafés around Male' to learn about the options that were already out there. What she encountered were cafés that were overwhelmingly populated by men, dimly lit and intimidating. "There was nowhere I would have felt comfortable just sitting by myself with a book," Shivnee recollects. 'I wanted to create a space that would offer an alternative. Somewhere for women to feel comfortable and safe. Somewhere where service mattered."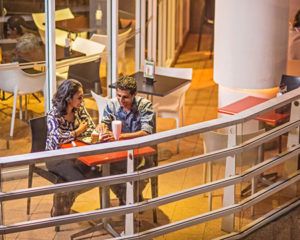 By prioritising sincere service over flawless English, Shivnee noticed that servers also feel at ease in their positions. Their focus is on connecting with guests rather than on perfect grammar, which results in relaxed attitude. However, this is not to say that communication skills go by the wayside. Impromptu and scheduled trainings are a part of life as a barista at Shell Beans. "It's easier to teach grammar than it is to teach a sincere smile," Shivnee remarks wryly.
These service standards may have been there from the start but for a time they had little much else. "We opened in 2002 and we had three tables and a sandwich counter," Shivnee laughs. Despite these modest beginnings, the brand quickly took off and the need for a bigger space became pressing. After a temporary move whilst the space they were occupying became the multi-storey building we know today, in 2008 they were back and bigger than ever. Having taken over the first floor as well, this refurbished Shell Beans became the flagship outlet of the company. Anu joined the company shortly after and has been at the forefront of its development ever since.
The flagship café and restaurant is large and everything feels crisp. Comfortable seating and a view over the harbour provide a haven in the busy city. It's a breath of fresh air. Literally. Whilst many other cafés rely on the occasional breeze through an open window Shell Beans guarantees relief from the unrelenting heat of the capital. Two words: air conditioning. Those expats who still struggle to adapt to the temperature come in droves.
As these regulars and visitors continued to flock to enjoy the international menu and chilled out ambiance, Shell Beans continued to expand and it was in 2012 that the next big change came about. A property opened up on Ameenee Magu, a large street along which lie the financial centre and the national university, and work soon began to turn it into a second outlet. The concept there is the same recognisable Shell Beans look; modern and unfussy.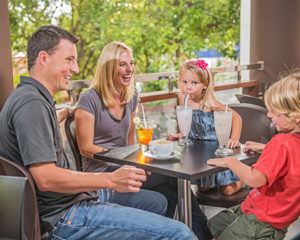 In 2013, another string was added to the Shell Beans bow with the addition of event and third party catering. Shivnee and Anu approach this branch of the Shell Beans gamut with their signature service philosophy. "Even when we cater events, it's important that we still provide a Shell Beans experience. Our service standards remain the same," explains Anu.
The next year, growing demand for Shell Beans' delicious range of baked goods led to Shivnee and Anu overseeing the opening of a bakery and pastry production facility, which now supplies freshly made bakery products, pastries and desserts to all their outlets on a daily basis. Crumbly chocolate cookies, a range of fresh breads, mouth-watering pastries; there's always something to tempt a sweet tooth.
The latest development is in Hulhumale', Male's younger, up-and-coming sister. "It's the next big thing," declares Shivnee. "Over the past couple of years, every time I've been there I've seen incredible development. It's no longer just an extension of Male'. It's a city in itself. It has become a community – a melting pot of locals, expats and tourists. Just like Shell Beans." The move seemed logical.
Now firmly established, getting the company just right has taken some tweaking over the years. The duo has now set up a network of suppliers and partners and they acknowledge that working with likeminded people is important. "What's key for us is that our partners share our ethics," Anu says. "Yes, it's about ensuring we provide quality ingredients but it's also about more than that. It's about working with people who feel the same way as us when it comes to doing business."
In the same way, as I speak with Shivnee and Anu, it becomes quickly apparent that at the base of their working relationship is a shared background and value system. Their collective business acumen and qualifications make for impressive reading but I get the sense that it's their mutual passion for the brand and accumulated experiences that are what drive the success of the Shell Beans name.
Shivnee attributes her many years abroad with instilling a desire to surround herself with an eclectic mix of people. Childhood years in Sri Lanka, England and Singapore alongside studies in Hawaii combined to ensure Shivnee was always most comfortable when amongst a varied group of people – an ambiance she replicates at Shell Beans. The menu, of course, has also inherited this global diversity. From Fish 'n' Chips to the Biryani Pot, dishes come from around the world.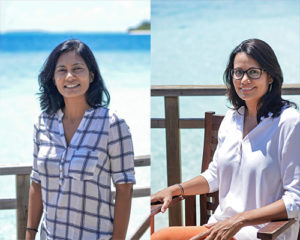 Anu also credits her time abroad for much of her career success. At 17, she left her family in Sri Lanka on a tennis scholarship to the United States, where she went on to get her undergraduate degree, MBA and license as a Certified Public Accountant – CPA. Once qualified, she joined the corporate world and worked as a CPA for several years. Surprisingly though, her notable CV is not what she values most from her time overseas. "In the states, I learnt to adapt. I had to leave my comfort zone. And you need that skillset to be successful in business. Sometimes you just have to go for it!"
Together they make a powerful team, capable of taking Shell Beans to even greater heights. When I ask Shivnee about whether I'll get to see the three beans on a signboard somewhere overseas, she is at first hesitant. "I still feel like there's so much potential in the Maldives that we still haven't tapped into. There's still more to do here," she says. However, she quickly adds "but you know, whenever I'm in Colombo I think 'I wish I could pop into Shell Beans right now!' There's definitely a place for it over there."
At the end of our meeting, I ask what their advice to budding entrepreneurs would be. "Don't be afraid to take calculated risks, stay focused on priorities and understand that change is necessary to grow and evolve," offers Anu. Shivnee agrees and adds that people shouldn't necessarily be driven by money. "At the end of the day whatever you do, you are going to have to be passionate about it," she says with gusto.
Passion, dedication and a touch of fearlessness. It's an age-old recipe that this café & restaurant chain cooks up daily. In doing so, they've become the biggest name on the Maldivian eatery scene. What's more, I get the feeling that they're only just getting started.