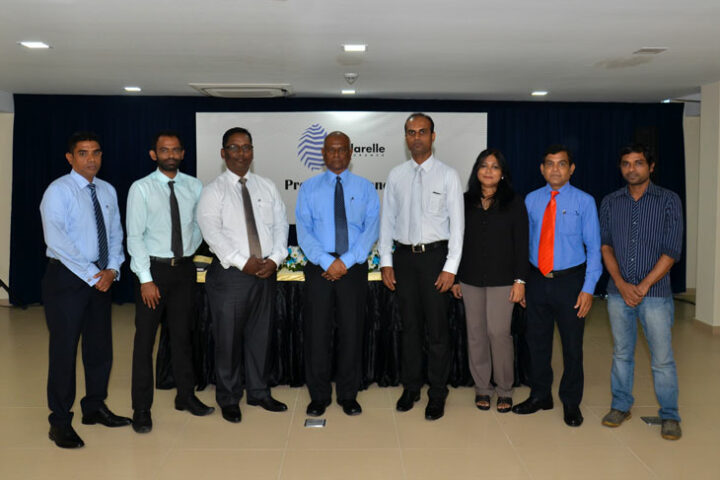 Solarelle opens its doors as first 100 per cent Maldivian insuarer
Solarelle Insurance has today opened up for business as the first insurance provider with 100 per cent Maldivian stakeholders.
At the helm of this new startup are veteran businessman Bandhu Ibrahim Saleem and Mohamed Ahmed, who respectively fill the roles of chairman and managing director.
Saleem who has over 40 years in the Maldivian business landscape has filled the top posts at the national airline, Male' International Airport and the national transport company among other posts.
Ahmed also served top posts in the government for over 15 years, most recently as the Financial Controller at the Ministry of Finance and Treasury and as assistant general manager of Bank of Maldives.
The company, though small in size, is backed by key international insurance players, including the world's 3rd largest re-insurer Hannover Re, and marine transport insurer Lloyd Syndicate.
Responding to questions by reporters at the inaugural ceremony held at Champa Central Hotel in Male' City, Saleem noted that the company will first focus on general insurance services, but expand into the hospitality industry as well.
"We believe the key force driving the Maldivian economy is tourism, so we will expand into the industry too. At present, we will provide insurance for support services such as cargo, marine and air transport", he said.
Saleem also noted that the increase in market potential for insurance companies in Maldives was a clear sign that the Maldivian economy was heading in the right path.
Solarelle provides general insurance services, including property insurance, motor, marine and aviation insurance, engineering insurance, along with miscellaneous insurance policies for burglary, money, personal accident, fidelity guarantees and even insurance against natural disasters such as sea swells.
At present there are three insurance companies operating in the Maldives. Solarelle is the fourth company to be licensed by the Maldives Monetary Authority.