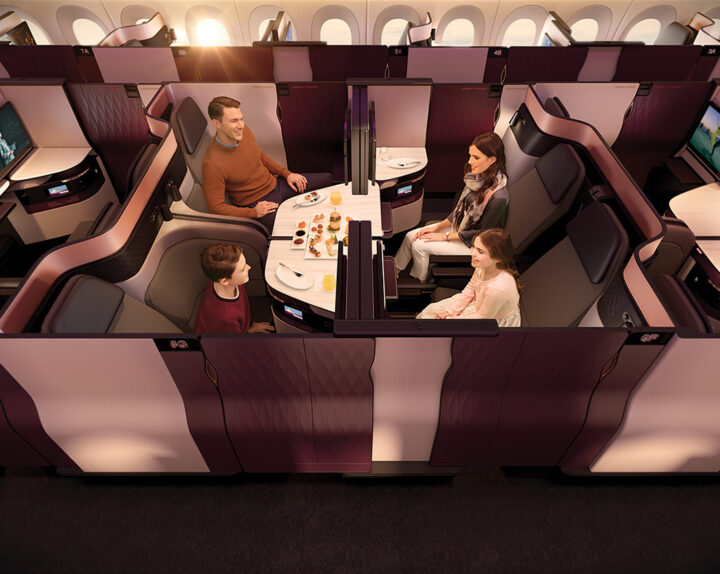 Qatar Airways' QSuite – A new 'First in Business Class' Experience
A new standard in business travel
Qatar Airways has unveiled the QSuite – it's highly-anticipated and revolutionary new Business Class experience. A never-before-seen standard in Business Class travel, the customisable private suites introduce a host of firsts to Premium Class travel, reshaping expectations for global business travellers.
The new unique and patented seat design – after two years in the making – was officially unveiled by Akbar Al Baker – Qatar Airways Group Chief Executive, on the opening day of ITB Berlin, Germany. It offers passengers more privacy, more choice and more personalization.
Unveiling the QSuite, Akbar Al Baker said: "With these innovations, Qatar Airways has revolutionised the way we serve our Business Class travellers, enabling our passengers to enjoy a First Class experience in Business Class. This is truly Business Class as never seen before and is entirely in keeping with our Premium product and service philosophy.
"On Qatar Airways, you choose when you dine, and the menu options are varied, with something for everyone. You choose when you rest, and when you want entertainment; we offer more choices than any other airline. It only makes sense to give you the choice to make your own cabin-within-a-cabin, creating double QSuites or quadrants."First-ever for 'party of four' seating and double bed in Business Class
The QSuite features the industry's first-ever double bed available in Business Class, with privacy panels that stow away, allowing passengers in adjoining seats to create their own private room. Adjustable panels and movable TV monitors on the centre four seats allow colleagues, friends or families travelling together to transform their space into a private suite, providing the ultimate customisable travel experience that enables passengers to create an environment that suits their own unique needs.
To further complement the customisable onboard seating experience, Qatar Airways is also launching a new food and beverage concept, introducing a menu that offers a host of new dining choices. In addition to the existing decadent 'dine on demand' service, the new Business Class menu would now offer a selection of snack 'sharing dishes' available throughout the flight, allowing travellers to turn dining at 35,000 feet into a social experience. A wake-up Express Breakfast will also be available for those who choose to sleep a little longer by making the most of the 'Do Not Disturb' option available on the door of their private QSuite.Oryx One launches a next generation user-friendly interface
Qatar Airways also launched a completely new next-generation user interface of Oryx One, its award-winning in-flight entertainment platform. Oryx One's interface has been redesigned to make it even easier to surf content and choose from up to 3,000 entertainment options – the most of any airline.
This extensive and ground-breaking refresh comes as the airline celebrates its 20th year of operations marking two decades of growth, industry leadership and innovation. The new QSuite concept would be retrofitted on to the existing Qatar Airways fleet starting from June 2017, at an estimated rate of one aircraft a month.
Known for introducing industry firsts, Qatar Airways is the national carrier of the State of Qatar and is one of the fastest growing airlines operating one of the youngest fleets in the world. Qatar Airways has a modern fleet of 194 aircraft flying to more than 150 key business and leisure destinations across six continents.