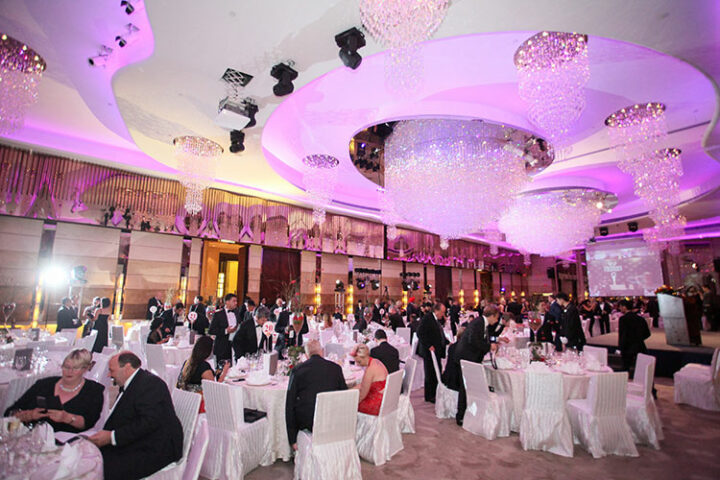 World Luxury Hotel Awards: A night to remember
On October 24th 2015, Hotelier Maldives attended the World Luxury Hotel Awards as one of the event's key media partners. Held in the grand ballroom of the Harbour Grand Hong Kong, attendees were treated to a sumptuous six-course meal whilst being entertained by some of Hong Kong's finest performers. Dancing Chinese dragons, illusionists and musicians all performed to create a night of celebration and festivity. And for those in attendance, there were many reasons to celebrate. Gathered at the event were hoteliers and hospitality veterans from across the globe, eagerly awaiting the announcement of the night's winners. During the evening, Hotelier Maldives spoke to proprietors, general managers and founders of some the most exclusive hotels and resorts in the world. Here they share their thoughts about the awards, what winning means to their associates and why they believe their properties were singled out to win these prestigious titles.
The Toren Amsterdam
The Netherlands
Awards won:
– Luxury Design Hotel, Country
– Best General Manager, Continent
"The ambiance at The Toren is created with personalised service in a romantic setting; it's a little bit hip and a little bit sexy. The property is the number one hotel in Amsterdam on TripAdvisor and what makes the hotel special is our connection with the customer. I am a therapist as well as a hotelier (I believe I'm the only one in the world) and I think I am the king of matching people's expectations! I don't teach my staff to say 'Good morning' or 'How are you?' but instead I teach them to connect with people. We try to figure out what the guests' expectations are, and then our goal is to exceed them. I have one slogan: 'There's no good or bad, there's no true or false – only the truth of our customer.' We have won at these awards for the past five years and to maintain such a high standard, our staff needs to know that we are the best. It's like winning gold at the Olympics – every time it gets harder because expectations keep getting higher!" – Mr. Eric Toren, Owner.
Coco Collection
Maldives
Awards won:
– Awards won: Luxury Hotel Brand, Country
– Coco Bodu Hithi: Luxury Water Villa Resort, Continent
– Coco Palm Dhuni Kolhu: Luxury Green Hotel, Country
– Coco Privé Kuda Hithi Island: Luxury Private Island Resort, Country
"At Coco Collection, guests can expect to find something very Maldivian, very authentic. We are a local company with local staff, and we provide a local touch in a luxury environment. Coco Privé Kuda Hithi in particular represents something very special for the Coco Collection brand. It is a private retreat for a very high-end client. Winning such prestigious awards gives us the right kind of exposure in the right kind of markets. That's what these awards bring for our properties. For the staff, it is also a very big plus point. They make our customers happy and provide them with an exceptional experience every single day. And I'm sure this will give them added incentive to work even harder and to achieve more. Indeed, this award is for them, not for us." – Mr. Ahmed Shabeer, Chairman and Managing Director.
Amsterdam Boutique Apartments
The Netherlands

Awards won:
– Luxury Serviced Apartments, Continent
"Our two serviced apartments are located in an 18th century canal house at the heart of a UNESCO world heritage site. We are located very centrally and everything is within walking distance. The apartments are beautiful: contemporary with some Asian influences. We are art and antiquity collectors, too, and our collection is found throughout the whole house. I think guests opt for one of our apartments because of the privacy that we can offer them. The spaciousness and the stunning view of the canal are also both factors, but privacy is definitely the most important. Of course, we strive to always provide the best possible experience, and we do our best to continually improve our service. This year we've added some new guest experiences including the possibility of requesting a private chef and an in-house masseur. This is our third year of winning at the World Luxury Hotel Awards and we do see that this award is recognised by our guests, and for us that's a very important aspect of this competition." – Mr. Mart Van Berkum, Proprietor & General Manager.
Pondoro Game Lodge
South Africa
Awards won:
– Luxury Romantic Hotel, Country
"Pondoro is a small exclusive hotel, situated inside Balule Nature Reserve, which is open to Kruger National Park. The area is one of the largest open eco-systems in the world. Guest can spot the big five – elephant, buffalo, rhino, leopard and lion. Our biggest draw card is that our property is small – we only have 16 beds. When you're there, you really feel like you're in the bush, it's intimate. From a marketing perspective, this award means a lot. Nowadays, a lot of our guests come to us via the internet, and to win something like this gives the property a lot of credibility. It guarantees that the property is a great choice. Winning this award is a big boost; it represents all the hard work we put in throughout the year. We always put it in a prominent place and it's something we can physically see to remind us of that." – Mr. Robert Prehn, Managing Director.
Relais & Châteaux Hotel Heritage
Belgium
Awards won:
– Luxury Boutique Hotel, Country
"Hotel Heritage is a boutique hotel in the city centre of Bruges, which for me is the most beautiful medieval city in Europe. Our building is from the 19th century so it is relatively 'young' compared to some of the city's architecture. We have 25 rooms, and each is uniquely decorated. Each room offers a different colour scheme, and every comfort a traveller could want; a Bose sound system, a Nespresso coffee machine, and an iPad with docking station. As we are a small property, we offer very personalised service. In addition, the hotel also offers an haute cuisine restaurant, which is typical for a Relais & Châteaux property. The restaurant, Le Mystique, sits only 24 people (or 30 if it's a group), so it's very intimate. We have a young chef, who has a lot of ambition and talent. This is the second year in a row that we have won this particular award and we're delighted. Competing is one piece of our marketing structure. There are so many things that we do to promote our property." – Mr Johan Creytens, General Manager.
Fusion Boutique Hotel
South Africa
Awards won:
– Luxury Design Hotel, Continent
– Luxury Suite Hotel, Continent
"Fusion is a city hotel. It's beautifully decorated and over the top – we don't believe in less is more, we believe in more is more! This goes for our interior and for our service. We are an award-winning property and we've won at the World Luxury Hotel Awards for the past five years. Currently, we have 140 staff members working there, and when I hand over the trophy to them after every win, I say 'It's one thing to win, but to continuously win is a challenge.' You can easily become complacent, but now it's a challenge for us to keep winning. We reproduce and frame the certificate for each staff member, and many have them hanging in their own houses." – Ms Maria du Plessis, Owner.
Palala Boutique Game Lodge
South Africa
Awards won:
– Luxury Game Lodge, Country
– Luxury New Hotel, Country
"Our decision to build a 5-star property in the bush is what has made Palala special. When we decided to start this property, we investigated all other game lodges in the area – they were all thatched, with a rustic feel. We wanted to be different, and upmarket. So we decided to build a 5-star hotel in the bush – which is exactly what we did. We have a serious wow factor, and the service of a traditional 5-star hotel. And, of course, the wildlife is amazing. We have the greatest variety of birdlife in the whole of South Africa – 350 different species, and you'll see 150 of those in a day. We even have rhinos walking amongst our rooms! And you what's even more incredible is that Palala is a brand new property, so to win in our first year is amazing. You cannot imagine how excited all the staff are – we're going to have a big party when we get back!" – Mr Arnold du Plessis, Owner.