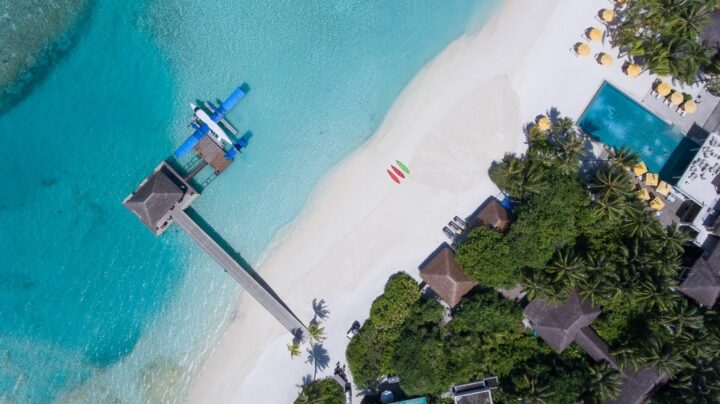 A worldwide perspective: A look back at 2017 and future trends and projections
Looking back at 2017
The year 2017 saw a growth in the arrivals of 8%, contributed mainly by the 12% increase in arrivals from Europe. Arrivals from the Asia Pacific region increased by a mere 3.2%. However, all major source markets in the Asia Pacific region with the exception of China showed strong growth, especially India and South Korea with exceptional growth rates of 24% and 17.7% respectively. The Chinese market showed a decrease of 5.5% in comparison to arrivals in 2016.
Based on data from destinations around the world, it is estimated that international tourist arrivals worldwide, increased by 7% in 2017. With the 8% growth in arrivals, the Maldives, therefore, has performed slightly above the average worldwide growth.The worldwide growth of 8% in 2017 is well above the trend of 4% or higher growth since 2010 and represents the strongest results in the last seven years. Europe saw an increase of 8% in arrivals last year, growth in African destinations averaged at the same level at 8%, Asia and the Pacific recorded 6% growth, the Middle East 5% and the Americas 3%.With the 6% growth for the year, destinations in Asia and the Pacific welcomed 324 million international tourist arrivals in 2017. Arrivals in South Asia grew 10%, in South-East Asia 8% and in Oceania growth was 7%. Arrivals to North-East Asia increased by 3%.
The strong worldwide performance is partly due to the global economic upswing and the robust outbound demand from many traditional and emerging source markets, particularly a rebound in tourism spending from Brazil and Russia after the recent years of decline. Therefore, it is not surprising that Russian arrivals to the Maldives showed a growth of over 33% for the year.
Outlook for 2018 and beyond
The current strong momentum is expected to continue in 2018. Based on current trends, economic prospects and the outlook, the United Nations World Tourism Organization (UNWTO) projects international tourist arrivals worldwide to grow at a rate of 4%-5% in 2018. This is somewhat above the 3.8% average increase projected for the period 2010-2020 by UNWTO, Asia and the Pacific is expected to grow by 5% – 6%.
By 2022, China is expected to become the world's largest source of outbound tourism demand, with 128 million trips, overtaking the United States, which leads in terms of the propensity to travel abroad. Annual growth is projected at 8.4% for the period 2017. The country is already the largest source of tourism expenditure in the world, expected to grow at the rate of 10.9% over 2017-2022.The European outbound travel market continues to grow steadily. Due to geopolitical instability involving popular destinations, European outbound travel increased by only 2–3% in recent years. However, European travellers are increasingly choosing destinations that they consider to be relatively safe, creating opportunities for unaffected destinations.Hence the overall growth of outbound travel is expected to increase in the next few years.
According to the World Travel and Tourism Council, the outbound tourism expenditure of UK travellers crossed US$ 70 billion and is projected to reach US$ 102 billion by the end of 2024. Europe is the most popular region for UK tourists with over 75% of total outbound trips.
Spain, France, Italy and Germany are the most visited destinations by UK residents and the United States was the most visited non-European destination with around 6% of total visits. China, India, Iceland and Cuba are other popular destinations for UK travellers among other non-European destinations.Factors such as cultural and artistic heritage, high reputation related to the charming culture and lifestyle, great climate, excellent and frequent flight connections have influenced UK tourists to travel to Italy. In addition to the trips within Europe, long-haul travel is also increasingly becoming popular among UK travellers.The Middle East was the least visited region for UK holidaymakers and India is one of the top destinations for UK travellers in the Asia Pacific region.
As travel experts look to the New Year they see changing trends in traveller profile and traveller behaviour. Travellers are increasingly searching for unique, exclusive experiences that create lasting memories. Part of this trend is an interest in authentic experiences in non-traditional destinations where travellers can interact with local people. An increasingly popular expression of this trend is creative tourism.
Peer-to-peer travel continues to expand rapidly, both in numbers and in segments. This allows inhabitants of tourist destinations to sell tourism products to travellers without involving professional tourism suppliers. Airbnb now has more than 2.3 million listings. Some industry experts believe that it does negatively affect the business of traditional industry players. Others suggest that it might have tapped into an additional market.Travellers increasingly want to book all aspects of their trip "on demand", where and when it suits them, including tours and activities. This is leading not only online travel companies such as TripAdvisor and Expedia to offer tours and activities, but also a peer-to-peer platform.As the European population ages and the composition of households change, new types of travellers emerge. According to industry experts, promising target groups include senior travellers, solo travellers, and families with older children and single parents that would form a significant part of the traveller profile in the coming years.
Europeans are among the most digitally savvy travellers in the world. They already make wide-scale use of mobile devices such as smartphones and tablets to gather travel information. Now booking through mobile devices is gaining ground. Northern and western European travellers are the most familiar with mobile travel booking. Mobile's share of online travel bookings increased with double-figure growth rates in 2016.
For example, 31% of Swedish and 28% of Danish online travel bookings were mobile. Mobile bookings in Spain also soared from 23% to 29%. For Europe as a whole, mobile bookings are expected to have reached a 25% market share in 2017.
Arrivals from major source markets: 2012 – 2017