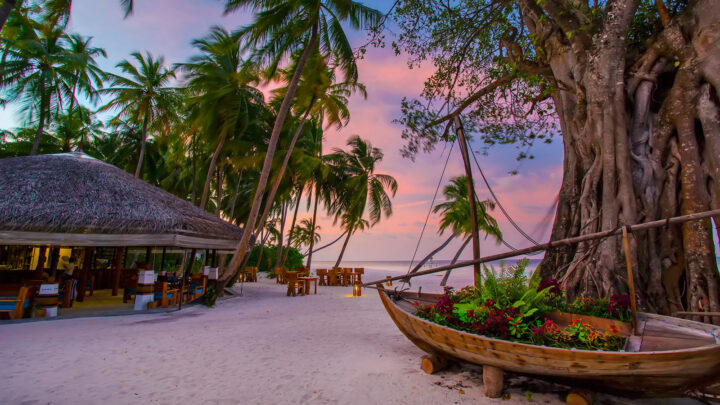 aaaVeee Nature's Paradise – Maldives resort draws inspiration from early days of tourism
The word 'aavee' in Dhivehi translates to an age-old concept revived in the modern day. AaaVeee Nature's Paradise was developed to bring back the original resort concept that was the trademark of tourism industry in the Maldives when it started in the early 70s.
Located in the middle of Dhaalu atoll, aaaVeee Nature's Paradise is a 40-minute scenic seaplane ride away from the Ibrahim Nasir International Airport. Upon arrival, I am greeted at the jetty by Ahmed Nasheed, front office and reservations coordinator, and Wilshan Moosa, the resorts accountant.
Giving me a tour of the island, Ahmed explains that the whole concept of the island was inspired by traditional Maldivian houses. The resort has three types of room categories on the island – Kotari (Deck Villas), Goathi (Beach Villas) and Kotari Kolhu (Suites).  All rooms reflect simplicity of the Maldivian lifestyle, and the names for the room categories all Dhivehi words for house or room.
"Most of the furniture was built on the island from coconut timber and other wood sourced from nearby islands," Ahmed Nasheed explains. "Because the island has an abundance of old trees and plants, these provide for natural fences between two rooms. In addition to these, we have made fences of thatch which also provide privacy to guests."
Elevated, and overlooking the deep blue ocean, the resort's Nature Discover Decks (Veli Ashi) on the beach side provide a romantic and private setting to relax in. The Jungle Decks or Koveli Ashi, are located strategically within the lush vegetation of the island. Modeled after tree houses, these decks offer a bird's eye view of the island. Guests can come here for privacy and relaxation, and these decks provide guests with a chance to reconnect with nature.
The resort's two restaurants, Veeru (main restaurant) and Varabadhi (a la carte restaurant) offer a variety of delectable dining options, making for an unforgettable culinary experience. The restaurants are perfectly in line with the rustic theme set up throughout the island. Furnished with wooden furniture and fans hung low, the main restaurant is a 'barefoot' restaurant.  The two bars, aaVi Ashi and Vakaru offer guests a wide range of alcoholic and non-alcoholic beverages.
GuruVa aaaDive & Water Sports Center offers a variety of activities for guests, including a complimentary diving day once a week. Choosing the location depending on weather, this option offers all certified divers an opportunity to explore different dive locations around the island.
Vindhu (pulse) Spa is located in the thick forest of the island. The spa offers two overwater treatment rooms with a breath-taking view; the ultimate spot to enjoy getting pampered by the professional masseurs at the spa.
AaaVeee Nature's Paradise offers an authentic Maldivian experience. From the moment you step on to the island, till the moment you say goodbye, your stay at aaaVeee is bound to be a truly Maldivian experience.