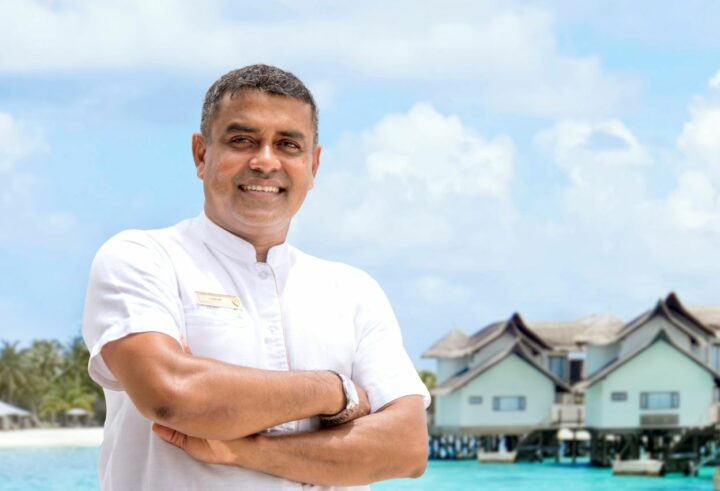 Abdul-Azeez Ali, GCL Director at Jumeirah Group/Jumeirah Hotels & Resorts
The Director of Government Liaisons and Local Affairs, Abdul-Azeez Ali, has been instrumental in carrying out all CSR efforts undertaken by Jumeirah Vittaveli – he is a founding member of BOLI (a colleague initiative dedicated to working with colleagues as well as surrounding communities) and currently serves as its president. Azeez was the General Manager of Bolifushi Island when it was still in operation and stayed on to support Jumeirah since pre-opening. For him, Jumeirah Vittaveli is a second home and he is dedicated to ensuring his colleagues see it as their home as well, by implementing leisure activities, supporting management in creating new facilities such as the AstroTurf football field or the multi-purpose court, and always having an open ear for any concerns his colleagues might have.
Hotelier Maldives: Can you tell us a little bit about Jumeirah Vittaveli's CSR philosophy?
Abdul-Azeez Ali: I would say, Jumeirah Vittaveli's CSR philosophy is to build a better future for our colleagues, guests, as well as surrounding communities, with a strong focus on our immediate environment and what we can do to positively influence life in the Maldives.
This has led us to carry out a variety of initiatives, from eco activities like coral planting and reef cleaning, to community outreach activities in collaboration with officials from local NGO's such as the Care Society and Thalassemia Center as well as from nearby local islands – including Gulhi, Guraidhoo, and Maafushi.
HM: What is your role in carrying out CSR efforts undertaken by Jumeirah Vittaveli?
AA: As Chairman of the BOLI (Building Our Lifestyle Innovatively) Committee, my role is to provide support & assist the BOLI Committee in carrying out all of their efforts, be it for our own colleagues or for surrounding communities. The BOLI Committee is an outstanding initiative created by our team members at Jumeirah Vittaveli – independent from outreach activities that are driven by the management, our colleagues wanted to become active and do their part in improving the lives of communities around us, in addition to arranging activities or implementing plans to enhance the facilities for our own colleagues on the island.
HM: So, briefly, which CSR projects are currently being undertaken at Jumeirah Vittaveli?
AA: We have supported multiple local NGO's on a continuous basis over the past six years. In 2018, we pledged our support to the UNDP's Unite for Climate Action programme and are looking forward to continuing our collaboration with them into the next year. Under the Climate Action programme, the UNDP has trained teams on several islands in emergency response procedures and is facilitating solutions for local agriculture on islands threatened by ocean swells and flooding. From BOLI, we are currently undertaking fundraising for children who are in need of bone marrow transfusion, a new programme that we just launched and that I am especially passionate about as we can directly impact the treatment of a child suffering from Thalassemia.HM: Would you say your present role is more rewarding?
AA: The work that I do along with a dedicated and supportive team as BOLI Committee is very rewarding as I can not only see the love and passion our team has for their communities but also how our contributions and efforts go a long way to help the communities in enriching their lives in many ways.
HM: Can we find good CSR practices in the country? What are the challenges in capacity building in the CSR industry?
AA: There are a number of good CSR practices within the country. While there can be challenges in capacity building, it can easily be overcome with dedication and support in driving these initiatives forward.
HM: What are the challenges in research and information sharing in CSR?
AA: Given our close working relationship and understanding within the communities, we have faced little or no challenges in gathering research or information about the causes that we wish to support. The local communities and the respective NGO's have been very welcoming and open to sharing their knowledge and information.
HM: What do you consider as your main achievement in the time you have spent in handling CSR projects for Jumeirah Vittaveli?
AA: I would say every single one of our projects has been an achievement, and it is a pleasure to see how enthusiastic our team is and how much they learn with every new initiative. We always make sure to enter into long-term collaborations so we can ensure that we remain in touch with the needs of the community and can enhance our efforts or step back a little, depending on the respective needs of the programmes we work with. For me, our most recent project is our biggest achievement yet. Our bone marrow transfusion project addresses one of the most serious hereditary conditions in the Maldives, where Thalassemia is a real problem, as it affects approximately 16-18% of the population who are Thalassemia carriers and around 60-70 children are born with the disease every year. It is a cause that has always been close to my heart and I am very happy that our efforts will make a big difference in the life of a child affected by Thalassemia.
HM: As a last question we would like to ask what your philosophy has been that has guided your success in your professional career. And what is the best advice you can give to aspiring professionals in the industry?
AA: My main philosophy has always been to "keep people happy". I firmly believe that if your team is happy, this will carry on in all directions – your guests will be happy, the families of your teams will be happy, and you will create a positive environment for everyone that gives room for growth and provides a secure place to feel at home. Of course, we will always face obstacles and difficulties in our path, but if we take them on with an open and positive mind, we will find a solution that enables us to continue our path. I think this can be seen in my work with the BOLI Committee, where we have many young minds who are eager to do good and who grow with each project we take on.
The best advice I can give to aspiring professionals would be, to follow your path and appreciate every step of the way that will take you closer to your goal.
I started in a very junior role and worked my way up to my current position, and I can honestly say that I am proud of my achievements and grateful for each opportunity that was given to me. I had the chance to work with many great leaders who taught me how to become a leader myself and I learned a variety of practical and soft skills along the way.
Never do anything only for monetary rewards, do what you believe in and be patient and you will eventually acquire what you desire.