Adaaran Select Meedhupparu Hosts VIP Wedding for Czech Celebrities
Adaaran Select Meedhupparu hosted the wedding of  Czech film producer Michaela Bastien and musician, actor, and singer, Alan Rudolf Bastein on 10th October 2022.
While Alan was dressed in a white linen shirt and matching pants, Michaela was seen looking lovely in a long white dress. Michaela and Alan's two children, were also spotted wearing white, while the bridesmaid wore coral pink. They moved along the beach toward a ceremony location that was put up as a decorated enclave composed of interlaced palm leaves and vibrant tropical flowers. Visitors could be seen taking part in a celebration that featured some traditional Maldivian practices.
Many famous celebrities and public figures were in attendance including former first lady of Czech Republic and actress Dagmar Havlova (Veskrnova), Czech actor, guitarist, and presenter Jakub Prachar, his girlfriend and actress Sara Sandeva, actressTereza Ramba, and actress Tereza Herz Pokorna.  The ceremony was officiated by Yaanu, from the F&B Team in Meedhupparu Island in English and by Lucie Mohelnikova in Czech. The destination wedding at the island was arranged by Other Way Holiday in partnership with, Maldivian DMC, Exciting Travel Holidays.
In 2012, Lucie Mohelnikova founded "Other Way Holiday" in the Czech Republic. This tour operator and travel company has a long history in the Maldives and focuses on creating unique vacations inside this beautiful island nation. Their experience includes planning itineraries that include stops in Doha, Qatar, or Dubai, United Arab Emirates along with travels to the Maldives and Sri Lanka. Their primary customers are Czechs and Slovaks, while they occasionally also work with clients from Asia, the Middle East, and other parts of Europe. In addition to providing custom vacations for many regular people, Other Way Holiday also caters to numerous VIPs, sports, actors, singers, journalists, and TV crews.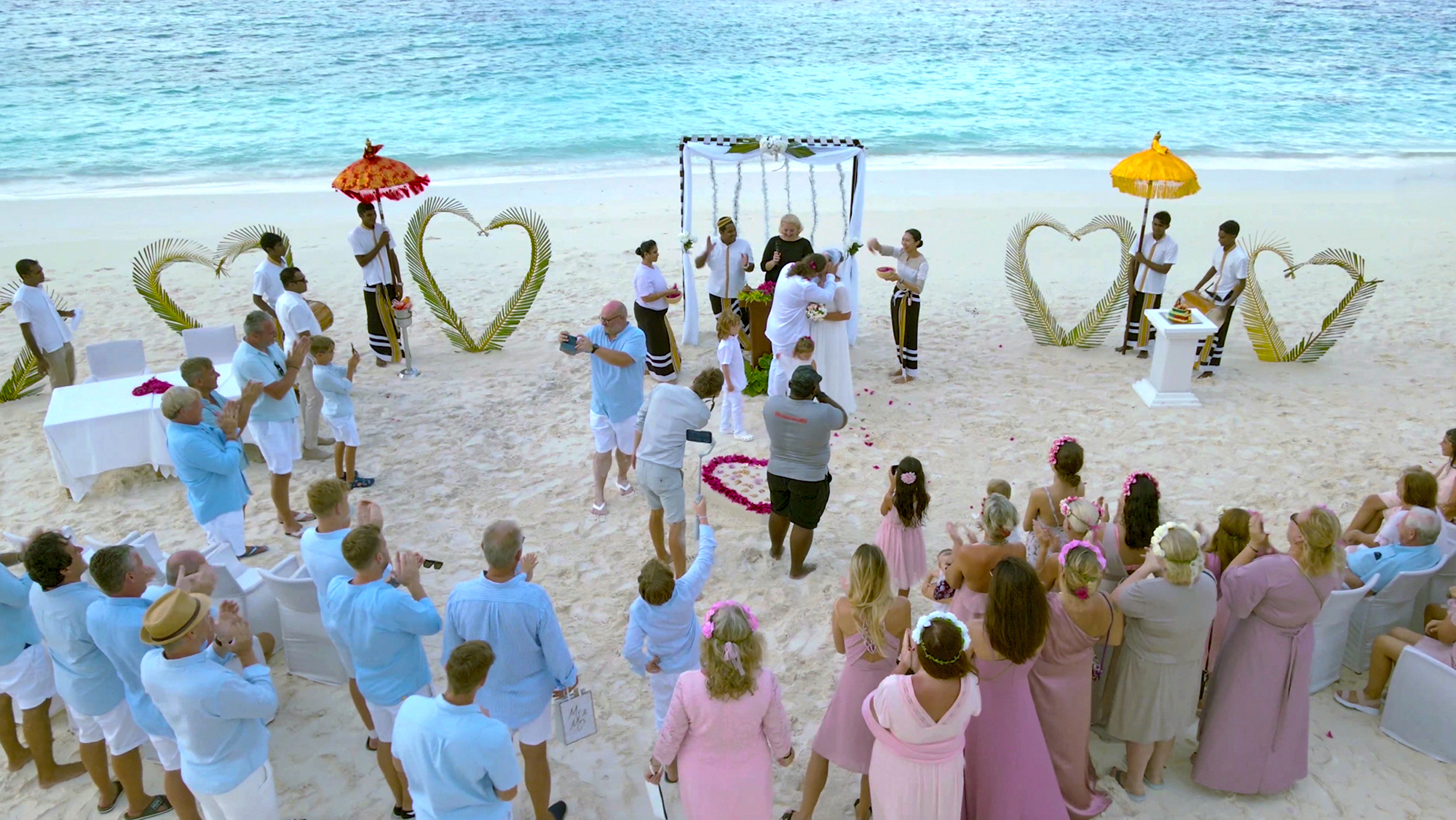 Featured Image: Adaaran Select Meedhupparu
Located in Raa atoll, Adaaran Select Meedhupparu is an award-winning resort situated 45 minutes scenic seaplane ride from Velena International Airport. The island of Meedhupparu is also home to Adaaran Prestige Water Villas, a five-star resort comprising of 20 luxury water villas. The resort also provides the outdoor swimming pool facility, signature spa treatments and 5 dining outlets. Each beach villa offers a terrace with sun loungers and private bathroom. A minibar at a surcharge and tea and coffee maker are also provided. Guests can learn diving at the water sports centre. Recreation facilities including a fitness room, beach volleyball and snorkelling are available. The buffet, for breakfast, lunch and dinner, is served at the resort's main restaurant including Asian and Western cuisines while drinks are available at 4 bars.
Meedhupparu Island is also among the most sought-after wedding destinations in the Maldives. Getting married on the Island means being surrounded by miles of endless azure ocean, a breathtaking background to the happily ever after.