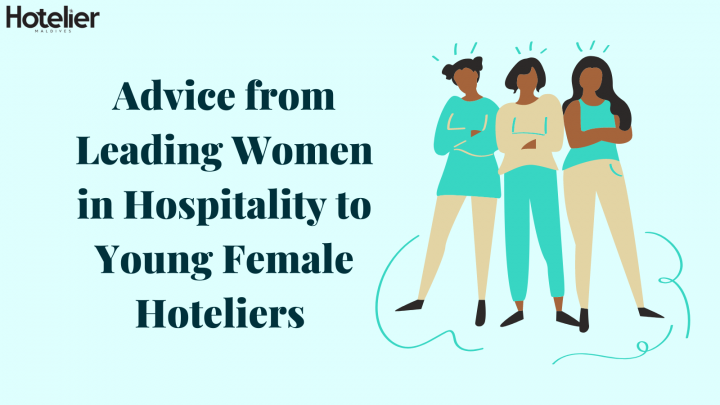 Advice from Leading Women in Hospitality to Young Female Hoteliers
To celebrate International Women's Day 2023, Hotelier Maldives collected advice from leading women in hospitality to young female hoteliers. We recognize the careers and accomplishments of the women supporting the Maldives' hospitality industry, not just today, but every day.
1. "Follow your heart, believe in yourself, and don't try to be like your male colleagues. You were hired for a reason." – Corinna Luebbe, Cluster General Manager of Taj Maldives
2. "Give yourself time to learn and grow at your own speed. Respect people around you and smile, and usually you will receive the same in return." – Anastasiya Babenko, Marketing and PR Manager at LUX* South Ari Atoll
3. "There is nothing you cannot conquer or achieve as a woman or an individual with dedication, will and patience. Set goals and timeline and organize the components required to achieve it." -Aminath Sazra, Front Office Manager at Gili Lankanfushi Maldives
4. "Dream Big. Dream it Possible. Never be afraid to take on challenges. Follow the heart and be patient, believe that you can do it better." – Stellan Huang, Sales Executive at THE OZEN COLLECTION
5. "Embrace it, it's a beautiful industry that creates connection with people from all around the world and helps one another to celebrate life." -Mirella Veder, Director of Sales at LUX* South Ari Atoll
6. "Just try it! Even if you think you don't have the experience or knowledge, it is often more the motivation and willingness to learn that counts. Everything else can be taught." – Monika Angliker, Guest Services Manager at Kandolhu Maldives
7. "The industry is full of prospects and you can try different roles within the industry itself until you find what is right for you if you are unsure in the beginning" -Farsa Saeed, Sales Manager at The Nautilus Maldives
8. "Always believe in yourself. View every single challenge you face as another opportunity to learn. Focus on your path and patiently move towards your goal. The sky's the limit." – Aishath Alaa Abdul Hannan, Deputy Manager of Corporate Strategy & Business Development at Trans Maldivian Airways.