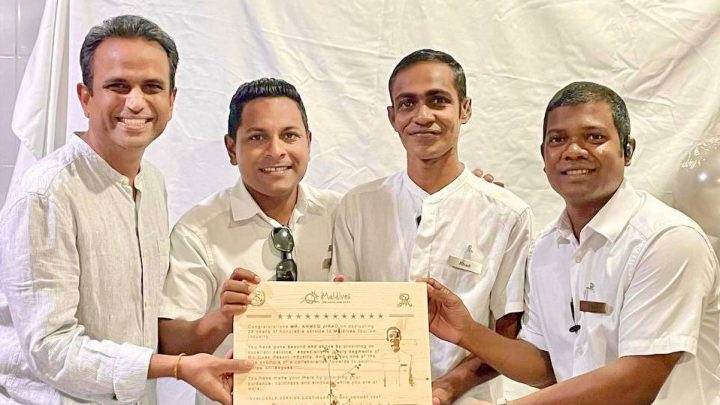 Ahmed Jihad, Butler, St. Regis Maldives Vommuli Resort
Ahmed Jihad's 25-year long journey in the hospitality industry started as most journeys do – with a life changing spark of interest. As a young boy living in an island on the south, he was fascinated by the stories he heard from the resort workers from his neighbourhood. They would return to the island on their off days and vacations, and talk of the different life they lived on the job, about the foreign visitors, the buzzing excitement.
Impressed by these tales, Jihad set out to carve a spot for himself in the industry before he had even reached adulthood, fresh-faced, with very little idea of the demands and responsibilities he would soon have to face.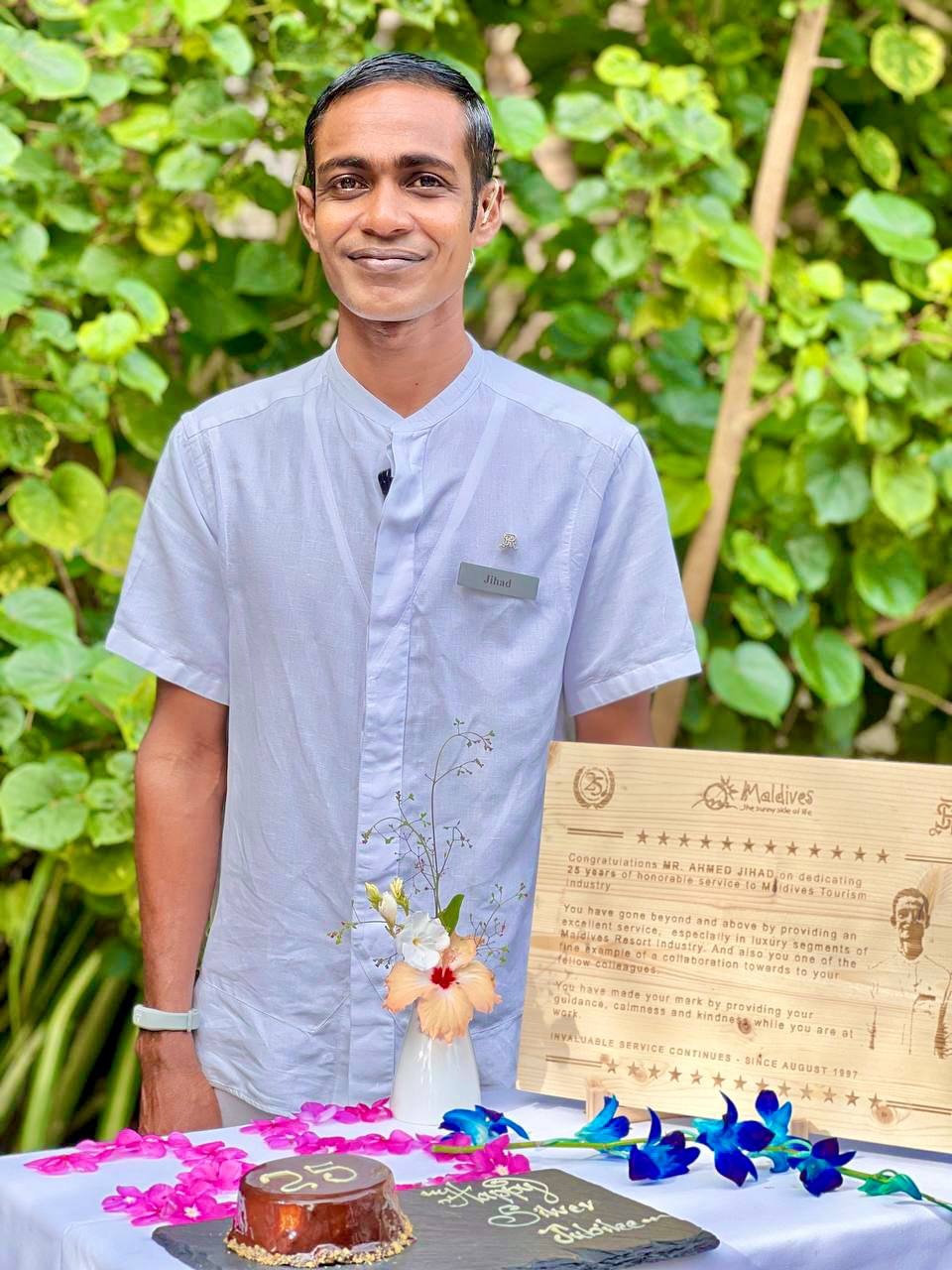 One Step at a Time
When he began his first job as an Island Cleaner, Bar Waiter and Line Colleague at Dhigu Finolhu in 1997, Jihad had to take a huge step out of his comfort zone, which filled him with doubt. The work, the setting, the environment, the work culture and the clients were so different from what he had come to expect from 'regular' jobs, and he wondered if he was cut out for the industry.
However, seeing his friends and colleagues remain steadfast in their careers solidified Jihad's determination, and he decided to do his best to pave his way forward. "I thought that if they could do it, then I could too", he said.
After filling the positions of Waiter and Line Colleague at Dhigu Finolhu, Taj Coral Reef, Paradise Island Resort, Banyan Tree Vabbinfaru, and Vilamendhoo Island Resort respectively, Jihad shifted his career focus into becoming a butler in 2004, during the time he spent on the pre-opening team of Huvafen Fushi Maldives.
"Back then, I didn't really know what a butler was – the service hadn't really been introduced to the Maldives. At Huvafen Fushi, when I was working in the F&B section, I had my first opportunity to witness what butlers do", he explained.
Now as a Butler at the St. Regis Maldives Vommuli Resort, Jihad is proud to serve at a resort operated by a well-established international brand, especially since it is the first and only resort by the company in the Maldives.
"St. Regis is over a hundred years old, so this company has a lot of history and legacy that most people do not know about. I find it very inspirational, and I really enjoy sharing that knowledge with my guests during their time at the resort," he said, when asked about his favourite part of the job.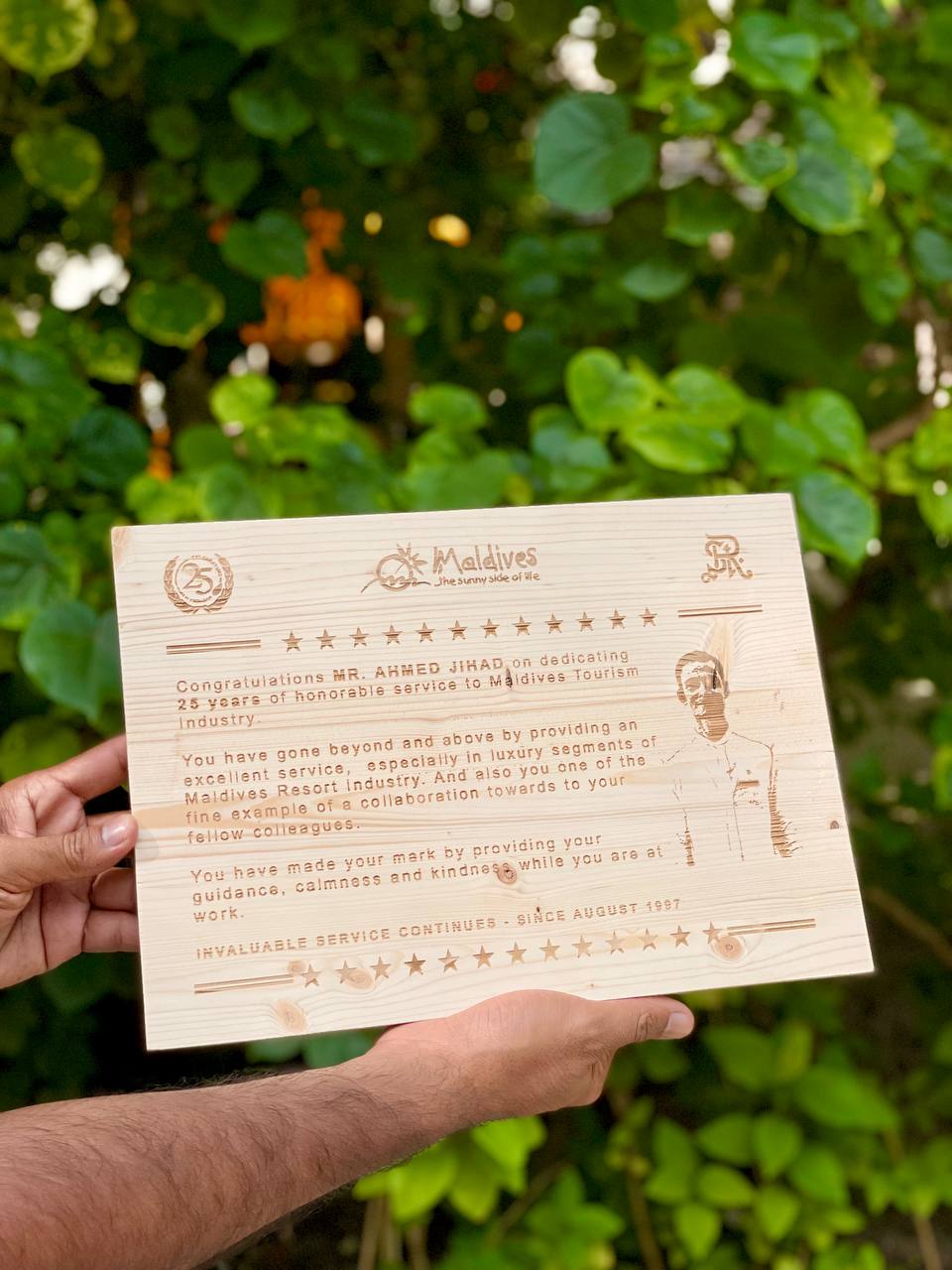 Quarter of a Century
"If I'm being very honest, I don't even feel like I've spent 25 years in resorts", his voice is tinted with disbelief, humour and a hint of pride, "but when it hits me that I have been doing this for a long time, mostly when my children remind me, I feel that I have been able to make a contribution to the tourism industry of the Maldives."
In addition to serving in the hospitality field for a quarter of a century, Jihad said that his biggest achievement was having the opportunity and the experience of working at some of the most luxurious resorts in the Maldives.
Counting the most memorable moments in his career, Jihad highlighted the times when guests have asked for him specifically. "Some clients have called to confirm whether I would be available and said they would visit only if I was. There are many of those instances, and that is always very memorable."
As an experienced butler, Jihad has served a multitude of guests, including top-luxury clients such as politicians, royalties, and celebrities from different nationalities. He has also taken care of many guests who visit the Maldives repeatedly, and ensured their stays were flawless every time.
Over the years, Jihad has also been a close witness to the boom of tourism in the archipelago, having seen the latter half of the industry develop into what it is today.
"There have been so many changes to the industry. The most notable one is the large number of luxury brands and resorts we see today. Compared to earlier, every new product popping up in the industry is luxurious and high-profile. So many services that didn't exist before has been introduced and are being implemented."
"I genuinely believe that the Maldives has the world's number one hospitality industry right now", he said with firm conviction.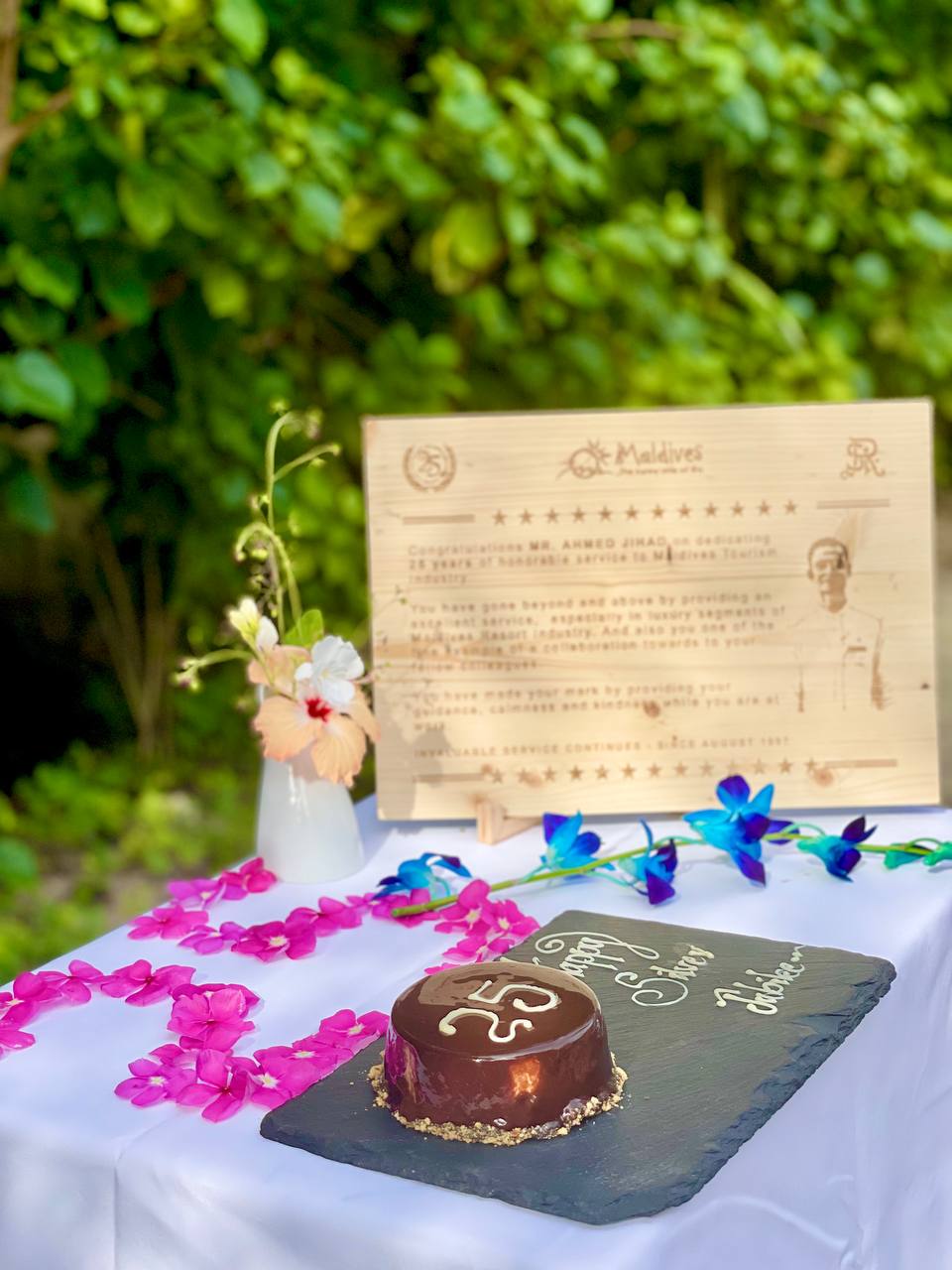 A Brighter Future
As the industry continues to thrive and grow, Jihad encouraged young people to join the workforce and make use of the abundance of opportunities available today.
"There are a lot of locals working in managerial positions in resorts – that was a very rare occurrence in the past, but now it has become common. Compared to when I first started working, there are a lot more opportunities for those starting out in this industry. When educated youth step into this field, they have a lot of opportunities to grow and take different paths."
According to Jihad, the advice he would give to aspiring hoteliers and those interested in the tourism industry was also the biggest lesson he learned during his 25 years of service.
"You may thing that this is a difficult job, or something you aren't really cut out for, but try not to think that way and face it with courage. If you do that, you will succeed. You may fail today, and you may even fail tomorrow, but do not hold on to that failure. Do not carry the weight of your mistakes around. Just let it go, and keep moving forward."
Featured Images: St. Regis Maldives Vommuli Resort