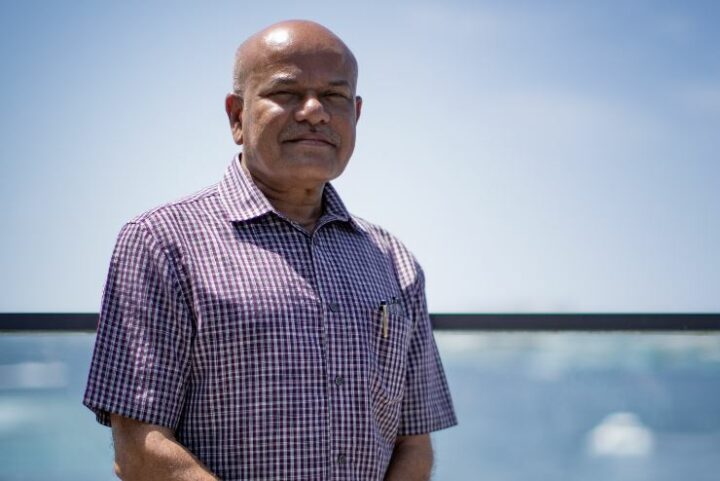 Ahmed Saeed, General Manager, Maagiri Hotel
A PROUD VETERAN of the hospitality industry of Maldives of over 30 years, Ahmed Saeed, the General Manager of Maagiri Hotel shares his varied experiences with us. From managing resorts to hotels, he is a well-established hotelier who has been recognized by the Ministry of Tourism with an award for his distinguished service towards sustainable tourism celebrating Twenty-Five Years of Sustainable Tourism in Maldives, 1997. Saeed has also served as the appointed Managing Director for Fathuru Maldives, a subsidiary company of MTDC.
Hotelier Maldives: Could you tell us about your journey to GM, the beginning of it?
Ahmed Saeed: I started off my hospitality career as an office boy at Meeru island resort over 30 years back. With my hard work and dedication during my years in the junior ranks of the resort, I was promoted as their general manager in 10 years' time. I was with Meeru island almost 17 years before getting the opportunity of working at Gasfinolhu, a sister property of Crown & Champa Resorts. During my time at Gasfinolhu, I was involved with the development of 20 rooms with thatched style roofs. Right after the development phase, I was promoted as their resident manager. While working with CCR, I moved within their sister islands on different assignments. I looked after Kuda Huraa for couple of months as well as got the opportunity to work with the Kuredhu team for the opening of the Kuredhu Resort. At Kuredhu I focused mainly on enhancing their kitchen operations and services. From 1994-2004 I was working at Lily Beach Resort as their general manager. While working with Lily, I assisted in the management of Vakarufalhi island resort as well. In June 2001 I joined Mirihi island resort as their general manager and was with them till I took a break from the industry. From 2008-2010, I joined Fathuru Maldives, a subsidiary company of MTDC, as their Managing Director; overlooking their management and hotel development projects. It was an appointed post by the shareholders of the company. Today, I am the General Manager of Maagiri Hotel, which is a Crown & Lily property. Once again, I joined at the development phase overlooking their whole process and after the opening, I am managing the property.
HM: What motivated you to join the hospitality industry?
AS: I have always had a liking towards meeting people from all walks of life. I was keen about getting the knowledge of far off countries and its people. With my strong passion, when the opportunity of working for the hospitality industry came available, I joined without much hesitation. I wanted to learn something about the rest of the world, apart from my hometown Malé and Maldives.
HM: What's your personal highlights for guests staying at Maagiri Hotel?
AS: Friendly Service, the convenience of location and easy accessibility.
HM: What is your favourite feature of the Hotel?
AS: My favourite features are the overall ambience and the colour theme used on the interior design of the hotel. The combination of white and shades of grey.
HM: What are the most recommended dishes on the Maagiri restaurants?
AS: We have 3 restaurant outlets. Faru, Peak and Coffee Curve. We would like to recommend our Beef Steak, Smoked Salmon and Butter Chicken for our guests. We have had wonderful feedback from people who have tried those dishes.
HM: What are your biggest challenges managing a city hotel in Malé area?
AS: It is the non-stop construction going around us at Malé city. 90% of the guests who stay here are corporate clients and we have diplomats staying with us. Apart from the incessant construction, it's ok. You just have to pre-plan things well.
HM: In your opinion, how important is social media for a hotel?
AS: Social Media is quite vital for any business right now. It provides the hotel with the chance to build a good relationship with guests. It strengthens our presence and reputation.
HM: How do you best motivate your team?
AS: We have around 85 staff including Maldivians along with many other Asian nationalities. I foster collaboration within the team, try to avoid useless meetings, set clear goals and I don't micro-manage.
HM: What is your greatest achievement in your long career?
AS: My greatest achievement was back in 1997, I got the honour of receiving an Award of Recognition of long standing-service in sustainable tourism from the Ministry of Tourism. I have reached this far with the immense support and guidance from owners and directors of Champa, Crown and Lily.
HM: What are your greatest strengths and weaknesses?
AS: My team is my strength. My weakness, it is very difficult for me to say "No" especially to my guests. I try to keep the word "No" out of my vocabulary. I even tell my staff not to say 'No'. It should be erased from our vocabulary.
HM: Who is your biggest inspiration?
AS: My biggest inspiration is one of the pioneers of the hospitality industry in the Maldives. I was lucky enough to work closely with such experienced people for many years and have learnt a great deal of knowledge and discipline from them.
HM: Describe Hotel Maagiri in one word
AS: "Home."
HM: Could you tell us why the new branding of this hotel maintained the old name "Maagiri"?
AS: This very plot had the first guesthouse in Malé, it was called Maagiri Guesthouse, later on, Maagiri Lodge. This was the first place where guests were accommodated in Malé back in the 70's. So naturally, the name has a lot of value to us. So, we decided to honour it.
HM: What is your word of advice to your team members and other hoteliers working in the industry?
AS: Be punctual, honest and work hard towards your goal.