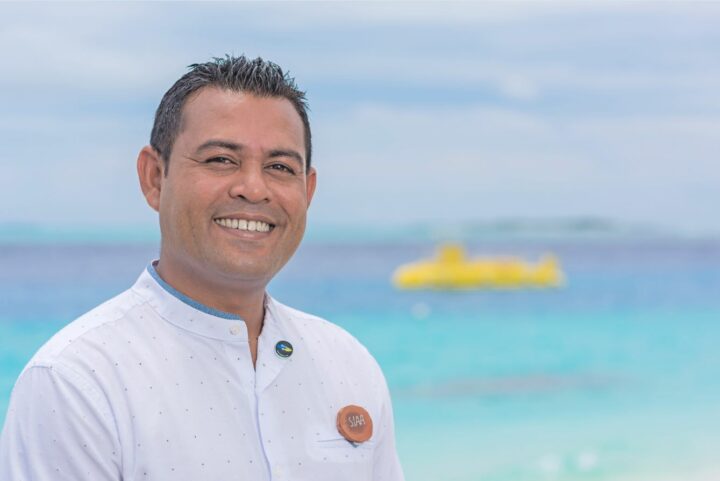 GM's View: Ahmed Siaar, General Manager, Fushifaru Maldives
Despite the notion of responsibility synonymous with the title of 'General Manager', when you first meet Ahmed Siaar, the General Manager of Fushifaru Maldives, he will likely make you think it's an easy job. The way he carries himself, the easy conversations, his rapport with the staff; all point to a relaxed management style. When you speak with him for an hour and half, you will realise his calm composure is a vital component of an endearing management style he has evolved through his 19-year long career in the hospitality industry.
"I am a people person. That's just who I am. I believe this is the trait that helps me with my management," he says with a warm welcoming smile as we sit to have a conversation at the all-daydining restaurant, Korakali at Fushifaru Maldives.
While the hospitality industry of the Maldives keeps growing evermore every year, the requirement for management staff are mostly fulfilled by foreigners. It is not common to see a Maldivian like Siaar, who have successfully earned their managerial position through hard work, discipline and dedication. In a nutshell, the industry looks for experienced experts from all over the world to manage the luxury properties and its no easy feat for Maldivians to compete against these professionals and win a managerial position. Siaar is one of those few who have succeeded."I started as a housekeeping trainee at Laguna Beach Resort and I have worked at different levels in six resorts over my 19-year career," Siaar recalls. Working from the bottom, all the way to the top over a period of nearly two decades will certainly come with a myriad of challenges.Yet, Siaar does not seem to be bothered by those challenges that he faced. "I wouldn't say I faced any challenges as such. Of course, there were difficult days but I have a determination to do anything that comes my way and I can say I have done it so far," Siaar believes his success lies in being people-oriented.
According to Siaar, he finds it easy to deal with people with any type of personality. Perhaps it's his ability to calmly deal with situations which reward him with less conflicts and minimal challenges whether managing or working for people. "Managing people is never an easy job. But I do try to understand where people are coming from when they are having issues," he adds.
One conversation with Siaar is enough to know his dedication to staff development. He rarely spoke about the property and other management functions. As the topic unfolded, I realised this was more than a manager talking about his staff. Siaar is dedicated to developing people as human beings, at a near-humanitarian level. He is a strong believer that well focused, passionate staff is the key to a consistent service in his resort.
While most resorts in the hospitality industry have staff motivation programmes that rank and award best staff, Siaar takes it to a different level. He does not believe a simple reward system is enough to keep people motivated.
Yet, Siaar does not seem to be bothered by those challenges that he faced."I believe you need to encourage people to become the best version of themselves. Regular reward programmes do work but I think it lacks a huge component; it is not designed to encourage low-performance staff to do better as much as it is focused to reward high performers. Now, I don't believe in that. I believe that each and every staff deserves the opportunity to develop themselves. They all need guidance and opportunities along with the rewards," Siaar says, now fully in his element with sparkling passion in his eyes.Therefore, at Fushifaru, Siaar developed a staff motivation programme where individuals are required to create their own goals and self-evaluate themselves and work accordingly to achieve them. Additionally, Siaar also motivates his staff to travel with their families instead of staying home during their holidays."Many of our Residents are hardworking and enterprising, and we find that resort staff often take up extra work that is physically demanding on their days off. While it's admirable, this also detracts from them spending time with their families. I am a strong believer that travel is great for both personal growth and recuperation, so when they take leave, I encourage my staff to travel. We have a programme that gives team members flights to other countries so they can enjoy their vacation relaxing instead of working," he adds.
One other programme Siaar has initiated for his staff at Fushifaru is encouraging them to use social media as an effort to celebrate their own lives. He encourages them to show off their work and get exposure on social media so they may get better opportunities to progress in the field. "You make a signature drink. Why shouldn't you celebrate it?
You may not be a world famous celebrity but your life should matter to you just as much as their life matters to them, right?" he asks. This is not your average manager. Here I am sitting with a manager who believes the most important asset he has to manage is his people.As far as his words and body language go, he does it with an actual love. As the conversation got more and more serious in nature, his tone changed to concern about the current trends of the hospitality industry. As the industry grows, there are increasing number of foreign staff in the industry. Siaar is determined to keep his workforce as authentically Maldivian as he can."Over 90% of the staff here are local. That's intentional. If you think about it, guests from all around the world travel here for an irreplaceable experience. We are proud of our beautiful location and the warm, hospitable spirit that is only found in the Maldives. For us, that begins with the people. Each touch point is a guest experience that can be shaped by someone who lives, breathes and represents the Maldives and this is a win for us, because it is one step closer to a soulful and uniquely Maldivian impression for the guest," he says.
The result of this affectionate style of management has indeed created a unique resort in many aspects. Fushifaru Maldives is a part of Muni Enterprises, the company's first venture into resort management, diversifying their already robust portfolio of luxury safari boats, luxury residences and a travel agency. "We are not just an island. We are a landscape," he adds.This is indeed a unique approach yet again engraved in the minds of his staff or 'Residents' as they are referred to on island. They believe their guests should not only get the chance to relax by the beach, but a variety of other experiences as well. Therefore, Siaar's Residents have created a range of experiences for guests, all of which incorporates the cultures of the Maldives as much as they can.For Siaar, this is what he is meant to be. He believes he has found his passion, strength and dedication all in one place. He believes any Maldivian who is truly interested in the hospitality industry can achieve what he has achieved. "But you need to have discipline. You need education. You must be willing to learn every day of your career. You must believe in yourself, respect and celebrate yourself because standing is just boring!" he adds.