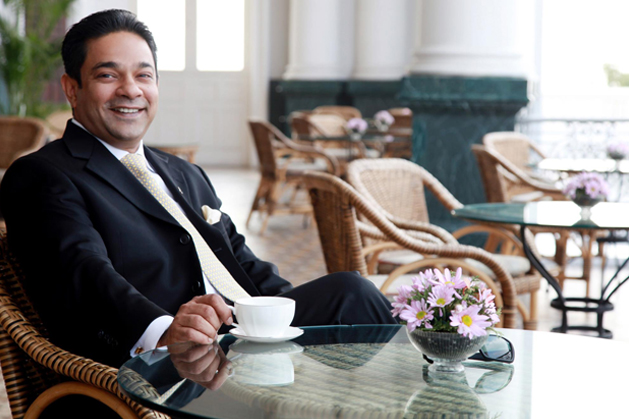 The GM's View: Ranjit Phillipose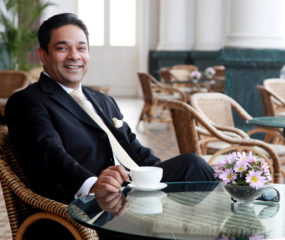 Ranjit Phillipose graduated from Madras Christian College with a Bachelor of Arts in History, and, in 1993, joined the Taj Group in India. He initially worked as a front office executive and over the years rose through the ranks. Phillipose left to work at a Taj property in London in 1999 where he remained till 2004. He then left for the US where he worked with Taj in New York and Boston as a Director of Rooms and Hotel Manager respectively. He was instrumental in opening Taj properties in San Francisco and Hyderabad. After opening a total of eight properties, and serving as the opening General Manager at Taj Falaknuma Palace in Hyderabad, Phillipose took over the management of Taj Exotica in the Maldives in 2012 and since then has been its GM.
HM (Hotelier Maldives): How does the Maldives differ from other places that you've experienced?
RP (Ranjit Phillipose): It's different in every way. I've worked in big, bustling cities on three continents prior to this, where people are very busy and always on the move. They don't have time really. Here, people are so much more relaxed, the environment around you is beautiful. In big cities you don't really get to stop and appreciate the beauty of things. The Maldives gives you that opportunity.
HM: How would you describe the attitude of Maldivian workers?
RP: You know, when I first came here, people said "It's an island and people on islands have a very different mentality." But I was so surprised . I can only talk about people who work here though and 50 percent of my staff are local. When I see them interacting with and serving guests it feels as though a lot of it comes from the heart. It comes so naturally to them. They take great pride in their work, and they do it because they want to.
Another thing that struck me was the talent. Finding talented musicians in big cities was a nightmare for me. But here everybody we get has talent and each is absolutely unique.
HM: What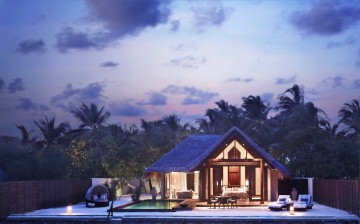 significant changes have you implemented here at Taj Exotica?
RP: The first thing we did when I came here was to open a pool side restaurant as we noticed that a lot of the guests were not using the main restaurant for lunch. They were either at the pool or in the ocean and nobody wanted to change and come to the main restaurant. The poolside restaurant serves light meals such as burgers, sandwiches and salads. It's been a great success.
The other thing that we drastically altered was our specialty restaurant. It used to serve contemporary French cuisine and we weren't getting many covers. People who stayed here for seven or fourteen nights used to eat there just once during their stay. We changed the entire concept of the restaurant, and made th e food more accessible, serving grilled meats and fish. It's rocking now.
The latest major change is the ocean pavilion. It's a free standing pavilion in the ocean, not connected to the island by any jetties or anything; I like to call it "the smallest restaurant in the Maldives." You go there in a boat with your butler, who will serve your meal and you can hang out there afterwards admiring the vistas.
HM: How would you describe your management philosophy?
RP: I've seen different styles of management from my bosses. I tell my HODs and staff that even bad or tough bosses teach you something. Good bosses teach you how to do it and how to do it well. Bad bosses teach you what not to do. It depends on how you look at it. My philosophy is very simple: it's about my people. I give my staff all the facilities they want because I believe that if I keep them happy, they will deliver the best results. I've noticed that even more at this hotel.
One of my classic examples I use when I talk to my team is, when a guest comes here, you have a blank canvas. I put a frame around it. The frame represents the company policies and rules that the staff cannot break. It is up to each of my team members to paint it with a colour, and to make it a colour of the guest's choosing. So at the end of the stay, the guest is left with this beautiful painting that has all the colours that he could possibly want. It becomes a memory. We are artists, creating memories, creating moments of magic.
HM: What are your challenges, if any?
RP: It is mostly about planning and logistics and figuring out where to source my items from. A lot of time goes into that. Plus I have 220 staff on this island. That means I have to keep them motivated, focused, trained and engaged at a high level. It's a fulltime job.
HM: Would you describe yourself as environmentally friendly?
RP: Yes absolutely. The Taj has its own earth programme, with regards to our commitment to the environment. And our hotel has been Gold Certified by Earth Check Australia. They monitor our carbon imprint and how we are contributing towards environmental sustainability. For instance, we convert the heat from our diesel engines to energy to heat water. It's a small thing but it saves a lot of energy. We use LED lights and do a lot of recycling.
Another major thing we do for the environment is coral planting. Our guests sponsor corals and we've just crossed the hundredth coral mark. Guests can visit our website reefrecharge.com to see how their coral frame is growing.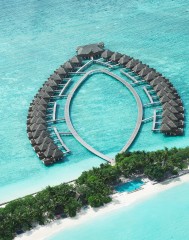 HM: Do you do anything for the local communities?
RP: Yes, we worked with a local orphanage on Maafushi. We didn't make monetary contributions but helped them out in other ways, through regular supplies of food, games and such. We invited some of the more grown up kids to the hotel and two of them have found jobs at our laundry department. We are also sponsoring the higher secondary education of two of the top students in Gulhi. We even went there with our team and helped clean the island. It was a great day.
HM: Do you have any advice for people who want to work and invest in the tourism sector?
RP: It's a great place to work. There's no income tax and one earns in US dollars. You have a fabulous environment to work in. As most of the workers live on the island they have no expense to themselves as the resort provides most of the essentials.
The tourism industry has grown since I've been here. 2012 was a tough year where tourism growth was a modest four percent but It's good to see that it's back on track. And today with everything that's going on, I'd say it's a pretty safe place to invest. Also there are more and more islands that are coming up for sale.
HM: Do you feel that luxury tourism is adversely affected by the guest house segment?
RP: It caters to a different group of people. Not everybody wants to stay at a five star hotel, and not many people would be able to afford it. A guesthouse is so convenient. When I went to Fuvamulah and Addu I stayed in guesthouses. They were clean, reasonably priced, and you get a true sense of the locals, and the island itself. And I must say that I was pleasantly surprised with their standards.
.