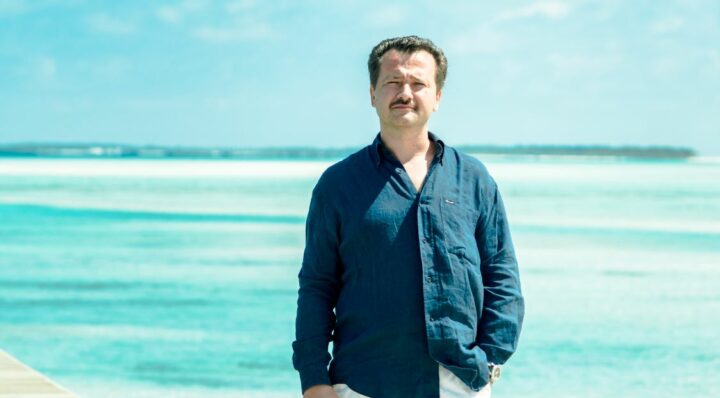 Alessandro 'Alex' Azzola and his idea behind Maldives' first design resort
Alessandro 'Alex' Azzola, the Managing Director of Cocoon Investment Pvt Ltd, comes from a family of hospitality professionals, and his life has been entwined with serving guests for over 30 years. It was in 1981 when Alex first came to the Maldives, which left him with an inexplicable drive to one day be a part of the breathtaking islands of the Maldives. Sitting in the contemporary setting of the reception at Cocoon Maldives, Alex speaks to Hotelier Maldives about his journey and vision.
Hotelier Maldives: You've had a long run in the hospitality industry. How did you come to learn of the Maldives?  
Alex Azzola: My family has been in the tourism sector for more than 30 years. We had many properties in many countries and we decided to build a resort in the south of Sri Lanka in 1981. It was then when I first visited the Maldives, and from that point onwards, I've developed a strong business connection with the Maldives.
We've been sending guests to the Maldives through Azemar, our tour operator in Italy, but we have always wanted to do something by ourselves in the Maldives. We tried to couple our 30-year long experience in the hospitality industry and the natural beauty of the Maldives and Cocoon Maldives is the fruit of our efforts.
I think it is a perfect combination, as I believe Cocoon Maldives is the right standard and level; just what we had in mind. We felt we should target the midmarket, as we believed it would work best for us.
HM: What did you have in mind during the making of Maldives' first design resort?
AA: I was in the middle of the Cocoon project when I met Daniele Lago, the internationally acclaimed designer from Italy. He helped steer us away from the traditional and typical design format to something that was exquisite.We went to a more stronger concept, which I believe is quite unique. We added contemporary furniture to the tropical setting of the Maldives, which I would say came out to be magical. We have created a resort that is unique and new in many ways, which I am very happy and proud of.HM: Cocoon Maldives redefines luxury? But why choose to target the midmarket range of travellers?
AA: Let's say we are five-star friendly, which means that this hotel is both luxurious and affordable at the same time. When it comes to pricing, we have a very reasonable and affordable pricing policy. Even the extras are also much localised or at affordable prices.
When guests hear about the Maldives, they envision super-luxurious resorts which are very heavily priced. We are trying to change this mindset, by offering guests the chance to enjoy our facilities at very reasonable rates.
HM: What's the idea behind the name, Cocoon?
AA: The name Cocoon comes from a movie in the 1980's which features a magic pool which enables older people to transform into their younger selves, much like a 'fountain of youth'. That is what I would like to believe our resort is.
You will definitely feel 10 years younger after a visit to Cocoon Maldives, as we promise to leave your body and soul refreshed and rejuvenated.
HM: Tell us about some of the challenges you faced during inception and operation!
AA: The operation is very smooth now because we have been able to figure out how the supply chain works.
The only challenges were faced during construction. Bringing in equipment and materials was very challenging. But, once you put your mind to it, and plan out well ahead, it becomes easier. That is how we were able to manage it in a good manner.
HM: What other specialities can we find with the Cocoon experience?
AA: I would like to say I was born into tourism, as my experience in the sector began when I was seven years old. I understand hotel life which is a combination of two key points; guests' satisfaction and staff requirements.When it comes to guests, our concept is 'home hospitality'. Our staff are extremely guest-oriented. They know and understand the requirements and wishes of our guests, so we are able to cater to them faultlessly.
And it is not the buildings, rooms or furniture that makes a hotel. What makes a hotel is the smile of the staff, and how well they treat their guests. And I am most proud of my team here. It is not I who run this resort, but the very capable team of Cocoon Maldives.When it comes to the requirements of our staff, they need to be in the best of conditions for them to work their best. I am not one to stay behind a desk, but someone my staff can come up to and discuss anything with.
I would also like to note that most of our staff are locals, as I believe in providing them with opportunities and challenging them to prosper in their respective careers.
HM: In your perspective, what does the future hold for the Maldives?
AA: The Maldives is the most beautiful country in the world and it is unique for its one-island-one-resort concept. In terms of development, it should take place simultaneously as the authorities need to develop airports and the number of beds in order to cater the potential guests effectively.
I see a bright future ahead of us, as I believe rates would continue to be favourable for hotels in the Maldives.