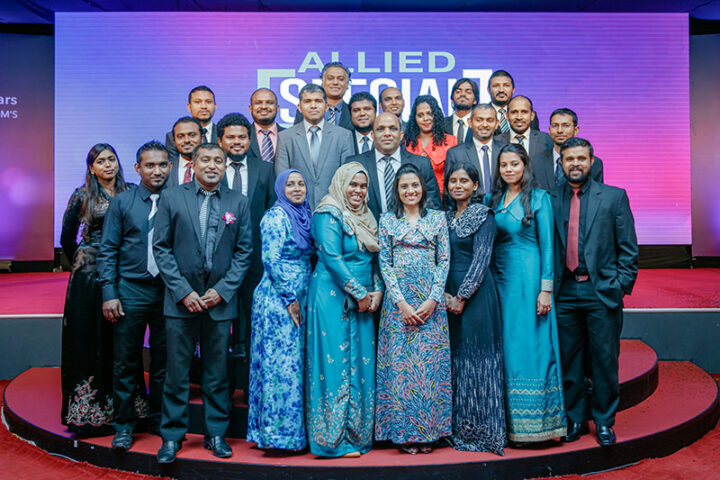 Allied Insurance – 32 years of "keeping you covered"
Allied Insurance – one of the largest financial institutions and most prominent insurance brands in the country – is marking its 32nd anniversary year. The company was formed in 1985 as a joint venture between Commercial Union Assurance Company, UK and State Trading Organization (STO). Two years later, STO bought back shares of Commercial Union Assurance chartering Allied Insurance as its subsidiary. Today, Allied Insurance stands as the industry's leader in insurance; contributing to the growth and development of the country.Allied Insurance is now headed by Ahmed Ameel – a pioneer in the insurance sector, and despite his inadvertent employment at the firm, is today leading the company towards a new beginning. Ameel joined the ranks in 1994 along with a handful of new recruits, handpicked by a UN Consultant, and 22 years later is now sitting at the helm of the country's leading insurance brand.Speaking to Hotelier Maldives, Ameel said: "The first piece of advice I received during my interview was to not take this as a job; but to consider it a career," a belief he holds on to dearly and an idea that still drives him. "This is my first and foremost message and advice I give to all my staff, especially new recruits. In order to succeed, you need to look for a career, and not a job," he went on to emphasize.
It was still a small operation when Ameel joined its ranks. The biggest challenge lie in convincing its clients that, despite its small size and few staff, they had only one goal; and that was to stand by their clients, and deliver to their every need. "From day-one, the management focused on developing the local talent, providing us with the necessary training and technical background. We were taught to be close to our clients – especially our corporate clients including hoteliers – to meet them and convince them that we will deliver on our promise," Ameel explained. This dedication was the reason why Allied Insurance is where it is today.Allied insurance had to face some the biggest players in the region following its inception, and was constantly on its toes, striving to ensure its worth. "Our biggest setback was our small size. It took dedication and hard work to convince our clients, especially big hotel operators, that we had a strong team that can deliver to their needs and requirements," Ameel said. "The fact that we were a subsidiary of STO – the nationwide leader of all commercial activities in the country – and the strong backing of our international reinsurers from India and Singapore, contributed immensely during the initial stages." Now the company is backed by some of the biggest names in the international market; with its reinsurers based in France, USA and United Kingdom.
Another factor that brings Allied Insurance to us today is its philosophy to work as one team, one big family; working towards a single target, to provide tailored products to their clients, customized to perfection. On how to maintain the spot as industry leader, Ameel said: "Personal connection with our clients is one of our core values. Availability when our clients need us and providing tailored products is our specialty. We meet our clients regularly, and enquire about their new requirements."
"Allied is just a brand. This brand is dependent on our staff to make it a success. And it is for the management to ensure that our staff are dedicated and motivated in order to serve our clients," he added. Ameel is particularly proud of his team; he sees them as innovative, independent, determined and well-trained individuals. "Human resource is our biggest asset, and we always take care of our staff. Each member is treated equally, irrespective of their rank. We recognize and appreciate individual talent, and they are rewarded appropriately."
To Ameel, the company's biggest achievement is the company itself. To him, it is also the biggest contribution to the country's insurance industry. "A local insurance market exists because of Allied Insurance. If we did not recruit new professionals, if we failed to succeed, if we failed to attract the backing of international reinsurers, there will be no insurance industry today. It was our success that led international reinsurers to believe there was a market here, brought international recognition, and led the way for other companies to thrive."
Yet, the country's insurance market is far from perfect. The absence of relevant legislation is the biggest constraint facing Allied Insurance, and the industry as a whole. Maldives Monetary Authority (MMA) now acts as the regulator of the insurance market, and with a draft Bill on Insurance on the table, and a positive growth forecast of the country's tourism sector, the future looks "very positive and bright".
Allied Insurance' customers are spread across the geographical divides of the island nation. From fishermen owning small vessels to international resort brands, Allied Insurance is the preferred market-responsive insurer, providing diversified services in the Maldives and beyond. With nearly 50 different insurance products – under its name and that of its Islamic window Ayady Takaful – each and every product is tailor-made to meet the needs of its corporate and individual clientele. Today it stands as the most influential, and trusted insurance provider in the market, one delivering its promise to "keep us covered" every single day.