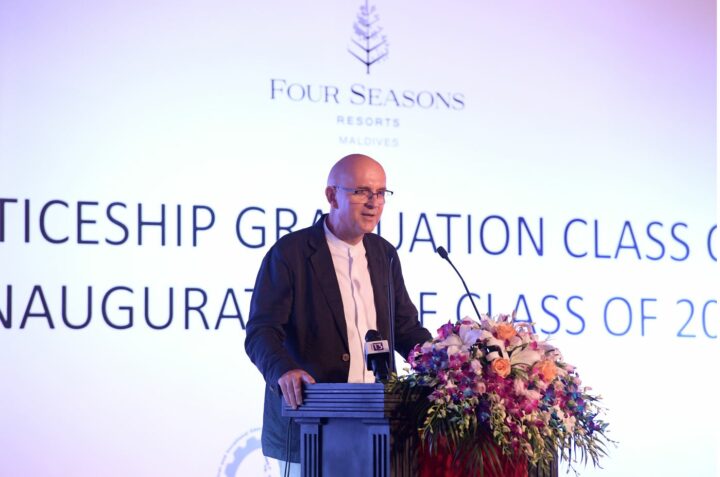 Over 50 graduate from Four Seasons Maldives' Hospitality Apprenticeship programme
51 apprentices have graduated from the Four Seasons Resorts Maldives' Apprenticeship programme 2019. 27 apprentices from Four Seasons Landaa Giraavaru and 24 from Four Seasons Kuda Huraa raised their diplomas at the convocation ceremony held at the Dharubaaruge Exhibition Hall, ready to launch into hospitality careers.
Alongside the Class of 2019, 66 new first-year apprentices and six second-year apprentices were inaugurated into the new Class of 2020. Tourism Minister Ali Waheed attended the function as the guest of honour.
"I am very impressed with the batch of 2018. I especially admire the teamwork displayed by the apprentices during the programme. All of them have become very confident and efficient individuals, which is very important when working in the hospitality industry. In addition to their learning, they have also taught us a lot, as well. I am very satisfied with their performance," said Randy Shimbuku, General Manager at Four Seasons Resort Maldives at Kuda Huraa.
The four seasons hospitality apprenticeship programme is one of the most successful programmes in the Maldives, that has been running for two decades and introduced 595 graduates to the industry.
"Since the very beginning, we have taken every step to ensure our presence in the Maldives is positive, from training and developing local talent to protecting and preserving the beautiful natural environment," said Armando Kraenzlin, Regional Vice President of Four Seasons Resorts Maldives. "Our apprenticeship programme is a testament to our commitment to the island communities of the Maldives, providing the skills, certification and platform for aspiring hoteliers to secure their futures."
The apprenticeship includes studying, working on site and hands-on experience in their chosen discipline: food and beverage preparation or service, safe maritime transport, housekeeping and guest services, PADI Divemaster, water sports attendant, marine biology, engineering (2nd year) and front office (2ndyear). Aimed at 17-20-year olds, the government accredited TechnicalandVocationalEducationandTraining (TVET) Apprenticeship Programme equips enthusiastic Maldivian youngsters with the expertise required to excel in the industry. Applicants interested in applying for future apprenticeship classes can contact apprenticeship.maldives@fourseasons.com for details of future recruitment procedures.