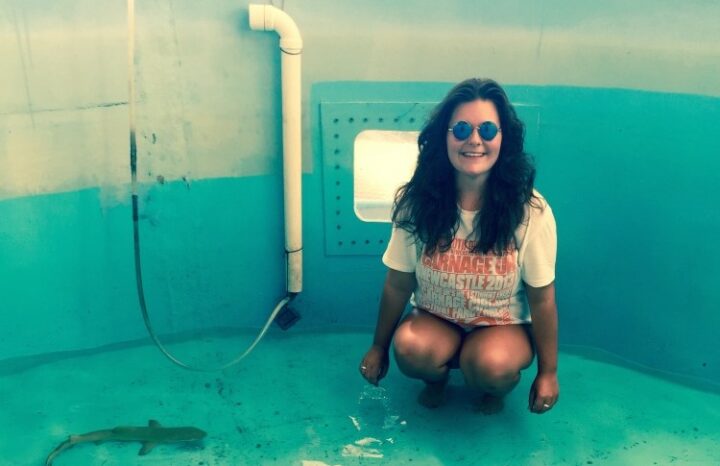 Amelia Cody appointed as new marine biologist at Outrigger Konotta Maldives Resort
Outrigger Konotta Maldives Resort has appointed Amelia Cody as the new resident marine biologist. Amelia is a marine biology graduate from the U.K. with a huge for the ocean from a young age. She was a very motivated and driven student at Newcastle University with the goal of becoming a marine biologist.
Prior to her new appointment, Amelia worked as a marine biologist at a property in the north of the Maldives, where she managed its coral rehabilitation programme. In 2018, she also worked with the Maldivian Whale Shark Research Programme (MWSRP), giving weekly presentations and workshops for children and volunteers.
"Maldives has always been a dream location for me to work. So I am currently living my dream! Arriving at Konotta was like arriving at a secluded desert island in the middle of the ocean. The island is idyllic and peaceful," she says, commenting on her new appointment.
"With a shoreline of 0.5km, this tiny island is remarkably rich and full of marine life on its house reef. In the first week alone I saw the resident guitar shark, nurse shark and cow-tail ray. We have many reef fish, resident turtles and schools of snapper and jackfish."
Her interest in the sea and marine biology began at an early age when she got to swim with dolphins in Portugal at the age of seven. She learnt to dive at the age of 11. "Being able to explore the underwater world, to be submerged within the marine environment was – and still is – the best feeling ever. My passion and love of sharks were developed through my strong feelings of how misunderstood they are," she comments.
Prior to the Maldives, she was working and studying in the Caribbean, where she completed an overseas research project as part of her 3rd-year dissertation in 2016 working in the Bahamas at Cape Eleuthera Institute. In 2018, she also worked for Operation Wallacea as a Site Manager and Coral Reef Ecology Lecturer on a marine project in Dominica.
Outrigger is big on sustainability and one of the notable projects is the Outrigger's ZONE globally (OZONE) project. Part of the project, the Konotta Restoration Project is very well established is well-established at Outrigger Konotta Maldives Resort. The resort also carries out regular Dive Against Debris events where guests can help remove debris from the house reef at Konotta.
Guests are also welcome to help with the monthly Desert Island Clean-up events in which the Konotta team and guests take away the debris washed up on a nearby island. The Konotta Restoration Project also sees monthly coral frame planting.
Outrigger Konotta is located in Gaafu Dhaalu Atoll in the southern area of Maldives. A 45-minute domestic plane trip away, Outrigger Konotta Maldives Resort offers complete privacy and intimate luxury far away from civilization. For more information www.outrigger.com/hotels/maldives.