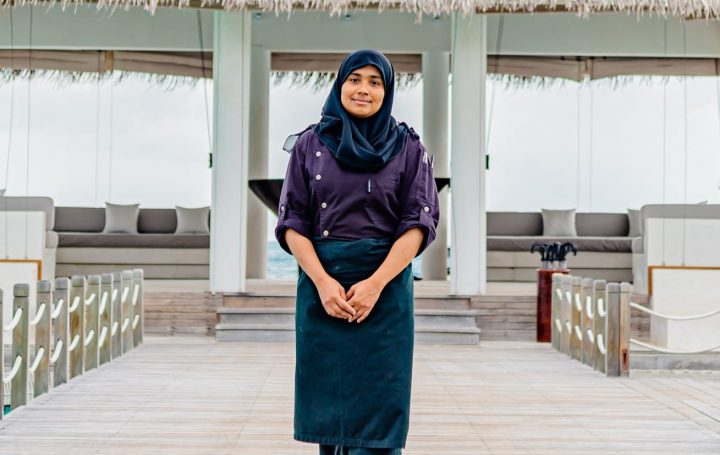 Chef of the Month: Aminath Abdul Rasheed, Chef de Partie at JW Marriott Maldives Resort and Spa
Originally from Firibaidhoo, (now Funadhoo) in Shaviyani Atoll, Aminath moved to Nilandhoo in Gaafu Alif Atoll (Huvadhoo Atoll) when she was 7. On completing her education Aminath became a primary school teacher, before a recruitment day for a new opening resort nearby, gave her an opportunity in guest services. However, it was not until her time at FHTS that Aminath discovered her passion for cooking, rising in a comparatively short space of time to her current position as CDP at Shio, JW Marriott's signature fine-dining overwater steakhouse and seafood grill. Hotelier Maldives spoke to Aminath about her journey into the culinary field and her aspirations for the future.
HM: What drew you to the culinary profession and started you on your journey to become a Chef?
Aminath: Growing up my mother and Grandmother were very creative cooks, making the most of local ingredients with virtually zero waste, which back then I never realised was a skill! I was always curious about the ingredients and flavours and loved to help and experiment, often with disastrous results. After finishing school my mother suggested I work as a primary teacher, a role I hated but stuck with for a year. Then The Residence Maldives, held a recruitment day at my island. Despite my young age the communication and people skills that I had learnt from being a teacher helped me gain a position in guest services. I was lucky, The Residence had a program for young people to study a diploma at The Faculty of Hospitality and Tourism Studies (FHTS) in Male. This gave me experience in all modules including the kitchen which I loved, so when I finished my diploma, I wanted a kitchen role. The Residence didn't have any available, so I ended up in Thai Express, before landing a role as a commis in Kandolhu, which is where my culinary career really began.
HM: Where did you learn your skills?
Aminath: I leant my basic culinary skills from FHTS. At Thai express I learnt speed and efficiency but not much else, and then under the guidance of Chef Mickael at Kandolhu I really got to learn and started to hone my skills as I had the chance to experience all the sections of the kitchen including Japanese.
HM: Who has had the most significant influence on your career to date?
Aminath: I have worked with so many awesome chefs but two who stand out are Chef Mickaël Farina who recruited me and gave me a chance when no one else was willing to put their trust in me, and Chef Bir Yadav, my current executive chef, who is quite new, but trusts my ability and already inspires and encourages me daily to be a better chef.
HM: Of all the many facets of your role, which do you enjoy the most / find the most rewarding
Aminath: The creativity and simplicity of things. It's fascinating how the most basic ingredients can be transformed just by the way it is cooked. Fine dining, as I love small details and making the food look amazing. However, the most rewarding is when I see the smile on the guests faces and they ask for the recipe as they want to recreate it, this gives a special connection that is the best experience of all.
HM: As a female what challenges have you faced on your career path to date?
Aminath: Eight years ago, I was told there was no place for a woman in a kitchen, so I constantly had to prove my worth. Things have improved, however there are still companies and chefs that do not take female chefs seriously, often females only get an opportunity because of the latest marketing trend or "equality figures" or "local empowerment" statistics. Then there is no opportunity to learn and grow, you are not trusted, and your ability is always questioned.
HM: Did the pandemic affect your career path?
Aminath: Not exactly, in fact it probably helped. I was part of the JW Marriott pre-opening team and kept on a retainer whilst the resort was closed. This gave me time in my home island with my mother and I learnt more about agriculture and the products I work with. I was one of the first called back and initially we were a small team to operate all the outlets between us. I oversaw the Japanese as well as the cold kitchen, so it was very challenging but gave me good experience on how to manage a kitchen. Then I moved to a DCP role at Soneva, in their Crab Shack and BBQ restaurant where I learnt about pairing and useing a charcoal grill. Then towards the end of 2021 I got a call from JW offering me CDP in Shio, my current role, which was a great opportunity for me.
HM: What do you consider are upcoming food trends in the Maldives and why?
Aminath: Going local! Guests are curious about Maldivian food and think it's just tuna and coconut. A growing number of Maldivian chefs are bringing back the old recipes and techniques that are not written in books but engraved in the memories of our grandparents, and people want to know about them. Vegan and Vegetarian as well, as since the pandemic, people realise that prevention is better than cure.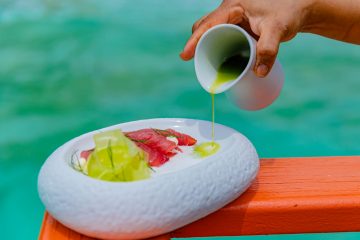 HM: Tell us a unique/interesting fact about you
Aminath: I used to make dresses for myself and my friends, so if I wasn't a chef, I'd be a dress designer. Plus, I still have a few scars from one of my cooking experiments as a child, when I thought masroshi was fried, so I dropped one into very hot oil which splashed up my neck.
HM: What do you do to relax?
Aminath: I love to star gaze. It is a great way to shut down and relax with nature. I read, especially books that help me grow mentally such as "Think like a Monk" by Jay Shetty and "Busting loose from the business game" by Robert Scheinfeld. Two of my favourites.
HM: What do you consider are the key attributes / skills required to become a good chef?
Aminath: Be a good observer and know when to ask questions. Know your products, even the basic ones, study the origins and processing methods so that you can fully understand how to use it to its full advantage. Be adaptable, resilient, and diplomatic, especially as a female in a male dominated world. You need to be stubborn and unwavering in your knowledge, use your skillset to prove you are worthy of promotions and gain recognition by actions not words.
HM: What do you consider are the greatest challenges to working in a kitchen?
Aminath: Missing big celebrations with family. During festive and celebration times food is a key element, as a chef, we put our name on the line to provide the best food possible for our guests but most of the time we are never able to share it with our own families.
HM: What has been the highlight of your career to date?
Aminath: Getting 2 promotions within 12 months was a huge accomplishment for me. 2018 was also memorable, as I won third place for best Maldivian Chef at Hotel Asia and was awarded employee of the year at Kandolhu.
HM: Where do you see yourself in 5 years' time?
Aminath: Running my own fine dining or grill-based kitchen somewhere, not necessarily here as I want to broaden my horizons and work abroad, maybe Europe or the Middle East.
HM: What 1 piece of advice would you give aspiring chefs?
Aminath: Your Chef's Coat should be worn with pride, it defines who you are and is based on your skillset, knowledge, what you deliver and how you deliver it. It does not care about age, gender, or race. Once you wear it you are a "Chef" and never let anyone tell you otherwise. It is your recipe for success. "YOU" decide your path no one else.
HM: Do you have a favourite signature recipe to share?
Aminath: Certainly, it is Plantain Bajiya with Vegan curry mayo and Maldivian chilli mayo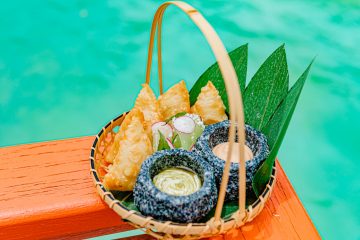 Filling
200g of plantain banana
50g onion slices
20g of garlic chopped finely
15g tomato paste
5g of curry leaves
150ml coconut milk
20ml coconut cream
5g Maldivian chilli
Salt to taste
Cumin powder
Chilli powder
Pandan leaves
For the dough
200g all-purpose flour
10g salt
50 ml vegetable oil
75 Boling water
For the coconut curry leaves mayo
125 ml coconut cream
225 ml grape seed oil
50g fried curry leaves
1 Limes zest
1/2 lime juice
Sea salt
For chilli mayo
125 ml rice milk
225 ml grape seed oil
For chilli paste
Lime zest
Lime juice
Sea salt
50g fried raw Maldivian chilli paste
30g Maldivian chilli (seedless & stemless)
35g shallots
20g confit garlic
Method
Peel the banana and boil in in coconut milk add the pandan leaves and salt
In a different pan salute onion, garlic, curry leaves until transparent. Add tomato paste. Cook until tomato paste is fully cooked (oil starts to separate)
Add the spice and Maldivian chilli
Once the banana is fully cooked drain the excess coconut milk. Add the banana to the tomato mix and continue to cook on low heat for 10 min. Add coconut cream & stir constantly so it won't stick to bottom
Combine the flour, salt and vegetable oils in a bowl.
Add the water slowly and mix until it shapes dough and kneel until the dough have smooth texture
Rest in for 15 min and spread it like a flat bread
Cut into triangles and add a tsp of filling to the centre, then seal it with water
Deep fry in hot oil until golden brown
In a blender add the coconut cream sea salt
Slowly add the grape seed oil until it forms the texture of mayonnaise
Add the fried curry leaves and pulse 3 to 4 times
Remove from blender add lime zest and lime juice
For the chilli mayo. Cover the garlic in oil and slow cook in oil until golden brown.
Fry your chilli shallots in medium heat until its transparent add to blender with confit garlic and salt Blend and keep the paste aside
In a blender add the rice milk sea salt. Slowly add the grape seed oil until it forms the texture of mayonnaise add chilli paste. Pulse 3 to 4 times
Remove from blender add lime zest and lime juice adjust the salt
Place the mayo's in separate dishes and serve with the warm Bajiya