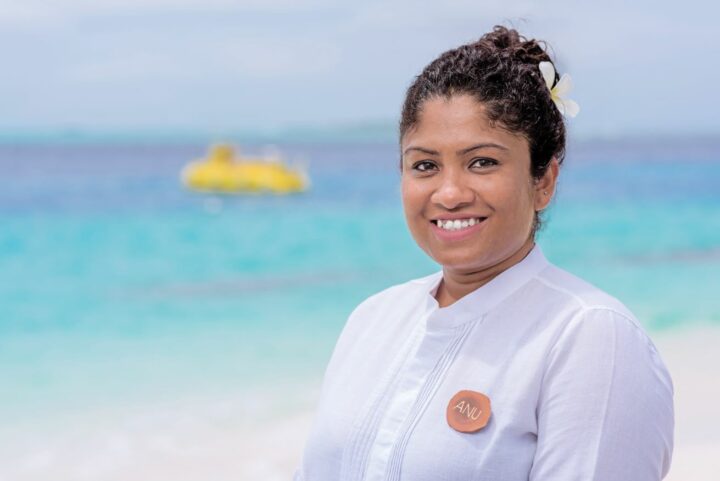 Women in Hospitality: Anusha Zubair, Sales & Marketing Manager at Fushifaru Maldives
Anusha Zubair is known to her family, friends and colleagues at Fushifaru Maldives as Anu. Having completed her A' levels in Malé, Anu packed her bags for an adventure in the land of the Hobbits, New Zealand, and signed up for a Degree in Design from the University of Massey.
Returning from New Zealand with a brand-new degree in hand, Anu joined the tourism rat race in Malé and took up positions in various resorts until she finally found her calling in 2004 when she was offered a Sales and Marketing role for what was to become the Maldives' most iconic resort, Huvafen Fushi.Working with a young and dynamic team of international and locals, Anu was the youngest female Manager at that time, paving the way for many more young Maldivian women entering the resort workforce. Remembering our previous article on women in resorts, Fathimath Shazleen was also a colleague of Anu in the early days.After launching many worlds-firsts' at Huvafen Fushi, in 2008, Anu decided to take some time off to start a family. During this time, being the ever consummate professional, Anu took up a couple of projects and was consulting in her free time. Who said women can't have it all?
In 2017, Anu re-kindled her passion for resorts when Fushifaru Maldives came knocking. Without a falter in her step, she took the opportunity and came back with a bang.
As a mother and a woman in a leading role, Anu notes that one of her challenges with island living was that employers were not equipped to provide for working families on the island.Being an exemplary employer, Fushifaru gave Anu the flexibility of being based on Malé and the resort which has since been a win-win for both! Her nine-year-old now spends her school holidays and occasional weekends as Fushifaru's very own VIK Manager – Very Important Kids Manager where she gives the resort priceless guidance on managing today's kids.Anu mentions that she has since noticed other resorts adopting these types of living arrangements for their working families and thinks that more resorts should start supporting and adopting this sustainable approach too.
Anu wasn't alone in her quest to become a strong woman leader; she comes from a long line of strong working women and notes her grandmother as her biggest source of inspiration. Her grandmother, Habeeba Hussain Habeeb, is one of the Maldives' most well known and prolific writers and has been encouraging Anu throughout her career.When asked about the challenges faced as a working woman in the hospitality industry, Anu said that although her parents were very supportive, they were initially a bit hesitant to let her work in resorts. However, nowadays, Anu says she is seeing a change in society's perception of women working in the hospitality industry.At Fushifaru, her peers are friendly, encouraging and respectful and this automatically creates a great working environment and culture for everyone. Anu continues that for women who want to enter the workforce, it would help to prepare with a little bit of reading and speaking with other women in the industry to familiarise themselves with what to expect."Depending on the region, culture or unique company environment, I find that women can sometimes experience challenges they did not foresee. I've personally learned valuable lessons in resilience and perseverance, and continue to be grateful for peers in the industry — both men and women, who have championed equality for all team members," she says.Anu's advice to women who want to work in the hospitality industry is to learn that there is a certain way of conducting oneself. "Learn to balance your work and private life. How we earn respect from our peers is based purely on how we conduct ourselves," she notes.
As for the future, Anu plans to continue working for Fushifaru as she thinks she still has a lot of room to grow and to give back to the industry and the team at Fushifaru who have never faltered in their commitment to take care of her wellbeing. "The company is ever expanding and their portfolio is growing, so who knows, there may be other opportunities waiting for me!" says Anu laughing. She plans to continue to lead by example and to support more working mums in the hospitality industry.