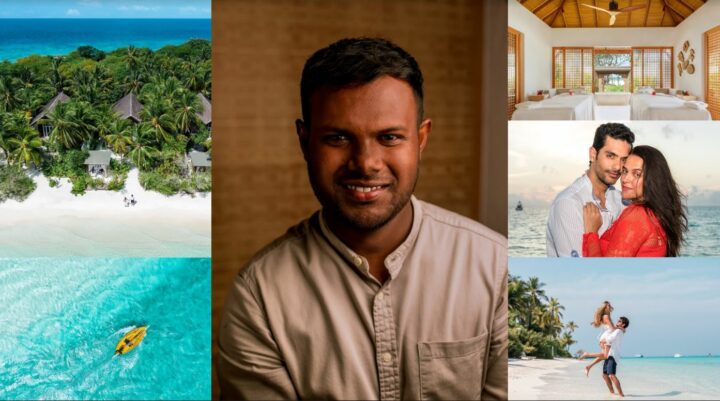 Yashlightroom – "I take photographs, make videos & drink coffee"
His description of himself is very simple, "I shoot photographs and videos and I love coffee." Yet, Yashrib 'Yash' Ahmed's work is instilled in the hearts and homes of clients who chose him to capture their precious moments. His life had always been immersed in creativity; experimenting with unique business ideas from contemporary e-commerce solutions to working as an online travel agent, he has always had a flair for creative solutions in different concepts.
Creativity is not motivated by the desire to beat others, but the desire to achieve. And photography was his choice for a career, one that led him down the road of his passion and towards his childhood realisation of self-employment—the gate of freedom where he could express his creativity, openly. His career path was illuminated when Fairmont Maldives Sirru Fen Fushi—a luxurious escape in Shaviyani Atoll—came to his support, recognising his knowledge in graphics designing and digital marketing. Yashlightroom, his very own studio is located on the resort; surrounded by nature, Yash is privileged to be set up in a prime location.
Even if it's a secluded romantic getaway or an unforgettable family holiday, Fairmont Maldives Sirru Fen Fushi offers a luxurious sanctuary, complete with all the ingredients for a truly remarkable tropical holiday. It is the perfect refuge to not only make memories with your loved ones but a place to capture those timeless memories in snaps and frame them to be cherished for generations.
Over the years, Yash has developed a simple work-flow, which allows him to expedite the photo selection and editing process, cutting down on delivery time. Using simple presets finessed over the years focused on enhancing natural colours, Yash is able to create magic from his snapshots using Adobe Lightroom—his chosen photo editing tool.
"For each project, I visualise the end result; I suggest a time for the shoot depending on this. If it is a commercial shoot, there is the whole process of formulating a concept and mood for the shoot," Yash explains.
Mostly influenced by the likes of renown photographers Joel Sartore, Peter Mckinnon, and Peter Lik; Yash believes photography is a talent that can be nurtured. With technological advancements, knowledge is available at your fingertips. "Today, learning is made simple. You can draw inspiration from the best photographers in the world, just sitting at home by your computer," he adds. 
For Yash, it is researching and practising different techniques with his gear that allows him to create unique and different things. Online courses and YouTube tutorials are platforms he utilises to gain insight into the world of photography. Yet, there are many challenges to being a successful photographer; things which he wishes he had prior knowledge of before he took up this career. His biggest pet peeve is when prospective local photographers miss opportunities for success when chances are outsourced to foreigners.
"Portraying the sheer innocence and bliss of a pretty girl, wearing a joyful smile on her face; captured in a nice composition with almost perfect lighting, is one of my best shots," he says, reflecting on his most favoured work; an image of a beautiful young girl at a wedding shoot is something close to his heart.
At the end of the day, what keeps Yash motivated is clicking photos that become someone's timeless memories, and the reaction his clients get when they get to see his creations. "Some have shed tears of joy, realising that they get to own their genuinely expressed self in a frame. And this is something I can relate to, as it motivates me to continue to make them feel delighted while being integral toward my profession," Yash adds. He believes that through his images, life becomes more colourful; it infinitely enhances your perspective on the humdrum of life.
To view his work on Instagram, visit:
Instagram: www.instagram.com/yashlightroom
Website: yashlightroom.com
Facebook: www.facebook.com/yashlightroom
Email: info@yashlightroom.com | Mobile: +960 974 2042