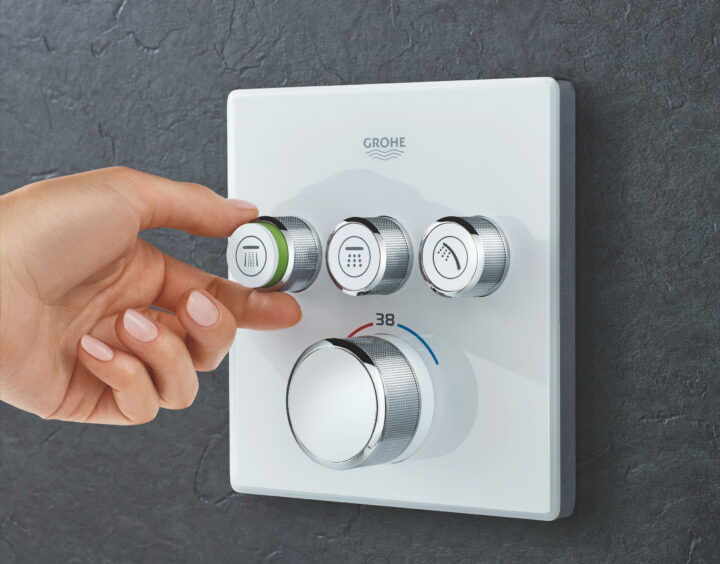 GROHE SmartControl – 3D showering at a whole new level
Building on a trend-setting premium product range, advanced craftsmanship and innovation, GROHE presents itself as a global leader which points the way forward for the sanitary market. Quality, technology, design and responsibility are the driving forces behind the brand promise ensuring a perfect water delivery system as its vision "Pure Freude an Wasser" suggests.'Masters of Technology' as coined by the peers in the industry, the meticulous experts at GROHE take the lead in developing, designing and manufacturing an outstanding product range, all the while testing and fine-tuning each piece to ensure ultimate customer satisfaction.The GROHE product range includes the new Rainshower® SmartControl 360 shower system with the innovative GROHE SmartControl Valve Technology. Engineered by the most experienced designers and tested for a 15-year lifespan, surely the utmost customer satisfaction any buyer can get from buying a product of the company whose internal testing process is one of the most gruelling in the industry.The operation of the 3D Rainshower® is simple yet stylish and sophisticated at the same time. All it takes to activate is the push button to start/stop and turn to change water volume. Not only that, this innovative technology lets you choose your preferred spray pattern and adjust the water flow as desired.
And thanks to the memory function of the rain shower, you can save the settings and enjoy your next shower experience just the same. Now that's smart!The new user-friendliness of GROHE SmartControl makes using water more efficient and eco-friendly. Additional features include GROHE TurboStat® technology which ensures that the chosen temperature is reached and maintained within fractions of a second. Meanwhile, the new TrioMassage spray to massage your head and shoulders is sure to take the delight of a shower to new levels.
In other words, let yourself drift away while maintaining control. The elegant organic design combined with SmartControl features redefine luxury in your everyday shower experience.GROHE products are exclusively marketed and distributed in the Maldives by Aqua Chrome Pvt Ltd, a leading provider of innovative design and excellence in bathroom solutions.While Aqua Chrome had recently celebrated a successful 10-year milestone, the company has three world-renowned brands under its belt as a premium supplier, including German brand GROHE. Aqua Chrome is guaranteed to offer innovative solutions which meet your quality and efficiency expectations.For more information about Aqua Chrome, please visit facebook.com/Aqua-Chrome-Pvt-Ltd.