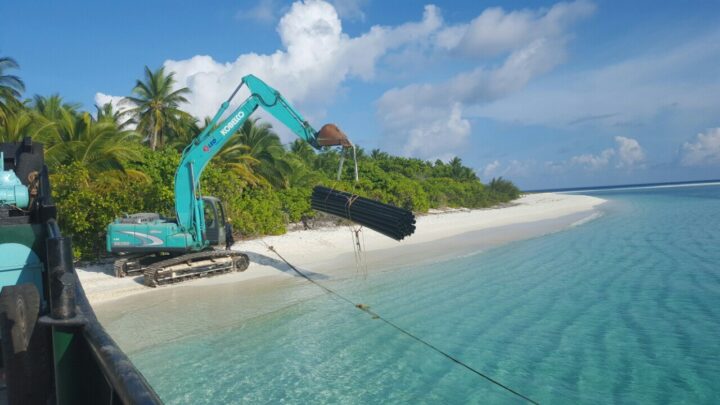 Asia Forwarding, at the helm of providing the ultimate Project Cargo Handling solutions
The Maldives – a series of 1,190 coral islands spread across 26 natural atolls in the Indian Ocean – is enclosed within an area of 90,000 square kilometres (520 miles) of ocean. With ninety-nine percent of the country made up of sea, transportation of goods to and from the nearly 200 inhabited islands and over 180 resort destinations can be a daunting task. Timely and reliable delivery, and ensuring cargo safety, is an indispensable part of development, especially that of the country's heavily-reliant tourism industry.
Despite the formidable nature of the task, Asia Forwarding Pvt. Ltd. takes on this challenge and provides the ultimate solutions in Project Cargo Handling; sea haulage of Full Container Loads (FCL), heavy equipment and unit cargo directly to project sites across the country. It is one of the leading freight forwarding and logistics providers in the country, and also has its branch offices in Dubai, UAE and Bangkok, Thailand. The company – 100% locally owned – has over 12 years of experience in the field.
"Managing heavy lift projects require special expertise, care and detailing, especially when the destination of cargo is an isolated island lacking proper heavy lift equipment," explained Ahmed Ziyad Mohamed, Managing Director of the company. "Our dedicated operations team have a thorough understanding of handling cargo, and we excel at providing marine cargo insurance and ensuring the safety of every consignment, from start to finish, and timely delivery."
Over the years, Asia Forwarding has managed several high-value project cargoes, including mega projects to deliver heavy generator sets for State Electric Company Limited (STELCO), Indira Gandhi Memorial Hospital (IGMH) expansion project, and the ongoing China-Maldives Friendship Bridge project, in addition to many resort clients. "With our strategies to combat the challenges in sea hauling heavy lift cargo to remote destinations, we provide the best in freight forwarding solutions the country has to offer," Ziyad added.
In addition to handling project cargo, Asia Forwarding specializes in air and sea freight shipments to the country from over 2,400 cities across the globe. It provides an extensive array of sea freight services including assisting with urgent shipments, managing large volume shipments, as well as providing intermodal transport solutions. With consolidation as its core competency, it offers unmatched services with a global coverage network to more than 350 destinations.
Asia Forwarding's warehousing and distribution system seeks to minimize investment risk and reduce operational costs, providing integrated supply chain management solutions.It is also one of the leading liner agency networks providing prompt, efficient and effective services. And with the large numbers of ships calling at Maldives' ports, Asia Forwarding specializes in bunkering and chandelling services to super yachts, cruise liners, cargo vessels and other visiting ships, in addition to handling and agency services to cruise liners and yachts ferrying tourists from all over the world to the world-class travel destination.
Asia Forwarding's Atoll Container Express Service (ACES) ensures that cargo is delivered to its final destination or project sites by facilitating transit container services from the Malé Commercial Harbour to Kulhudhuffushi Regional Port in Haa Dhaalu Atoll and Hithadhoo Regional Port in Addu City. And for the country's ever-dependent hotelier industry, Asia Forwarding specializes in custom-made Reefer logistics packages to resorts and hotels, and employs a highly-dedicated team of experts in Perishable Logistics.
It is also a Maldives Customs Service certified broker of handling DDU and DDP shipments, providing business consultation on import and export regulations, and legal advice. It is the recipient of the International Award for Excellence & Business Prestige at the International Quality Summit in 2012 and 2013, and the European Society for Quality Research Award. It is also a member of FIATA and the prestigious World Freight Network (WFN) and is in the process of formalizing its membership at the World Cargo Alliance (WCA). It is also working towards ISO certification with proper Standard Operating Procedures.
What makes Asia Forwarding stand out in the country's freight forwarding industry is its acquaintance with carriers in all trade lanes, best practices in packaging, storage and warehousing, and assurance to meet seemingly 'impossible' deadlines.