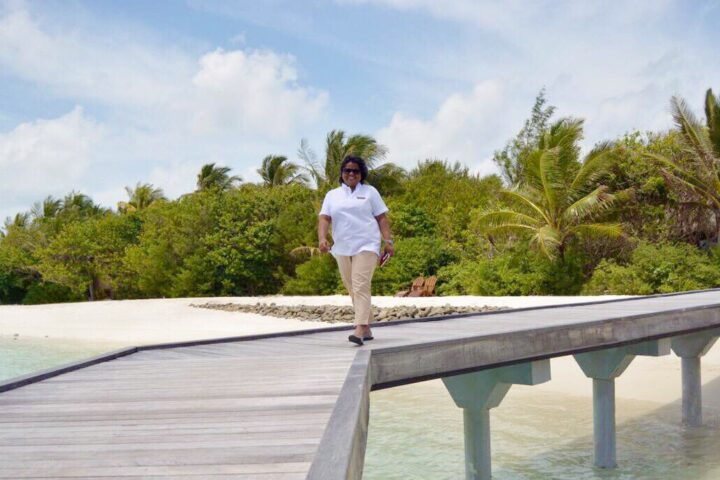 Women in Hospitality: Maria Shareef, Resort Manager at Summer Island Maldives
For our latest Women in Hospitality feature, Hotelier Maldives spoke to Maria Shareef, the Resort Manager at Summer Island Maldives. Maria started her career as a kitchen assistant and worked her way to the top. In an industry where women make up only 8% of the workforce (of which only 3% are Maldivian women), her accomplishments are impressive and inspirational.
Shareef talked about her journey, the rewards and challenges of the job, and her advice to women who want to pursue a career in the resort business.
What motivated you to enter the hospitality industry? What was your first job?
Cooking was always a hobby when I was younger; I loved to learn new recipes, especially local dishes. One day, a career counselling session was organized at school and some resorts came along to give presentations. It was during this session that I decided I wanted to go into the hospitality industry.
My first job was in the kitchen, as a kitchen assistant. I was the only woman in the entire F&B department. I really enjoyed working there, however, and I soon got the chance to become a waiter. I still keep in touch with my supervisor from those days, who taught me a lot.
What are the highlights of your career so far?
I will never forget the day when I decided I didn't want to do 'A' Levels, and I wanted to go into hotel management instead. I wasn't sure my dad would allow me to do this, but he did. I enrolled in a college abroad, filled in all the paperwork myself. It was an exhilarating experience – the start of my career.
I started working in sales and public relations in the hotel business and, after a few years, joined Kaimoo as Business Development and Marketing Manager. My time at Kaimoo has been wonderful; it is a young and dynamic team that is mostly Maldivian. I loved being part of the rebranding and redevelopment of Summer Island. Now, as Resort Manager there, I feel I am home.
Can you describe your role as Resort Manager? What excites you about your role?
I have to ensure all the departments run smoothly. I have been given targets to meet, and I also have my own personal targets. Every day, I check to make sure everything is running as planned, everyone knows what their own targets are and that they are hitting them. I also sit with the department heads and talk through plans and strategies, upcoming events and new ideas to make the resort stand apart from the competition. Our aim at Summer Island is to create a barefoot island style, while at the same time making sure our standards a very high.
Every day is a new and exciting day for me. I'm a 'people-person', and I spend a lot of time talking to the staff and guests, to better understand their needs. It's great when staff report how a particular change they've been working on has been implemented, or when the guests are clearly delighted with their stay.
What is your approach to managing an island resort? What are some of the challenges/rewards?
In the hospitality industry, our most valuable asset is our team. We have to take good care of our employees in order to be able to offer the kind of service we want to give.
In a resort where we work and live in the same place, it is very important that we take care of our staff. This includes everything from how, as Resort Manager, I talk to other members of the team, to ensuring the staff canteen and living quarters are up to scratch. We strive to create a happy atmosphere where people want to work. I try to keep the staff happy and motivated, and that is my approach.
One of the most challenging things about the Maldivian hospitality industry is the high staff turnover. It's a very competitive industry, and there are always new resorts opening with tempting new job offers. But we work hard to create a great place to work, where everyone is involved and cared for, and this helps to reduce staff turnover because people are happy and don't want to leave.
As a resort, we also need to keep changing and keep up with developments in other hotels. It's an ongoing process – we need to constantly evolve and keep up with the trends. It is particularly rewarding to see lots of repeat clients at Summer Island. Guests often say they've been to other resorts in the Maldives but they will come back to Summer Island next year because it's their favourite.
You have played a major role in the re-development of Summer Island. What are your plans for the island?
I have many plans. I have always loved the island, the brand and what makes us different. Our brand is still young, I would like to make it stronger, polish it, and make it better.
Part of our brand is our team. I would like the team to know what our brand is, and our promise to our guests. It may sound a bit cliché, I think, when we say '4-star resort offering 5-star services', but this is my target, and to reach that level, I need support from my team.
What would you attribute your success to? What does it to take to succeed in a male-dominated industry?
I think my experience and exposure in this field is the most important attribute to my success. I am a very patient, which has contributed a lot as well. I have failed several times, but it didn't stop me, I try and try again, and I never forget my failures.
I believe it takes a lot of effort, hard work and dedication to be successful in any field. For me, I never believed there was anything I couldn't do because I am a woman. Growing up, I was surrounded by strong women who acted as role models for me. I was motivated to try out different things.
I also believe I am quite blessed. I have worked under absolutely fantastic people and I got the opportunity to experience and learn many things from them. I was never embarrassed to learn or ask. I have worked with strong men and women. I've never thought there was a limit; being a woman didn't make me feel different. And today I am here, in this position, managing more than 200 men. I know that they respect me, and being a woman doesn't make me any less of a person or a manager. There are times I get remarks from people, but I ignore them, I concentrate on the big picture. I concentrate on what I can do to make the 200 people, my team, happy, and to create a better work environment. Whatever anyone else says is irrelevant and unimportant.
We see a small percentage of local women in the hospitality industry, and this has been attributed to the negative attitudes many Maldivians have towards women working in hospitality. Do you think they are changing?
Yes, I think they are changing for the better. More Maldivian women are working in the industry now, and more in managerial roles too. The industry has matured as well, with the addition of many international brands. This has attracted more local woman to join resorts.
The education system in the Maldives has also improved and standards in resort have also created with better welfare and benefits. This has attracted more women to work in resorts.
The ideas and myths people used to have about women working in resorts are slowly changing. People are now more willing to accept a mix, in terms of nationality, gender and cultures. People are more aware now, more accepting and well-behaved compared to before. Parents are more willing to send their daughters away to work, mostly, I believe, because of good job opportunities in the industry.
What's your advice to women who want to pursue a career in the hospitality industry?
Work hard and keep trying even if you fail at first. Failure is an inevitable part of success. If you keep trying, you will eventually succeed. Be patient, learn a lot, and never give away an opportunity to learn a new skill. Education is, of course important, but don't forget that the experience you acquire will play a huge role in your future success. As women, we might need to be a bit more persistent, more accommodating and patient, but as long as you don't stop trying, you will get there.
What's next for you?
At the moment, next for me is to make sure that my targets are achieved in my current position. This new role is a whole new beginning for me, and at the moment I can't think of anything other than doing a good job right here, right now – and I still have a long way to go!