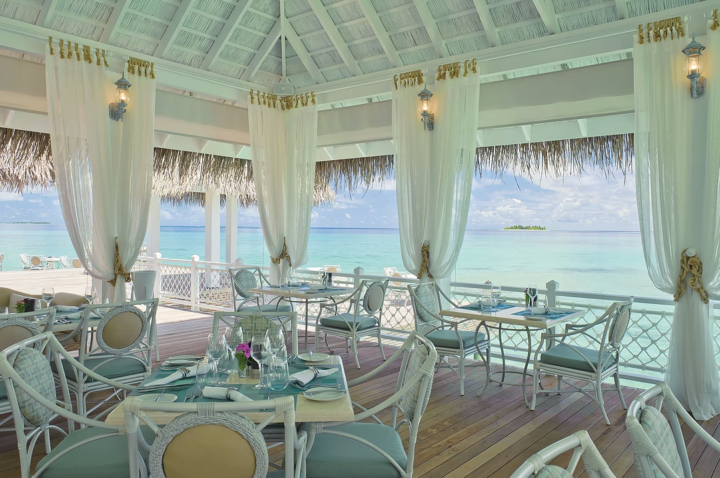 Ayada Maldives competing for World Luxury Restaurant Awards 2017
The over-water restaurant Ocean Breeze, and the Asian restaurant Kai, of Ayada Maldives has been nominated for a World Luxury Restaurant Award for 2017.
Ocean Breeze, named after its beautiful over-water location at the Ayada Maldives Hotel, where the warmth of the sun is tempered by a refreshing breeze, this stylish restaurant is open for lunch and dinner and offers gourmets a tempting menu of modern European dishes. With regular seasonal changes to the menu, items such as grilled seafood, home-made pasta and fine steaks are perennial favourites.
As one of the most romantic settings of the island, the open-air restaurant stands over the lagoon, in its sophisticated atmosphere. By day the endless shades of blue from the shimmering ocean enchant, while at night the restaurant transforms into a magical candlelit paradise.
Some of the signature dishes include: Seafood platter for Two – lobster, tiger prawn, yellow fin tuna, scallop, mussel, and reef fish served with mashed potato and grilled vegetables with lemon butter sauce; Grilled Angus Beef – tenderloin with wild mushrooms, freshly whipped mashed potato served with foie gras jus; and Spaghetti "alle vongole" – with clams, cooked in white wine and extra virgin olive oil.
At Kai, an exquisite range of far-eastern and Asian delicacies awaits in this gem of a restaurant hidden away amid tropical greenery at the Ayada Maldives Hotel.
Open for dinner each evening, diners can choose from an extensive sushi and sashimi list made from the freshest local seafood as well as classic interpretations of regional Asian specialties from China, Japan, Indonesia, Thailand and Vietnam. The décor, with its calm reflecting pools and typical Japanese-inspired architecture, sets the scene for a memorable evening of fine dining.
Some of the signature dishes include: Prawns Tempura – the classic ultra-light battered prawns with tempura sauce; Thai Green Chicken Curry – traditional Thai chicken green curry cooked with pea aubergine, kaffir lime, tofu, lemon grass, and ginger; and Roasted Lamb Chops – sea salt and pepper chops rubbed tender lamb chops roasted in a clay oven with Poppadam and Raita.
In 2016, the global winners from Maldives include, Ithaa Undersea Restaurant at Conrad for Luxury Scenic Setting, Uduvilaa at Hulhule Island Hotel for Eclectic (International) Cuisine, Flavours at Sun Siyam Irufushi for French Cuisine & Best Wine Selection and Tribal at Per Aquum Niyama for African Cuisine.
The complete list of 2016 World Luxury Restaurant Awards can be found here.