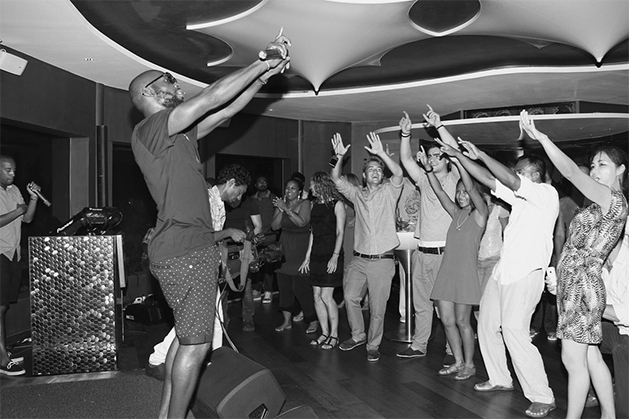 Azidon – Inspiring Events
Azidon is a noun cooked up by two individuals, who in 2011 for a total duration of six months, sat in a small storage room equipped with a white board for one and a half hours every day. However, these two were no linguists and what they were planning had nothing to do with inventing words. They were actually rather experienced professionals of the Maldivian music industry and therefore naturally the origination of the word and everything else that was plotted in the room had everything to do with sound.
DJ Tinie Tempah performing at Grand Opening of Subsix: The World's First Underwater Music Club, Niyama by Per Aquum
According to Azidon's Managing Director Fayid Farouk, the protagonist in the story of Azidon is Ahmed Hamzoon, the company's Director Events and Operations. Hamzoon had started his career in the music industry at an early age at Island Music, a long standing local company that deals in the supply of audio, lighting and music equipment. During his time there, Hamzoon had taken on various roles and assignments including the role of Products Manager and had also established a reputation for providing sound reinforcement and installation solutions. Then in 2011 there came about a pivotal turn of events. Island Music awarded Hamzoon with all its sound reinforcement equipment and Hamzoon by then having acquired 17 years of experience in his field decided to form his own company. A short while after this decision, Hamzoon left Maldives on a trip and on this trip he met his childhood friend and neighbor Mohamed Riyaz, the Managing Director of the established travel company Lets Go Maldives. Hamzoon revealed his new mission to Riyaz and Riyaz who would later become Azidon's Business Development Director offered to help him.
With this new found help Hamzoon returned to Maldives and then came the point during which the Maldivian music guru Fayid made his entrance in the story of Azidon. Fayid had learnt to play the keyboards at an early age and had launched his music career as a professional bassist. Fayid and Hamzoon had also worked closely together on various sound reinforcement and event management projects, and this led Hamzoon to believe that Fayid was absolutely necessary for his new venture. "I had closely witnessed Fayid's experience in the engineering field and he has also always been around throughout my career. So I told him that he must come", explained Hamzoon. This was when the daily planning in the small room began.
Dhiraagu Eid Show, 1435 AH
During the brainstorming sessions, Fayid and Hamzoon came to a conclusion that the best market for them was the event tourism market and hence they began to devise ways and methods to get into it. "Previously the key element of our work has always been sound. But, although we had the sound equipment from Island Music, we realized that we could not cover this market by just going out with a sound system". So in the small room, Fayid and Hamzoon deconstructed and realigned everything about their previous work to the new market values, and their new venture was going to be one that provided a larger and more comprehensive scope of services which would include lights, installation and system design in addition to sound reinforcement. It was also during this time that Fayid and Hamzoon contacted well know entrepreneur and Managing Director of Lintel Investments & Management Services Pvt Ltd, Abdul Majid, who would later on become the final installment to the list of Directors at Azidon. "It happened spontaneously", explains Fayid. "During our initial planning meetings, out of the blue, I told Hamzoon that we need one more partner and Majid seemed to us an appealing candidate. He has always been passionate about music and creativity and has always extended support to nurturing local talent. So we went to meet Majid and he agreed instantaneously. We really do appreciate his involvement immensely and Majid has contributed immeasurably to our company's achievements".
Launching ceremony of Agi
So, with everything in place, what Azidon set out to do is provide a whole new scope of services to a growing new segment of the tourism industry. "Technically what we do is called management and production and the segment we cater to, which is the event tourism market, is a highly growing niche market", says Fayid. Since commencing operations, some of the most notable projects taken on by Azidon include the World Travel awards in 2013, the festive season for Anantara in 2013 and the festive season of Taj Exotica during the last two years. However, according to Hamzoon and Fayid, what Azidon does most of the time is not something that they can talk about. Most of their projects are for high profile VIP clients and therefore as Fayid puts it, "confidentiality, that is our core business". Speaking about the nature of their business, Fayid also noted how important it is for all stake holders in the tourism industry to understand that there really is a growing event tourism segment here in the Maldives and added that the government could also help in making the Maldives more competitive as an event tourist destination.
"Collectively within the four directors we've got more than a 100 years of experience", says Fayid while describing how Azidon sets itself apart from its competitors. "Another difference is that we are very thorough. We don't go on a price war. We have a very clear vision of what we want to do and who our customers are going to be. We only work with trusted vendors, trusted partners and trusted clients". According to Fayid, Azidon only goes for high value projects and he emphasizes that Azidon is not a rental business. In addition to Azidon's engagement in the hospitality industry, the company is also intent on raising the value of local artists. "For all our events we use local artists. If we can't find a local artist we will of course have to hire international artists since the event cannot be cancelled. However, we haven't yet come to that", explains Hamzoon. In the effort to raise the value of local artists, Azidon has since its beginning given photo credits to the respective artists on their website and also curates local art events.
VIP event by Lets Go Maldives Pvt Ltd