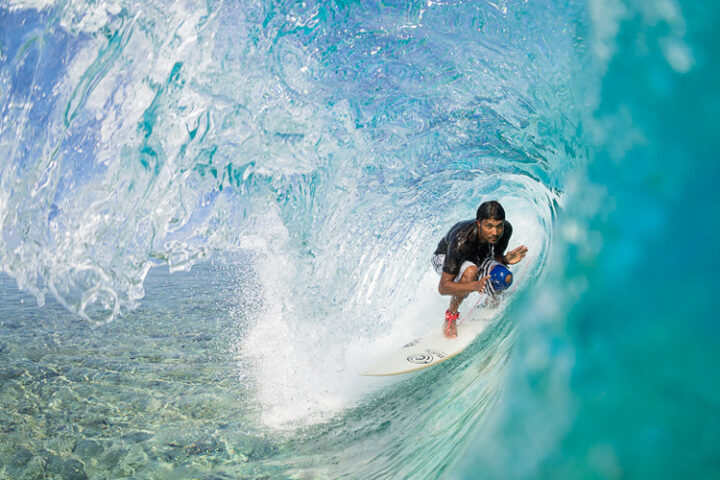 Aznilphotography: A different perspective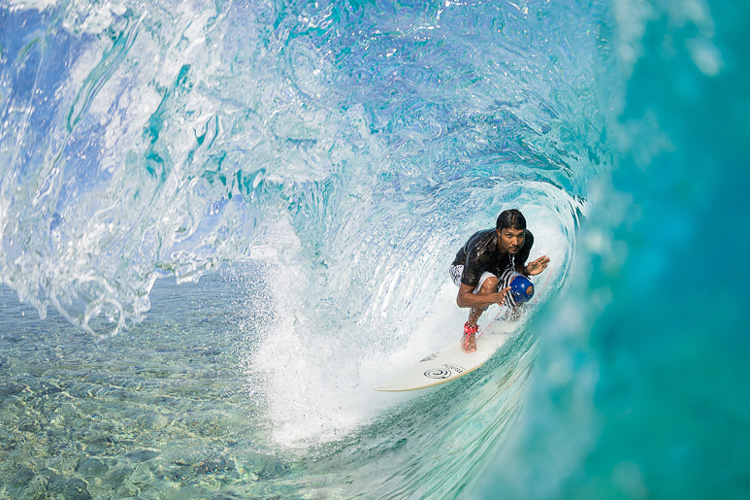 Ahmed Aznil, co-founder of Aznilphotography, is fresh to the world of professional photography. A passionate big-wave surfer with a keen interest in submarine scenery, he did not consider a career in the field until quite recently.
But things never came easy for Aznil, or AJ as he is more popularly known. Born in Male to Addu parents, he grew up in a cramped room that he shared with his family of five. Expelled from school when he was in grade 8, he spent his time surfing until he broke into the liveaboard business. His parents were not supportive of his career choice but he persevered since it was lucrative, especially for a teen.
Then he discovered photography.
"When I was working on liveaboards I noticed that they hired foreign photographers to do shoots," he says. "And I thought that I, a Maldivian, could do what they were doing given the opportunity. And that I could do it better."
But AJ came to discover that Maldivians were often snubbed for foreign professionals. Despite this he continued to entertain his dream of breaking into the field.
After years of saving up, Aznil-photography was finally setup together with his wife Zara. It was a huge risk, AJ had never used anything besides a point and shoot. Now he had a state of the art DSLR in his hands. But AJ and Zara took it in their stride. "Photography is kind of like our baby," he says. "Our entire life is built around it."A self-taught photographer, AJ honed his skills in the water and under. Water is AJ's element, one that inspires him. His photographs are evidence of this; the photographs on his instagram account (aznilphotography) reveal his love for the sea. He has an eye for the unusual, and describes his approach as one laden with risk. "Most people will be hesitant to risk their equipment and their bodies trying to take photos like mine," he says. "But there's a saying in surfing: go big or go home," he laughs. "That's my philosophy."
And it shows; his pictures are often striking, capturing beautiful scenes fraught with tension beneath breaking surf and curling waves.
Given his natural ability it is not surprising that AJ has started to make a name for himself over the past couple of years. This year he placed third in the Coco Collections' Children of the Sea photography competition. One of his photographs has recently appeared on Surftime magazine and he contributes to the Red Bull content pool.
AJ wants to document resorts as well. He plans to offer a more holistic product to resorts whereby the underwater world is captured as well as those aspects that are more commonly photographed.
As for future plans, AJ has quite a few. "I'm already working on a couple of things. I also have quite a few projects in mind like documenting the country and the people from different perspectives. Like documenting the lives of people who share a deep connection with the sea. The cost of such projects is what stops me, so I'm always on the lookout for anybody who will take an interest and fund them."
What AJ offers is not mere photography but a unique perspective, exploring hidden worlds and microcosms. What he offers is art.
Visit www.aznilphotography.com for a comprehensive portfolio.