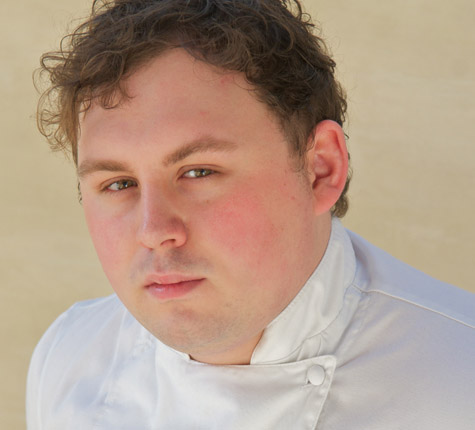 Christoph Pentzlin, Executive Chef at Hideaway Beach Resort & Spa
Christoph Pentzlin always knew that he wanted to be a chef. Growing up in Berlin, Pentzlin became intrigued by the idea of using food to create different impressions and evoke emotions in people. The decision to pursue a career in the culinary sector was a no-brainer. His career took off quickly and Pentzlin found himself working at the InterContinental Hotel Berlin and Hilton Abu Dhabi.
At the tender age of 26, Pentzlin's resume is quite impressive, having worked with Gordon Ramsey in London and Sergio Herman at the famous Oud Sluis in the Netherlands.
A protégé of big names in the industry, Pentzlin's long list of mentors include Andreas Busch, Kitchen Director Alf Wagenzink from the InterContinental Berlin, renowned German chef Michael Hummel, Michelin-starred British chef Claire Smyth, Ruben Rebuffo, and Sergio Herman and Nick Bril from the famous The Jane in Antwerpen.
"From a young age when I started my career up until now, each of these mentors have given me certain key points that I still follow today," he says.
Apart from winning the ultimate honour at the Hotel Asia International Culinary Challenge, Pentzlin's accolades include 'Best Irish Chef' in 2010 and 'Best Young Pastry Chef' the following year in London.
Pentzlin considers reaching the position of Executive Chef and overseeing a 5-star resort as a proud achievement as well.  His goal now is to compete at the Hotel Asia 2017 with his team and to win more awards for the resort.
"I want Hideaway to reach a new level in terms of its cuisine," he says.
"It's a great achievement. Actually, me and my team aimed for more trophies in the competition, but to see our resort performing for the very first time in such a great event here in Maldives and to win such an accolade is a great honour.  It gives recognition to our resort that we do have great food too apart from the location."
Pentzlin's signature dish is Glacier 51; tooth fish with cauliflower in textures and parsley.
"I draw inspiration from what I see, the countries I visit and their cuisine, and then suddenly it happens, the famous light bulb moment. I start thinking and I re-thinking and I cook till I have the perfect dish I imagined. Sometimes it can take from 2 weeks up to 6 months."
He describes his cooking as a combination of Umami flavours and French cuisine, prepared with seasonal ingredients.
"I like to plate a dish that's like a piece of art, and the taste must always be outstanding," he says.
His personal favourites, however, are Asian- influenced.
"I do love a lot of different cuisines because I am a chef and I love to enjoy great food. Some of my favourites are Thai, Indian, Japanese and Filipino.  I enjoy French cuisine the most and it's the base of my cooking style."
Another favourite is a dessert made with shiso, green apple, eucalyptus and avocado, a dish he has been making for the past six years.
"It's a flavourful dessert. It's very light, lactose-free and vegetarian so it's just a perfect ending to a great degustation menu which is suitable for the heat here in the Maldives."
With the Maldives importing almost all of the items a chef would need, Pentzlin says he has access to the best products available to serve to his high-profile guests.
"Also, the local famous cuisine has such a great taste which a lot of Europeans enjoy," he adds.
After years of jetting across Europe, Pentzlin is still getting used to the slow pace of island life in the Maldives.
When he's not cooking, Pentzlin spends his time diving, going to the spa and spending time outdoors.
"The dive spots here are outstanding. I love to dive and I have a Master Scuba Pro Certification. I like to be surrounded by friends and family if possible, otherwise I do like to go outside and enjoy the city or the so- called island life."