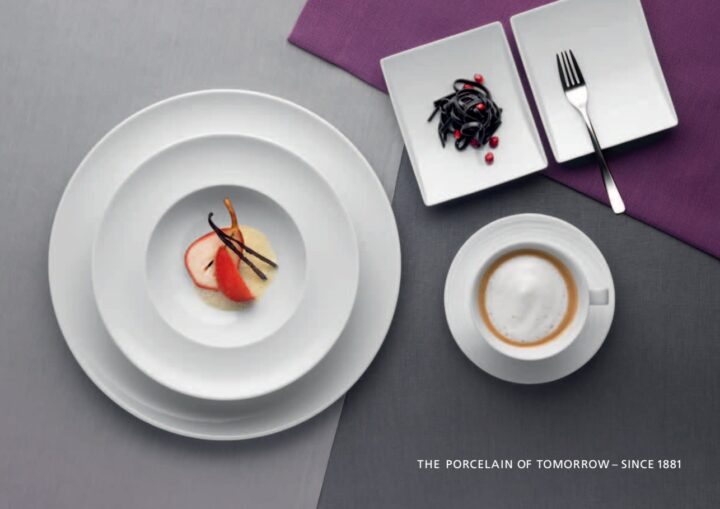 Bauscher: The porcelain of tomorrow, since 1881
To meet the evolving needs and high expectations of restaurant and hotel guests, Bauscher developed variable, intelligent yet cost-effective porcelain solutions, tailored to a wide range of very different target groups and occasions. The Germany-based manufacturer of hotel porcelain knows tomorrow's needs, which it treasures as a hallmark of the company since its inception. It is driven by a passion for innovation and determination to constantly "making something good even better". Bauscher's premium products are manufactured by experienced porcelain specialists in Europe's most modern facility.
The Bauscher hallmark is to meet the stringent demands of the catering trade with equally high standards for their products; they are robust, functional, resilient, and beautiful. The products, with their award-winning designs and marketable functionality for a wide range of uses, are sustainable solutions and future-oriented. Reliable by customers, Bauscher also provides logistics to a service level of almost 100% for delivery to customers.Bauscher was founded by 1881 by the inventors of hotel porcelain – August and Conrad Bauscher. The Bauscher B1100 is the first and one of the most successful tableware systems in the world. Bauscher products are manufactured in one of the most modern and highly automated production sites for porcelain in Europe. Its environmental management system is ISO 14001-certified, showcasing Bauscher's commitment to sustainability.Bauscher is also the first porcelain company in the world whose energy management system is certified under ISO 50001. Some of the top Bauscher porcelain collections include silhouette, raffinesse, emotion, function, enjoy, pleasure, compliments, options, modulus, dimension, dialog, carat, Mozart, luzifer and glass.Bauscher products are exclusively marketed and distributed in the Maldives by Sovereign Agencies Pvt. Ltd. Established in 2003; it offers an extensive range of products for use in the hospitality industry. It revels in customer service excellence, total commitment to tasks, professionalism, reliability & accountability, uncompromising integrity and teamwork.
MA. Moorithi Building, 1st Floor
Chaandhanee Magu, Malé, Republic of Maldives
Tel: + (960) 331 4422