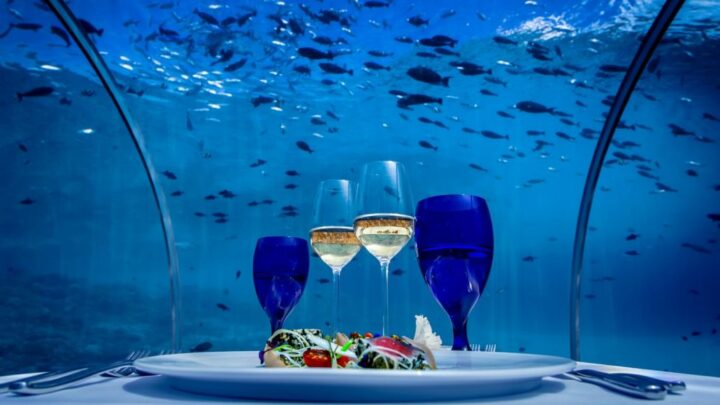 Hurawalhi Maldives invites you for a taste of South Africa 5.8 meters below the sea
Imagine dining 5.8 meters below the sea? How about a taste of the best in South African cuisines in an undersea restaurant, amongst the enchanting coral gardens with marine fauna giving you company? This is now a reality. Hurawalhi Maldives is bringing the taste of South Africa to your plates and glasses at the 'spectacular' 5.8 – the world's largest all-glass undersea restaurant – on February 25.
South Africans' enthusiasm for winemaking is exceptional and combined with the favorable soil, terrain and climate results in an outstanding quality of wine. According to Hurawalhi Maldives, the event will put the Kanonkop Estate in the limelight and allow you to familiarize yourself with the 'red wine bowl' of South Africa – the Simonsberg-Stellenbosch wine region of the Cape, with its reputation for producing the best red wines in the country.
To fully appreciate the diversity of Kanonkop wines, diners will get to compare different vintages, and mull over the quality and variety thereof over a South Africa-inspired menu at Hurawalhi's 5.8 Undersea Restaurant, the resort said.
Hurawalhi Maldives – a 90-villa adult-only luxury resort – recently opened its shores and undersea restaurant to guests. The resorts iconic '5.8 Undersea Restaurant' has already put the island getaway on the wish list of many a number of travelers. It takes its name from the depth at which it sits beneath the surface of the ocean, and accommodates 16 guests at a time.
"With the sunlight streaming through and a staggering amount of fish life swarming around the undersea restaurant it's hard to imagine a more incredible location," is what Patrick De Staercke – General Manager at Hurawalhi Maldives, had to say about the unique experience of dining at the 5.8.  Limited seating is available, so please book well in advance, advised Hurawalhi Maldives.