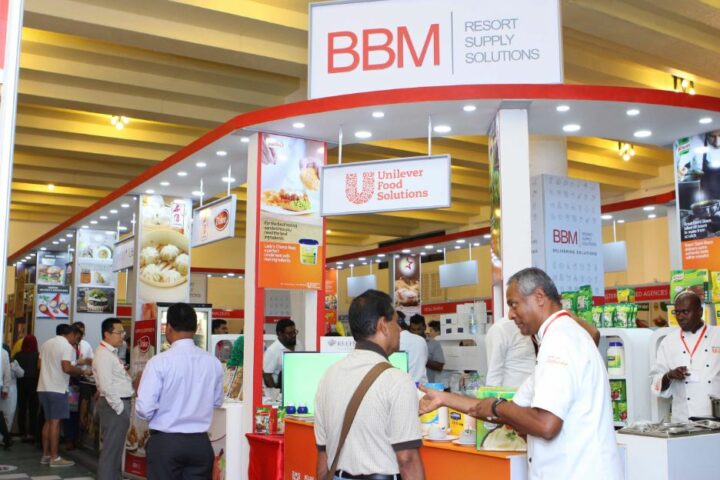 Bestbuy Maldives; the ultimate choice for resort supply solutions
Bestbuy Maldives Pvt Ltd (BBM) was founded in 1994 and has since become one of the key icons in the hospitality industry—as one of the largest F&B suppliers in the country. As a pioneering force in the business landscape of Maldives, Bestbuy's doctrine is to share knowledge and expertise as the foundation of development.
BBM is the main sponsor of the Hotel Asia Exhibition and International Culinary Challenge 2017. The largest trade exhibition and culinary competition of its kind in the Maldives, Hotel Asia kicked off on September 18, while the culinary challenge held as part of the event opened on September 17 and will continue until the 20th.
Apart from taking on as the main sponsorship of the event, BBM has always continued down a path which has seen various knowledge imparting, with the culinary challenge at Hotel Asia being the key highlight. Since inception, BBM has proudly been side to side with every chef who has been able to bring out their immense talent and make their culinary institution proud.
"Infusing this to the corporate doctrine, the company facilitates a diverse range of industry training and exchange programmes for training and industry exposure to enhance this industry in line with the best in the world," says Mohamed Mazloom, the CEO of BBM, who leads the operation at BBM with a philosophy of celebrating the best in the industry.
As a leading supplier and exclusive agent for world-class brands, the BBM stall at Hotel Asia 2017 showcases some of the top-notch F&B solutions for corporate hoteliers. We take a brief look at some of the brands on highlight at the exhibition;
Cloversoft
Cloversoft is a nontoxic and antibacterial tissue and wipes manufacturer from Singapore. The products are chemically-free and pesticide-free, and Cloversoft offers 100% premium unbleached bamboo tissues and wipes that rivals the softest and most durable quality."We've been a partner of BBM since 2014, and have been marketing our products to the hotel industry since then. The BBM team has brought into light quite a number of clients, especially corporate clients who are conscious of the environmental impacts of hotel operations," says Angela Sim, Eco Advocate of Alps Group Pte Ltd. The company also markets Dr Blanc brand products here in the Maldives.
Dankotuwa
Dankotuwa Porcelain, a brand name that has become synonymous with masterful perfection in porcelain tableware, is also marketed and distributed in the Maldives by BBM. Dankotuwa Porcelain prides itself in having a vast range of hotel ware ranges in collaboration with international designers.The functionality in these select ranges offers the flexibility for professional and amateur chefs to focus on their passion by leveraging on the sheer practicality of the tableware without losing the exclusive appearance.
"Launched in the Maldives in December 2016, Dankotuwa has fast become the first choice by a number of resort clients in the Maldives," explains Nasha Nasheed, Business Executive at BBM.
Dulux
Dulux is a global leading brand of premium quality paint, which has had a presence in the Maldives for the past 16 years. The guiding principles for any Dulux product are to ensure they consistently live up to the Dulux reputation for verifiable, total product performance that is both recognized and expected by our customers."Being the largest paint manufacturer in the world, we wanted to couple with the best in the Maldives, and our first choice had been BBM," says Vichithra D. Jayasekara, Technical Support Manager for Akzo Nobel Paints, the parent company for the Dulux brand.
"AkzoNobel has been with BBM for the past 16 years, and this relationship has been ever evolving and mutually beneficial for both parties." Dulux also launched its WEATHERSHIELD CREATION brand in the Maldives at the Hotel Asia Exhibition.
iLite
iLite® is a healthier sweetener, providing natural sweetness to food and beverage products, without the addition of unnecessary calories. iLite® carefully selected an assortment of ingredients and crafted specific blends to ensure that sweetness is delivered, without compromising on taste."Stevia, our main sweetening ingredient, is the common name for 'stevioside'; which is extracted from the leaves of the Stevia Rebaudiana Bertoni plant. It is a natural, sweet-tasting, calorie-free botanical that may be incorporated as a substitute for sugar or as an alternative to artificial sweeteners," explains Dr Jonathan Cheah, Executive Director of EXCO, SFMA.
iLite® Cook & Bake is another product marketed at Hotel Asia.
Sabatino Italia
Sabatino Truffles has a long-standing history as the industry leaders when it comes to truffles. In 1911 when Sabatino Truffles opened their doors they had restaurants and speciality retailers in mind as their primary customer base.Today, with its dedication to providing the highest quality truffle and truffle products, is in the Maldives, marketed and distributed by BBM. Sabatino also launched its Truffle Zest, an all-new truffle seasoning, in the Maldives during Hotel Asia.
"We launched Truffle Zest in the Asia region this year, and it is here now in the Maldives. This is our first time here in the Maldives, and I wasn't expecting such a welcoming. And all this was made possible by BBM," says Alberto Perez, Asia General Manager at Sabatino Italia SRL.
FreezePak
Seo Eng Joo Frozen Food Pte Ltd (SEJ) is a well-established player in the Singapore Food Industry, providing services to renowned brand names. It grew from strength to strength over the years, moving from a stand-alone retail store to become a multi-million dollar business today.SEJ is a supply chain management company for foods products; dry, frozen and chilled products. Some of the SEJ products on offer at BBM include the FreezePak—fully cooked and frozen chicken products.
"The Maldives is a very interesting market, and it has been very good. And I see that the market is very open to our fully-cooked products, especially the hotel industry," says Charlie Seo, Director of Business Development at SEJ Frozen Food.
SEJ products are marketed in the Maldives through BBM by Vismark Food Industry Pte Ltd of Singapore. "We've been in partnership with BBM for the past six years. There is a huge influx of Asian travellers visiting the Maldives, so BBM saw the potential of increasing their product range to cater to these Asian travellers," explains Steve Tan Ting Hui, Regional Director of Sales and Marketing at Vismark Food Industry.
Vismark Food Industry also markets other Asian range of products through BBM.
Seven Star Flour by Serendib Flour Mills
Seven Star by Serendib Flour Mills, based in Colombo, is a leading flour mill in Sri Lanka. With ultra-modern, state-of-the-art machinery, they have the capacity to fulfil the needs of the Sri Lankan and International markets whilst producing the Seven Star range of flour products with an uncompromising focus on quality."We've been in a very fruitful partnership with BBM for over five years now. We export our products to a number of international markets, but when we look at our overseas markets, the Maldives is the number one market for us," says Omal Balapatabendi, Exports Manager at Serendib Flour Mills.
"We market Bakers Flour, Whole Wheat Flour, Cake Flour, Atta Flour through BBM. We've been able to immensely increase the market for our products through BBM."
TWG Tea
TWG Tea, the finest luxury tea brand in the world, was established in Singapore and celebrates the year 1837 when the island became a trading post for teas, spices and fine epicurean products.TWG Tea, which stands for The Wellbeing Group, is passionate about sharing its expertise and has become a point of reference for tea lovers thirsty for knowledge.
"The TWG Tea collection, possibly the largest in the world with numbers well over 800, includes different single-estate, fine harvests and exclusive tea blends from all over the world. And it is one which has a huge market in the Maldives, especially from the luxury hotel segment," explains Nazhath Sheeza Ali, Senior Business Executive at BBM.
Unilever Food Solutions
Unilever Food Solutions is one of the world's leading suppliers of fast moving consumer goods, with sales in 180 different countries; leading the industry in providing innovative and high-quality professional food ingredients and value-adding services created by 300 professional chefs."We offer a very exclusive product range in the Maldives. We have been in the Maldives for the past 12 years with BBM. I've been here since the beginning of Hotel Asia, and I can say that though it started small, today we see how it has grown," says Saman Wijeratne, Executive Chef at Unilever Food Solutions.
"Not only do we market and distribute products through BBM, but we also conduct Chefmanship—training programmes targeting our resort clients."
UFS also unveiled two new products of the Hellmann's brand to the Maldives at the Hotel Asia; the Hellmann's Classic and Hellmann's Light mayonnaise.
In addition to its extensive product range, BBM also takes pride in supporting the industry by arranging various training activities for the chef's locally and also in International platforms which resulted in three chef's trained in Maldives shining at HOFEX 2017—Asia's leading food and hospitality trade show in Hong Kong.
As a leading supplier, and exclusive agent for world-class brands (such as Dulux Paints, Unilever Food Solutions, Unilever Home & Personal Care , Kodak photographic consumables, IREKS Bread pre-mixes from Germany, Colavita Pasta from Italy, TWG & Vismark from Singapore, LambWeston from USA, RaviFruits from France, Redman from Singapore, Espresso from Italy, Fontana from Cyprus, SOSA & Cloversoft), the company is proud to have gained the trust of its vast clientele for its reliability and efficiency. To learn more about the product range on offer at BBM, please visit bb-mld.com.