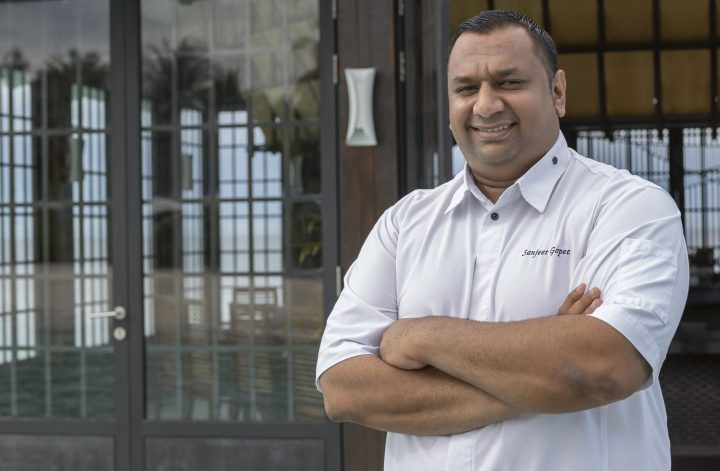 Sanjeet Gopee: From farm boy to Executive Chef at Nova Maldives
Imagine waking up to a stunning view of the turquoise ocean, feeling the gentle breeze on your skin, and smelling the mouth-watering aroma of freshly cooked food. This is what awaits you at Nova Maldives, a modern all-inclusive community concept that offers guests a variety of dining options and cuisines. Whether you crave for a hearty breakfast, a light lunch, or a romantic dinner, you will find something to satisfy your taste buds at this tropical paradise.
But who is the genius behind these delicious creations? Meet Sanjeet Gopee, the Executive Chef at Nova, who has turned his passion for diverse cuisines into an extraordinary culinary journey.
Sanjeet's story is one of humble beginnings and hard work. He was born to farming parents in Mauritius, where he learned to appreciate fresh produce and simple cooking. He helped his parents on the farm and cooked vegetables at home every day. He was curious about different types of cuisines and how they could be made with the ingredients he had.
"I grew up helping my parents on the farm," Sanjeet recounts with a genuine smile, reflecting on his early life. "Cooking vegetables at home was a daily ritual, and this ignited my curiosity to explore diverse cuisines."
He decided to pursue his dream of becoming a chef and enrolled in culinary school. He then joined Constance Group, where he did a two-year apprenticeship and got his first job. He learned from chefs from various backgrounds, especially those who specialized in French and Asian cuisine. He developed his skills and style, and became confident in his craft.
He moved to the Maldives in 2011, where he joined the opening of Niyama Maldives, his first job in the island nation. He admits that his first experience was not very pleasant, as he arrived during the pre-opening phase of the resort and faced various challenges. He wanted to go back home, but gradually, as the pieces fell into place, he met a chef who he knew from Mauritius, started adapting and found his comfort in the Maldivian kitchen.
Sanjeet worked at Niyama for two years, then moved to Velassaru Maldives. In 2023, he joined the opening of Nova, where he found his niche. With the delectable dining options at the soulful island, from the all-day dining restaurant Soul Kitchen and the fine stylish grill house Flames offering unique dishes grilled to perfection to the over water Teppanyaki restaurant Mizu, Sanjeet says that Nova is a place where he can express his creativity and passion for cooking. He also likes the team spirit and the friendly atmosphere among the staff and guests.
One of his main focuses at Nova is to cater to the millennials who are looking for new trends and experiences in food. He tries to offer different cuisines and dishes that reflect global trends and local flavours. He hosts themed buffet nights that allow guests to explore different cuisines, such as Maldivian night every Friday, where guests can taste the traditional dishes like garudhiya (fish soup), mas huni (shredded smoked tuna), masroshi (tuna stuffed chapati), bis keemiya (samosa), and more. He also organizes events, where guests can learn about the Maldivian culture and enjoy homemade Maldivian snacks.
"Our focus is on offering a diverse range of culinary experiences that cater to our millennial guests," Sanjeet explains. "We aim to provide quality food that not only reflects global trends but also introduces them to local flavours."
He sources local ingredients whenever possible, such as fruits and vegetables from Maldives or Sri Lanka, and meat from Australia. He says that he prioritizes quality over quantity, and ensures that every dish is prepared with care and attention.
"We curate our buffet selections to offer a variety of cuisines," he elaborates. "For example, during breakfast, we incorporate traditional Maldivian dishes with a twist, allowing guests to experience the local flavours."
Sanjeet has had many memorable experiences as a chef, both uplifting and challenging. He says that he enjoys working at Nova because it is a place where he can make every guest happy and satisfied with their food experience. He says that his goal is to share his passion for diverse cuisines with others, and to inspire them to discover new flavours.
Sanjeet's journey in the Maldives has been one of growth, discovery, and even personal milestones. "Life in the Maldives has brought me not only professional growth but also a beautiful family," he adds, sharing his pride as a father of two children.
As our conversation with Sanjeet comes to a close, it's clear that his passion for culinary artistry is interwoven with his dedication to delivering exceptional dining experiences. His journey from a humble farming background to becoming the Executive Chef at Nova is a testament to the power of passion and perseverance in the world of gastronomy.
In the enchanting ambiance of Nova, guests are not merely served dishes; they are invited to embark on a gastronomic voyage curated by the meticulous hands and creative mind of Sanjeet Gopee and his team. As the sun sets over the azure waters of the Maldives, his culinary creations continue to paint a vibrant tapestry of flavours that mirror the rich hues of the paradise surrounding them.