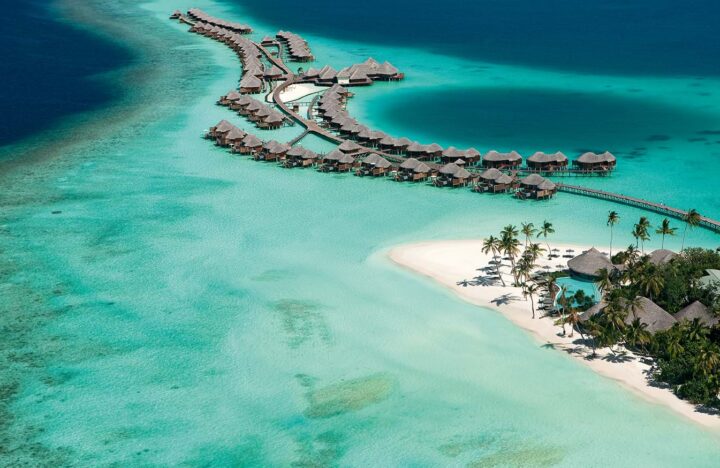 Beyond the beach bungalow
Back in 1972, when the Maldives embarked on its journey of becoming a world-class destination that would eventually find its place on people's bucket lists, little thought went into the design of tourist accommodation. At the time, such spaces were often made of coral stone, mortar and tin. In some cases, like with Gasfinolhu in its early days, rooms came in the form of huts, cadjan huts specifically, spaces inspired by the simplicity of Native American architecture, lit with oil lamps and austerely furnished with camping beds. Others were little more than huts on the beach. This was in line with the expectations of tourists back then; sun worshippers, divers and spear fishers from Western Europe who saw their rooms as rustic getaways from their quotidian ones back home.Hey Bungalow Bill
As tourism grew in the Maldives it attracted new markets, and a more luxurious type of hospitality began to impose itself, fuelled by greater exposure. The huts on the beach were replaced by beach bungalows whose attached bathrooms came with hot water. Some islands, such as Embudu, Rihiveli and Makunudu still boast this simple style of accommodation; most rooms don't have air conditioning or TVs. Yet they offer comfortable beds and decks where guests can lounge on deckchairs. Minibars began to appear in rooms and public pools came into being in resorts such as Kurumba. Beach bungalows became not just places where one slept but where one could also relax and hide from the sun at its harshest.
While such resorts attracted some of their previous markets, the hike in rates and added luxuries made them attractive to others who preferred to enjoy some of the perks found back home while at their remote island destination. And the bungalows started becoming the perfect home away from home.Improving on perfection
Contemporary beach accommodation in the Maldives seems to have abandoned the bungalow concept for villas. At places like Jumeirah Vittaveli, Constance Halaveli and Amilla Fushi, beach villas are highly secluded, with private access to the beach, their own pools and manicured gardens. They are state of the art living spaces, with spacious, ultra-luxe interiors, lavish beds and bathrooms replete with carefully curated products. In-room entertainment is taken seriously; wide-screen TVs, access to cable TV, and substantial selections of media are staples. Such spaces depart from their ancestors; they are not only places where guests can call it a day and rest, they're meant to be lived in and enjoyed, as integral a part of one's vacation as the rest of the island and its offerings.Walking over water
The over-water villa made a huge splash when it appeared, first at Kuramathi then adopted swiftly by others. It has since become ubiquitous, a readily recognisable symbol of Maldivian tourism. Clusters of these villas invaded the lagoons and became spaces for those who wished to take island vacations to a different level, to be in the midst of nature, surrounded by the sea. As such they attracted a higher client segment. Contemporary water villas are often among the highest tier of accommodation on offer, equipped with private pools or Jacuzzis despite direct access to the ocean. At the higher end of the market, such villas are placed well out of each other's way, thus ensuring privacy. Not surprisingly they became favourites with newlyweds and helped usher in the Maldives' "honeymooners' paradise" period in the '90s.
Perhaps an interesting corollary of the over water villa were Soneva's Crusoe Residences (now Gili Lankanfushi). They took the water villa concept and pushed it even further; the residences are quite literally houses in the lagoon, accessible only by boat. Given this degree of privacy, they are well suited for honeymooners and celebrities. As flitting back and forth from the residence to the island wouldn't be convenient, the residences offer a lot in terms of amenities and entertainment. They have rooftop terraces where guests can lounge, dine and take in oceanic vistas. Each residence has semi open-air bathing areas, a mini wine cellar and should the guests wish, the latest AV offerings and Wi-Fi.Up, up, up
While some forms of accommodation have taken to the ocean, others have taken to the sky. Amilla Fushi's treehouse wellness residence operates on a distinct concept that's not being tried out elsewhere in the Maldives. The chic treehouse, set amid the island's lush vegetation, has its own cantilevered infinity pool overlooking the canopy, spacious interiors and outdoor showers. Guests can choose to have a wide-screen TV, complete with satellite channels, or go on a digital detox. The treehouse provides a curated space for guests to engage in guided wellness activities and as such marks a clear departure from other forms of accommodation in the country. It could be something that others might want to explore in the coming years.
With lagoon residences and treehouses already on offer, where could the next generation of innovative accommodation be headed? It might be tempting to say underwater, but best not hold your breath. A few resorts already have underwater facilities – Conrad Rangali has the world's first underwater restaurant, Huvafen Fushi, the Maldives' first underwater spa, and Niyama, the first club beneath the waves – but none appear too keen on having rooms below the surface. Resorts are more likely to innovate on an aesthetic level, take, for instance, the manta ray-inspired beach villas of the newly opened St Regis Maldives Vommuli. They could also expand on the treehouse concept, creating a network of interlinked rooms above the treeline, a little village in the air. Whatever happens, though, the remaining beach bungalows aren't facing an existential threat just yet; there's enough of a market to prop them up for years to come.