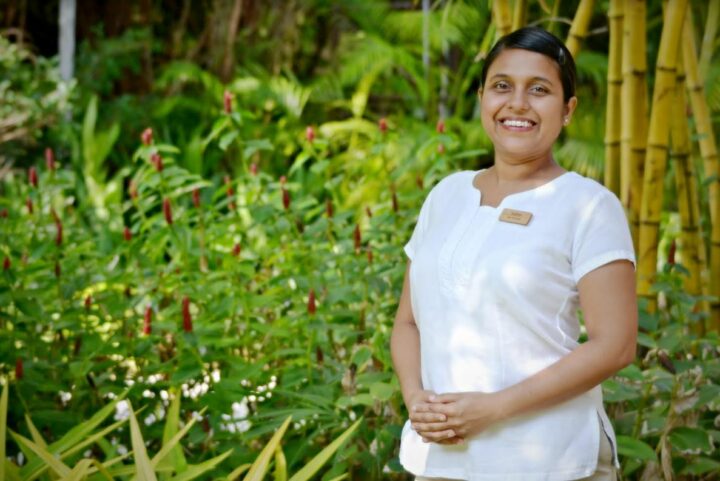 Binding tradition with wellness; Aishath Zulfishan, Spa Manager at Kurumba Maldives
Some eleven years back, Aishath Zulfishan (Xubba) decided that she wasn't going to be in F&B anymore; an earlier visit to Soneva Fushi had cemented her desire to join the wellness industry. She embarked on her wellness career as a receptionist at the spa at Huvafen Fushi. Now Xubba manages the Veli Spa at Kurumba Maldives.
Though she has acquired a wealth of knowledge over the years Xubba is not one to rest on her laurels. "I try to take time off each year to study something," she says. "My vacations are divided between study and play."
2013 saw Xubba in Negombo, Sri Lanka. She was pregnant and on maternity leave but she wanted to take a short course prior to giving birth.
In Negombo, she studied neural linguistic programming (NLP) under a UK trainer. "It was immensely helpful," she says. "It's all about observing people, trying to understand them. I learned different types of techniques, for example, to deal with people who're highly stressed. But it's more about guiding them, letting them figure out what they want by themselves. I just shine a light and help them find what they're really after."
The two-week NLP course was intense. "There was a lot of audio material that we had to go through every day, three to four hours-worth of stuff," she says. "We also had to do our own research, keep on top of the readings. There were practicals, we had to deal with clients. I barely had time to sleep."
Back at Kurumba, Xubba busied herself in research, delving deep into Maldivian indigenous medicine Dhivehi beys.
"It always struck me as a bit odd that we were exploring the traditional medicines of other countries without making an effort to explore our own medicinal traditions," she says. "There's so much to learn here. We have so many remedies, massaging techniques, products."
"Take massaging oils," she continues. "Dhivehi beys practitioners came up with their own signature oils, they kept them as closely guarded secrets. A Maldivian woman taught me how to make a particular oil, which we now feature as part of the Lumbo Theyo Dhemun massage here. I was lucky that she was willing to share it with me."
It's not surprising, then, that under Xubba's management, the Veli Spa transformed into one that showcases uniquely Maldivian treatments. She wanted it to have that distinct Maldivian touch. "During the conceptual stage, I sat down with one of the most respected Dhivehi beys practitioners (who wants to remain anonymous) and consulted him on these matters. I wanted our spa to provide traditional Maldivian treatments in their most authentic form."
And Dhivehi beys is a big part of what Xubba wants to bring to the table at the forthcoming Wellness Summit in March 2017. "There's not enough research done on the subject," she says. "Literature is scarce and the practice is in the process of dying out. What I'd like is to bring it back and inject it with the vitality it deserves. I'm sure there'll be others who feel the same way."
Another issue she wants to highlight is that of shaping people's perceptions about wellness in general. "We have so many people who dismiss treatments without really giving them a chance," she explains. "It would be good to get a dialogue started on how we can help change that sort of behaviour, how we can help people become more open-minded when it comes to wellness, and how to pique their curiosity."
She also wants to address a concern that is endemic to the wellness industry; unwelcome physical advances. "It shakes you up psychologically, and it's not something that should be tolerated," she says. "We need to discuss the issue openly and frankly and come up with strategies to deal with it."
Lastly, she wants to know people's thoughts on the matter of putting the Maldives on the map as a wellness destination. "The Maldives is renowned for many things, the beaches, the beautiful underwater, it has a reputation as a honeymoon destination," she says. "But we really need to think about putting ourselves out there as wellness experts. We have some of the best talent and world-class facilities, and we have our own ancient wellness traditions to draw from."
Her vision is bold: she wants the Maldives to become a wellness destination that will lure people from the world over to experience its healing power. Even from places as far flung as Brazil and the United States.
"The Wellness Summit is a great initiative," says Xubba. "It's a much-needed step in the right direction. It will be an ideal setting in which to discuss issues and share ideas. I believe we'll be learning a lot from one another."