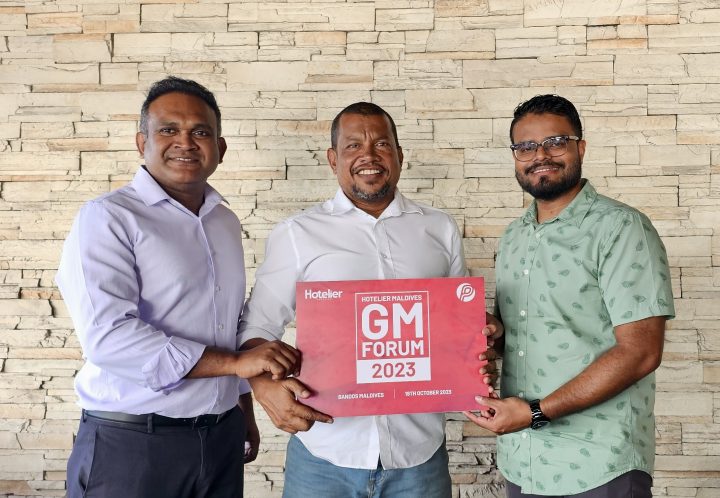 Blue N White appointed as Organising Partner for Hotelier Maldives GM Forum 2023
Hotelier Maldives, the leading tourism and hospitality publication in Maldives, today announced the signing of Blue N White, a trailblazing force in event coordination and production services, as the Organising Partner for the highly anticipated 2023 General Managers (GM) Forum. The event is set to take place on October 19, 2023, at Bandos Maldives, bringing together leaders, innovators, and experts from the global hospitality industry.
With an exceptional track record of over 15 years, Blue N White has firmly established itself as the go-to production and event coordination service for international filmmakers and producers seeking the breathtaking beauty and natural landscapes of the Maldives. Renowned for its hands-on approach, attention to detail, and unwavering commitment to delivering unforgettable experiences, Blue N White is perfectly poised to provide the technical, logistical, and operational support necessary to ensure the seamless planning, coordination, and execution of the 2023 GM Forum.
Mohamed 'Kudu' Ibrahim, Managing Director of Blue N White, shared his enthusiasm about the partnership: "Being chosen as the Organising Partner for the prestigious 2023 GM Forum is a testament to Blue N White's expertise and dedication to creating extraordinary experiences. We are thrilled to lend our extensive event coordination resources, network, and experienced team to ensure the success of this globally significant event."
The GM Forum, since its inauguration in 2016, has been a dedicated platform for over 100 general managers and hoteliers to gather, discuss industry-related problems, exchange ideas, and propose solutions. Now in its seventh edition, the theme for this year's forum is 'Innovation and Technology for Sustainability'. This theme reflects the rise in new technologies, the fast-paced changes in the world, and the increasing number of eco-conscious travellers. It also aligns with the 'Tourism for Good' concept, emphasising the role of the hospitality industry in promoting sustainable practices.
Ali Naafiz, Editor of Hotelier Maldives, commented on the partnership: "Blue N White's selection as the Organising Partner for the 2023 GM Forum underscores their reputation as a top-tier event coordination company. With their exceptional history of delivering top-notch services, the success of the forum is undoubtedly in capable hands."
Blue N White's impressive portfolio includes collaborations with renowned brands like DW, iTV, Glamour, CCTV, Natgeo, and noteworthy projects such as coordinating the production of Star Wars Rogue One in the Maldives. This extensive experience uniquely positions the company to ensure the flawless execution of the 2023 GM Forum, guaranteeing an event that will captivate attendees and contribute to the ongoing growth of the hospitality industry.
For more information, please visit www.hoteliermaldives.com/gmforum. For sponsorship opportunities, please contact sales@hoteliermaldives.com.