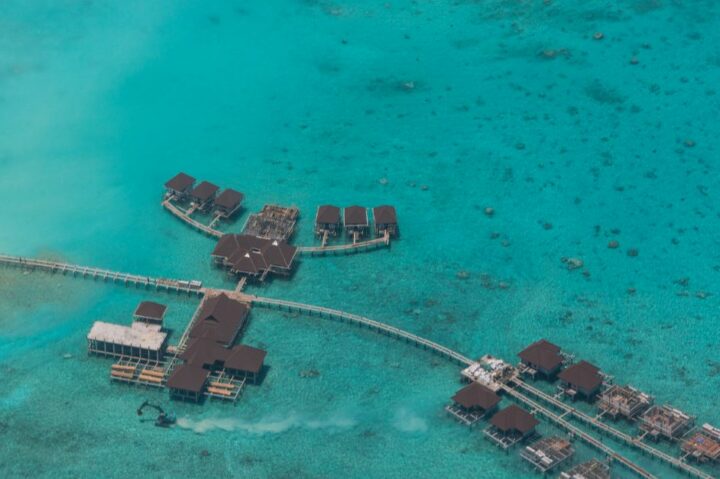 The building wave: observations on the number two industry and its umbilical link with tourism
The construction industry is the country's second largest industrial contributor to the GDP after tourism. Over the past decade, it has witnessed several booms and slumps. Hard hit by the effects of the financial crisis that ravaged the global economy in the late 2000s, the sector recovered in 2010, registering positive growth. The trend continued till 2012-13 when difficulties in sourcing raw materials from India led to a sector-wide decline.
However, the industry regained momentum in 2014 when India did away with restrictions and saw double-digit growth. As of 2015, the industry contributed 8.5 percent to the Maldives' GDP. The interplay between the country's top two industries is evident, particularly when you take into account the increase in the number of properties developed over the past few years. Each resort development project is valued at tens of millions of dollars, so robust tourism development obviously means a great deal to the construction industry.
Resort construction: where the money lies
Real estate development has taken off in the Maldives, with several major projects being undertaken by key construction firms but resort construction appears to be where the real money is made.
As is typical of a high-yield industry, there are great barriers to entry.A firm will need equipment, valued in millions of dollars, and a reasonable purse or assets to finance the project (as banks demand some 20 per cent of the project through performance bonds and advances). The tourism industry has seen the involvement of local companies since the late 80s. Some of the industry's most prized and iconic properties were developed by Maldivian firms.
Hotels and Resorts Construction Pvt Ltd (HRC), headed by Mohamed Ali Janah, has an impressive portfolio that includes the likes of Gili Lankanfushi in Malé Atoll, Maalifushi in Thaa Atoll, and Shangri-La's Villingili down in Addu Atoll. Of all his ventures, Janah is especially proud of Shangri-La's Villingili.
"It's a unique product," he says. "It's certainly among the country's finest resorts, and we achieved something that was thought to be impossible at the time." The resort opened up in 2009, and while construction was ongoing, there was a lot of scepticism as to whether such an up-market resort could be opened up so far south."Yet we proved that we could make a project like that work even if it's so far removed from the centre ," says Janah. "And we did it with limited resources; we didn't have resources like we do today. It's been almost ten years since then. The project is a great success, and it's something that really stands out for me."Buoyed by Shangri-La and other major hotel projects in the Maldives, HRC has spread its wings abroad, a rarity among home-grown construction companies. Most recently, HRC completed a project in Doha, Banana Island, for the Anantara Group, which opened for business in 2015.
"The challenge in Doha was a different experience," says Janah. "They had no island resorts there at the time, and ours was the first in that part of the world. And we proved again that it can be done."
The impact of innovation
Over time, construction methods have evolved and the big firms today have access to methods and technology that enhance their work. Abdul Majeed, head of local construction firm, Bison Maldives Pvt Ltd, has worked in construction since the 90s.
"I remember when we constructed Mahchafushi in Ari Atoll in 1990," he recalls. "We had to drive columns into the water manually back then. But it's completely different now, we do that work with crane-equipped barges. Even if we need to reclaim an area today, a dredger can easily do that for us."
Established in 2004, Bison has been involved in the construction and refurbishment of a number of luxury properties, including Constance Halaveli in Ari Atoll, Jumeirah Dhevanafushi in Gaafu Alifu Atoll, and, most recently, Cocoon Maldives in Lhaviyani Atoll.Constructing water villas used to be hard, labour-intensive work. "Now, it's more like solving a jigsaw puzzle," says Majeed. "We have so many new methods of construction available. We choose what's most viable, feasible, practical and economical. For instance, with water villas, we create the substructure on land and deploy cranes to establish them in the water. With today's technology, we save time, cut costs and reduce material."HRC's Janah adds: "We used to do everything on the site, and it's very time consuming to do that."But there are certain investors who're resistant to new methods: they believe old is gold. Old methods, like using reinforced concrete, are better than modern alternatives. But thankfully most people are more open . Today we fabricate a lot outside the country. For example, swimming pools can be fabricated abroad and brought here, and you can install them at the resort within a matter of a few days."
The case of Amari Havodda
Amari Havodda in Gaafu Dhaalu Atoll is an exemplar of the construction industry at its best in terms of speed and delivery. A mid-range resort, it's beautifully constructed in a neo-traditional manner with great use of open spaces. Sri Lankan construction giant, Sanken Overseas Pvt Ltd, built the resort in a record fourteen months.Mevan Gunatilleke, executive director of the company, believes that the speedy delivery of the product was due not only to superior modern construction technologies and methods but also to decision-making efficiency.
"The main reason why there are delays in construction is due to decision-making," he explains. "Because of our experience we're able to identify issues. We planned the project meticulously, and we fixed the design and cost. And all the risks associated with construction were transferred to the contractor, whereas normally, those risks are borne by the developer. It was a turnkey project, and what really helped was that all the relevant parties were under one roof. The decision-making was a lot more streamlined."
When they selected material for Amari Havodda, Sanken made choices based on not only cost-effectiveness and whether the material can be easily built on site but also on whether it can be brought in easily."A lot of contractors think that you need to do everything outside the country, and have that brought in," says Gunatilleke. "But in transporting something from Malé to the island, you have to factor in ease of transportation as well, because that can be the bottleneck sometimes."Sanken owns majority shares of Amari Havodda and the group has taken on several other projects since most notably the 150-villa Robinson Club Noonu up north.
Building, the future
Both Majeed and Janah predict a rosy future for construction, at least for the next decade.
"If we can get support from financial institutions, we can retain a lot in the country," says Majeed. "There are a lot of resorts in the pipeline and that obviously means a lot of potential income for our industry. The Maldives as a destination is a gem, and with the required support from banks, we can do a lot here."Janah believes a development bank is necessary. "None of our banks are really geared to support major development projects," he says. "We need a strong development bank focussed on tourism development. That way, I believe we'll be seeing a lot more Maldivian entrepreneurs and investors."While more resorts are good for the construction industry, is the pace of tourism development sustainable? A lot of resorts face occupancy issues, especially during off season and as more enter the mix, it is reasonable to assume that it will only compound matters.
Not necessarily, if support infrastructure is planned and developed in tandem. The development of airports and ports across the Maldives is essential to address the growth in the tourism sector. Housing projects, too, are necessary, not only for inhabitants but also to house the potential influx of new staff.
"We'll be seeing new construction companies take on the maintenance component of such projects," says Janah. "They'll open up new avenues for young, enterprising people to explore."
Gunatilleke believes resort projects will dry up after a few years. "There will be a dip in the leisure sector," he predicts. "You just cannot go on building at this rate, however, there'll be progress in the housing and commercial sectors because I see that the government is trying to decentralise its commercial activities, with plans of improving the Gan International Airport for instance. Once this happens, there'll be a lot of commercial and logistical improvements required in the atolls. And I think that will have a positive impact on the industry."